50th Anniversary Event
Donate Now
Issue 296

May/Jun 2016
Days of Hope
Frontline
50th Anniversary Event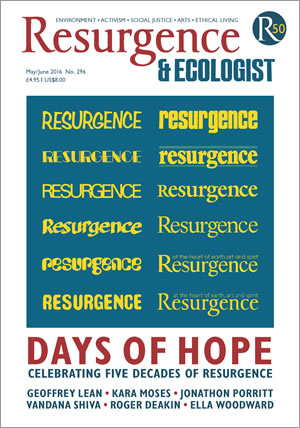 Cover: A montage of past Resurgence mastheads
Worcester College, Oxford hosts One Earth, One Humanity, One Future.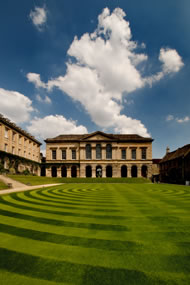 The main quad, Worcester College, Oxford
To celebrate the 50th anniversary of Resurgence, The Resurgence Trust is to hold a three-day conference at Worcester College, Oxford from 22 to 25 September, featuring leading figures from the worlds of environmental activism, social justice, spirituality and the arts. Tickets go on sale in early May.
More than 50 speakers are already confirmed, including the poet Simon Armitage; Jonathan Bate, author and Provost of Worcester College; Paula Byrne, literary biographer; the physicist and philosopher Fritjof Capra; the author Charles Eisenstein; Hugh Fearnley-Whittingstall, chef and food campaigner; Mark Goldring, director of Oxfam, UK; the environmental artist Richard Long; Caroline Lucas, Britain's first Green Party MP; the American environmental activist Bill McKibben; Michael Morpurgo, author and playwright; Jonathon Porritt, co-founder of Forum for the Future; the author Philip Pullman; David Puttnam, film-maker and educationalist; Vandana Shiva, environmental campaigner; Fiona Reynolds, Master of Emmanuel College, Cambridge and former director general of the National Trust; Chris Smith, former chair of the Environment Agency; and Rowan Williams, Master of Magdalene College, Cambridge and former Archbishop of Canterbury.
The event will also feature music, poetry and dance, a celebratory dinner, and a special Resurgence Trust members' event with the editors of Resurgence & Ecologist magazine and our websites.

Satish Kumar, editor-in-chief of Resurgence & Ecologist, said: "The conference, One Earth, One Humanity, One Future, offers everyone attending the opportunity to celebrate the past 50 years of Resurgence and, more importantly, to look forward to the next 50 years.
"The event will offer a broad palette of inspiring speakers, cutting-edge thinkers, thought-provoking conversations and stimulating panel discussions. Internationally recognised speakers will be travelling from across the globe to share their ideas, beliefs, messages and passions about environmental issues, social justice, spirituality and the arts."
The event programme and online tickets – for the entire event or for individual sessions – are available online from www.resurgence.org
Accommodation will be available at Worcester College.
Worcester College

Worcester College has one of the most impressive sites of any of the University of Oxford's colleges. Though close to the city centre, it has extensive and beautiful gardens. It was founded in 1714 on the site of a college for Benedictine monks, dating back to 1283, of which some medieval buildings survive.
The gardens

Hidden behind the college walls are 26 acres of beautiful gardens, landscaped grounds and a lake. During the conference, the gardens and grounds will nourish the senses and offer a peaceful place in which to walk, relax and meet other Resurgence Trust members.
Food and accommodation

Worcester College has a long-standing reputation for having one of the finest kitchens among Oxford's 38 constituent colleges. Food and refreshments will be available throughout the conference. There will be an opportunity to buy tickets for a special dinner in the college Hall.

Accommodation, including breakfast, is available for those wishing to stay in College during the conference. Rooms can be booked directly or via the conference booking site.
Oxford

Oxford is one of the oldest and most distinguished university cities in the world, and its college and other buildings, parks and gardens are extraordinarily beautiful. Worcester College is close to the internationally renowned Ashmolean Museum, as well as the Oxford Playhouse. There is a wide range of hotels, guest houses, restaurants, pubs and cafés in the city centre, and it has good public transport links.

To see our programme and buy tickets visit www.resurgence.org/R50event.