Finding A Balance
Donate Now
Issue 296

May/Jun 2016
Days of Hope
Ethical Living
Finding A Balance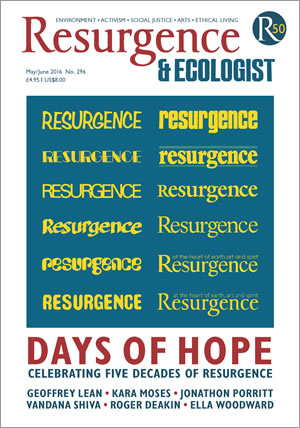 Cover: A montage of past Resurgence mastheads
In the fashionable world of celebrity cooks, Ella Woodward is among a new wave advocating a more holistic attitude towards food. Resurgence & Ecologist interviewed her as she celebrated the launch of a new book.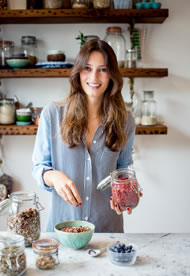 Ella Woodward © Sophia Spring
In the last few years, you've become well known for your writing about food, and for a very successful book, 'Deliciously Ella'. What were the origins of your interest in food?

One day in June 2011 I woke up just feeling awful – my stomach looked like I was six months pregnant, I was so exhausted, was having heart palpitations and general hangover feelings. Over the next four months these symptoms got gradually worse as I went in and out of hospital, seeing way too many doctors and having countless tests. No one could figure out what was wrong, and at this point I would lose my vision when I stood up, couldn't eat anything without pain, and could barely get out of bed.

Eventually I was diagnosed with postural tachycardia syndrome, which is a chronic illness that affects the autonomic nervous system, effectively breaking it down so that most systems in your body don't work as they should – so I couldn't regulate my heart rate, circulation, digestion, immune system, etc.

I tried conventional medicine for about six months but sadly this didn't help and I was still bed-ridden most of the time, so I decided to heal myself through food. I started eating a wholefood, plant-based diet, but I didn't know how to cook, so I started writing a blog as an incentive to teach myself! It took me 18 months to feel well again and come off my medication, but it's really worked.
How would you describe your philosophy of food and diet now?

I focus on natural foods, using real ingredients and avoiding processed, refined products. My diet focuses on veg, fruit, nuts, seeds, beans/legumes, wholegrains and spices. I'm constantly amazed at all the delicious things you can make with such simple ingredients.
You've been associated – at least in some of the media – with a new trend extolling the virtues of 'clean food'. What is this?

I don't like the term 'clean food': it implies that other food is dirty, which isn't how I look at eating. I feel that categorising the way you eat in this way inflicts feelings of guilt, which isn't healthy. To me it's about enjoying what you eat and finding a balance that works for you.
How does your approach to food and diet differ from some of the approaches followed by other 'green' thinkers – vegetarianism, veganism, advocacy of organic food and farming, permaculture, and so on? And what are the elements that you share?

I don't like putting a label on the way I eat. As I said, it's just about natural foods rather than feeling you have to be labelled as something in particular, which I feel takes away flexibility and can make it feel too rigid. We're all different and have to find what works best for us, so I wouldn't want to be overly prescriptive in what I do. I share how I eat but I try to be clear that I don't expect anyone to emulate me – I'm simply sharing ideas to give inspiration for ways to cook and eat.
Your diet and recipe advice have been developed from your own health experiences. Are they suitable for everyone?

Absolutely. Everyone can enjoy veggies!
Food writing, television programmes, newspaper columns… It seems that there's never been more interest in food. Why do you think this is? What are the benefits, and are there some disadvantages in all this? Are there dangers that we will just think that these are all just fads and fashions?

I think people are really starting to enjoy cooking, which is amazing. Eating at home is much cheaper and mostly healthier, both of which are good things. I think there will always be trends in food that come and go, but an increased awareness of how we eat and the effect it has on us is always a good thing.
At a time when so many people are having to watch their budgets carefully – and many thousands in Britain are having to get some of their food from food banks – how suitable are your recipes? Is it possible to eat well and eat healthily if you haven't a lot of money?

It's totally up to you. Healthy eating can be either really expensive or really inexpensive – it simply depends on what you choose to make and buy. Things like porridge with homemade oat milk for breakfast are cheaper than any cereal you could buy. Likewise a veggie stew with seasonal veg (like carrots, potatoes), beans and rice is easy to do and again inexpensive. If you buy lots of dates, nuts, superfoods, and so on, it gets more pricey, but these aren't essential at all.
Similarly, many people complain that they are (relatively) cash-rich but time-poor. Is it possible to eat well and healthily if you have little time to prepare and cook your meals?

Of course, again it depends on what you make. I often make extra and freeze leftovers too, so that I have some home-made ready meals waiting for me at the end of a busy day.
Environmentally, we are becoming aware of the impact of our diets, most recently in terms of the implications for climate change and carbon emissions of the world's increasing meat-eating. What are the environmental issues that you are most concerned about when it comes to food, farming and diet?

There are so many areas to focus on. I'm especially interested in cutting meat consumption as that has such a massive impact on the environment. There are some great studies, articles and documentaries out at the moment highlighting the extent of the issue.
Similarly, there are ethical considerations when we consider food, farming and diet. What are the important ethical issues for you?

Quality over quantity, always. Factory farming is a big concern for me, and I try to emphasise to people that it's better to buy good-quality meat/fish/eggs less often but [also] get free-range, organic.
Do you grow any of your own food?

Sadly, not at the moment. Living in central London and being really busy makes this tough! But hopefully, one day…
What are your thoughts and habits when it comes to sourcing food locally as opposed to buying imported produce? Similarly, what are your opinions on eating according to the season?

I try to use farmers' markets when possible and buy seasonal produce. If things aren't seasonal then I often buy them frozen instead – partly because it's much cheaper. If I eat seasonally, it often tastes so much better! I don't rigidly stick to it, as I couldn't give up things I love, like avocados, but I tend not to buy things like fresh berries over winter, as they're just so expensive and don't taste of anything.
You've just launched a second book. How does it take your approach to food and diet forward?

It's all about making healthy eating easy, quick and accessible.
What would you like to see the government and other authorities doing to encourage a more sustainable and healthy approach to food?

I'd like a firmer line with sugar: I think labelling the front of jars/packets with the number of added teaspoons would be a real step forward. People don't realise how much added sugar there is in things like tomato sauce and soup!
With the 50th anniversary of Resurgence in mind, we asked Ella to suggest the menu for a simple, celebratory meal. This is what she chose. Chickpea, Quinoa and Turmeric Curry

This curry was the first recipe I created for this book and it may still be my favourite. I've now made it for almost everyone I know and get constant requests from friends for it when they come over, it's so popular. The thing that makes this recipe so delicious is that the quinoa is cooked in the coconut curry mix, so it soaks up all the incredible flavours. This means that each bite is bursting with the tastes of turmeric, coriander, ginger, garlic and chilli. I love adding spinach to this dish too as it has a beautiful vibrant green colour, creating a great contrast with the yellowy-orange curry. Top tip – be careful with the turmeric: it stains everything.

Serves 4

Ingredients

500g new potatoes

3 cloves of garlic, peeled and crushed

3 tsp ground turmeric

1 tsp ground coriander

1 tsp chilli flakes or powder

1 tsp ground ginger

200g coconut milk

400g tin of tomatoes

salt and pepper

180g quinoa

400g tin of chickpeas, drained and rinsed

300ml boiling water

150g spinach
Method

Place the potatoes in a pan of cold water, bring it to the boil, and let the potatoes cook for about 25 minutes until you can easily stick a knife through them. Drain them and slice them in half.

Place them in a large pan and add the garlic, turmeric, coriander, chilli, ginger, coconut milk and tomatoes. Bring to the boil, season with the salt and pepper and add the quinoa.

Reduce the heat to a simmer, place the lid on it and allow everything to cook. Over the next 45 minutes gradually add the boiling water, stirring every 15 minutes or so to make sure nothing sticks to the bottom.

Halfway through, add the chickpeas.

Five minutes before the end of the cooking time, stir in the spinach and allow it to wilt.

Once the quinoa has cooked and is fluffy, not crunchy, the curry is ready to serve.
Chocolate Ganache Cake
This is my favourite chocolate cake – it's so soft and gooey. It may also be the simplest cake ever – just six ingredients whizzed together and then baked for 15 minutes, so it's great if you need a fancy dessert but have limited time or energy.

Ingredients

3 avocados

7 tbsp almond butter

8 tbsp raw cacao powder

11 tbsp maple syrup

140g ground almonds

3 tbsp chia seeds

You will also need coconut oil to grease a cake tin.

Optional icing

4 tbsp each of coconut oil, raw cacao powder and maple syrup
Method

Preheat the oven to 180 °C and grease a cake tin with coconut oil. Scoop the avocado flesh out of the skins and discard the stones. Place all the ingredients in a food processer and blend until smooth. Transfer the mixture to the cake tin and bake for 30 minutes or until a knife comes out clean. Leave to cool and bind for 20 minutes.

For the optional icing, stir all the ingredients together until you have a smooth glossy glaze; the coconut oil may need to be warmed beforehand.