Feats of Clay
Donate Now
Issue 296

May/Jun 2016
Days of Hope
Reviews
Feats of Clay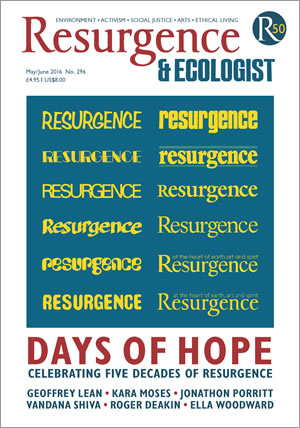 Cover: A montage of past Resurgence mastheads
Simon Olding admires a ceramicist's pursuit of porcelain. The White Road: A Pilgrimage of Sorts by Edmund de Waal. Chatto & Windus, 2015. ISBN: 9780701187705
Inside the front cover of Edmund de Waal's new book is the customary list of books 'by the same author'. One is The Hare with Amber Eyes, the book that propelled de Waal to international fame as a writer. Not mentioned, however, is his brilliant monograph Bernard Leach for Tate Gallery Publishing, although this was also a transformative account of ceramic history, personality and mythologies. The two earlier works are related, though very different in tone and approach. One is the scholar's book; the other is the poet's.

These two books and The White Road are all in their own ways concerned with the haptic. They are all driven by de Waal's enquiry into how making is a legitimate avenue for research; how feeling clay, and a feeling for clay, can intrinsically shape creative work. The White Road is not an instructional manual, although it does make an account of the science, the labour, the trade, the geology and the geography of porcelain "made for 1,000 years". De Waal is everywhere in the book, reflecting on his own practice as an internationally acclaimed ceramicist, turning to history and travel, experiencing this history as he writes it. It is a book written in the present tense that is urgent about the past.

Because of this, de Waal's book sits in a rather crowded and sometimes aggressively contested space. Will Self has demolished some of the pretensions of the plethora of books that sit somewhere between psychogeography and single-subject history. Many writers have taken this kind of approach, describing the felt history in subjects that range from cod to coffee. Some of the ground in The White Road has recently been covered in Philip Marsden's Rising Ground.

De Waal is beguilingly passionate about his subject, though it may be the cold, hard gloss of porcelain. He is religious about this ceramic body, even though he is clear that many pots made in porcelain, highly fashionable in their day, look fanciful and profoundly over-embellished to our eyes. De Waal is happiest with monochrome.

His book is a primer for porcelain, intended for a public audience rather than the higher education class. But it is a careful reflection on the history of the materials and its signature moments, places and personalities. It is place-specific and personality-rich. He takes us to the porcelain city of Jingdezhen, to the wilder outcrops of Cornwall and to Plymouth, where the search for porcelain became obsessive and sometimes despairing. He follows in the dogged and determined footsteps of Josiah Wedgwood and William Cookworthy, the pioneers of porcelain in England. It is a book with a big footprint.

De Waal's tone of voice and his being in the book are deeply important elements. It can't be written (or read) neutrally. The book asks us to care about porcelain, and in fact it asks us to care about de Waal, his anxieties, his headaches and his epiphanies. And he is an engaging and compassionate host to his own work. Like many books in this genre, it cannot be effective if we don't get on with the writer. The objective is contingent on the subjective. The White Road is an engaged history of material and objects.

It ends, however, with an awful history: the account of the Porzellan Manufaktur Allach, which made porcelain under the direction of Himmler's SS, eventually in the Dachau concentration camp. Here, in this searing account, at the moral crescendo to his narrative, de Waal's prose is as cold as ice. Here, "White searches out degeneracy."

The White Road won me over. I wonder if it is over-long (although each of the 66 chapters is short). The choppy paragraphs look like shards of porcelain, and that sometimes seems precious. De Waal is a fine and sometimes urgent stylist with a talent for the short sentence and the lyrical metaphor. He is appropriately worried about and careful for his subject. He knows that making pots is both profoundly important and unnecessary. The world both needs great porcelain and has enough of it already. Here is the crux of the book, too. Do we need it, or not?

I would say that there is no doubt that we do.