Moving On
Donate Now
Issue 298

Sep/Oct 2016
Regenerative Cities
Welcome
Moving On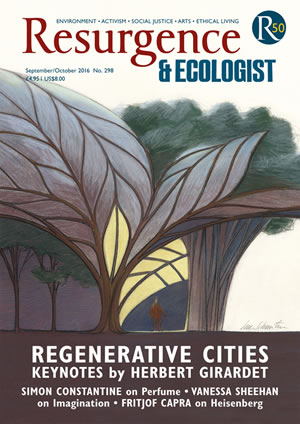 Cover: Illustration by Luc Schuiten www.vegetalcity.net
A record-holding Editor leaves an important legacy.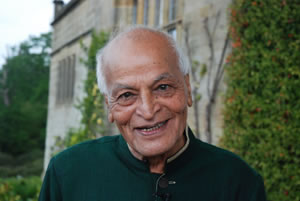 Satish Kumar, photo courtesy of Cowdray Estate
As regular readers will be aware, this magazine is passing a series of milestones. In May this year, we marked the 50th anniversary of the first publication of Resurgence. Early next year we are due to publish our 300th issue. And with this issue we mark another significant moment: after 43 years at the helm of this magazine, Satish Kumar is standing aside as Editor-in-Chief of The Resurgence Trust's publications and websites.

Satish's record – he is currently the longest-serving editor in British journalism – is not merely one of remarkable longevity. If we owe our initial existence to the charismatic figure of John Papworth, who founded Resurgence in 1966 and edited it for its first six years, then most objective observers would say that Satish – initially in partnership with his wife June as co-editor – is responsible, first for the magazine's survival in the 1970s, when some feared its demise, and then its slow but steady progress to what it is today: an internationally known publication that has become – in the words of a Guardian article – the spiritual and artistic flagship of Britain's green movement.

It is appropriate, therefore, that this issue reflects some of Satish's abiding editorial interests, as well as featuring some correspondents whose writings have been a regular feature of his editorship. Herbert Girardet, who has written our Keynotes feature on the need to create regenerative cities, was a contributor to Satish's first issue of Resurgence, 43 years ago. And the Indian environmental campaigner Vandana Shiva, whose new book is reviewed in this issue, is similarly a longstanding contributor. But Satish has also always been keen to encourage new, young writers, of whom the latest include Vanessa Sheehan, writing in our Undercurrents section on Nature and Imagination, and Antara Mukherji, writing on food.

Elsewhere, we cover topics that reflect our abiding interests in the environment, social justice, spirituality and the arts – from Oliver Tickell's report on the pernicious effects of modern pesticides, via Mark Goldring's critique of growing global inequalities, to Matthew Fox's account of the life of the radical priest Thomas Merton, who spoke for peace and Nature in turbulent times.

Satish may be hanging up his editor's eyeshade, but he will continue as head of The Resurgence Trust, working and teaching. And as this magazine goes forward, with exciting new plans for the coming months, we are aware of just how important his legacy is.