Renewable Energy Triumphs
Donate Now
Issue 298

Sep/Oct 2016
Regenerative Cities
Frontline
Renewable Energy Triumphs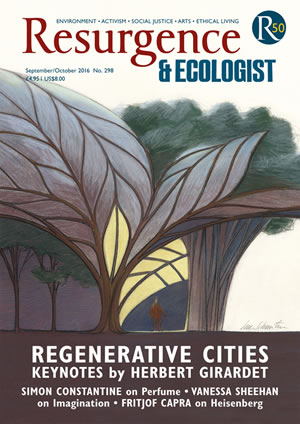 Cover: Illustration by Luc Schuiten www.vegetalcity.net
Updates on renewable energy, oil and gas plans, and fracking.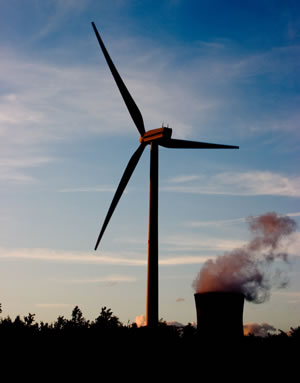 Photo © Dragon_art / freeimages.com
RENEWABLE ENERGY TRUMPS COAL IN ONE WEEK

Energy generated around the world from renewable sources exceeded that produced by burning coal in a record-breaking week in May, Kara Moses writes.

Among the developments, on four days coal generation fell to zero in the UK for the first time in over 100 years. This followed a record-breaking day one month earlier when, for the first time, solar produced more power than coal in Britain for a full 24 hours.

In the same week, Germany's renewables supply completely met the country's demand for a day, while Portugal ran on renewables for more than four consecutive days, with wind, solar and hydro producing more electricity than the entire nation consumed.

The record lows for coal are explained by the ongoing collapse of the industry, with many coal-fired power plants undergoing maintenance or closure due to falling profitability, and by a large increase in renewables capacity.

The historic week also coincided with a fortnight of coordinated direct action targeting major fossil-fuel infrastructure across the globe. The day Germany consumed 100% renewable energy was the third day one of its largest coal mines, associated train tracks and power station were occupied by 3,500 people. It is not known how much the protests contributed to the figures.

Speaking about Portugal's extraordinary 107-hour run of clean energy, James Watson, the CEO of SolarPower Europe, told the Guardian: "This is a significant achievement for a European country, but what seems extraordinary today will be commonplace in Europe in just a few years. The energy transition process is gathering momentum and records such as this will continue to be set and broken across Europe."

Meanwhile, latest figures show that carbon emissions from the US's energy sector fell in 2015 and now stand at 12% below 2005 levels, a fall largely being driven by the continuing collapse of the coal industry in that country. A major factor is the dramatic rise in gas as a cheaper alternative to coal, as well as an increase in renewables.

tinyurl.com/portugal-renewables

ENERGY NEWS ROUND UP FROM THE EDITOR
OIL AND GAS PLANS ABANDONED

Plans to allow oil and gas drilling along the east coast of the US have been abandoned. The US government had proposed to auction offshore oil- and gas-drilling rights for up to 104 million acres of Atlantic coast waters. However, the policy reversal effectively bans drilling along much of the coast (though the Alaskan Arctic and Gulf of Mexico were not included). This follows President Obama's decision to reject the proposed Keystone XL pipeline.

COUNCIL BACKS FRACKING

Fracking for underground gas is set to take place in Britain for the first time in five years, after North Yorkshire county council approved permission for UK firm Third Energy to conduct shale gas tests in Kirby Misperton, despite receiving 4,375 objection letters. Since the first UK fracking test in Lancashire in 2011 caused minor earthquakes, two applications to frack in the county have been rejected. France and Scotland have meanwhile introduced outright fracking bans.

tinyurl.com/kirby-misperton-fracking
NEW OIL SPILL

Less than two weeks after spilling nearly 90,000 gallons of oil into the Gulf of Mexico – the largest spill in the area since BP's 2010 Deepwater Horizon disaster – Shell's San Pablo Bay pipeline, which transports crude oil from California's Central Valley to the San Francisco Bay Area, leaked an estimated 21,000 gallons into the soil in San Joaquin County.

tinyurl.com/san-pablo-oil-leaks
THE HILLS ARE ALIVE…

An innovatively simple form of renewable energy storage has been approved in the US state of Nevada. When wind turbines or solar panels are producing more power than is needed, the Advanced Rail Energy Storage (ARES) system uses excess energy to push load-bearing cargo trains uphill on a special six-mile track. When extra power is needed (for example when supply does not meet demand), the train is allowed to roll back down the hill, and its motors turn into generators to produce electricity. The project has a capacity of 50MW and can produce 12.5MWh of energy, a relatively large amount compared to many battery storage projects.