Seeing the Wood for the Trees
Donate Now
Issue 299

Nov/Dec 2016
Brave New Worlds
The Arts
Seeing the Wood for the Trees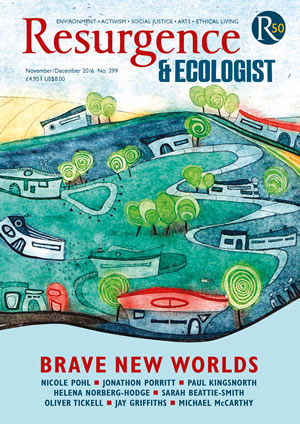 Cover: Where we live by Heike Roesel www.heikeroesel.co.uk
India Windsor-Clive reports on an initiative to take art into Britain's forests.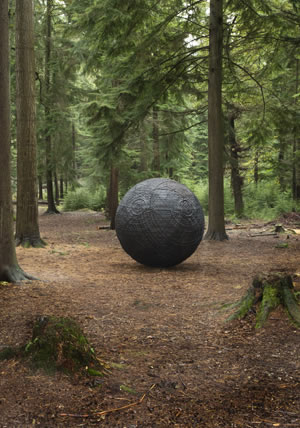 Semiconductor, Cosmos (2014), a public artwork in Alice Holt Forest, Surrey. Commissioned as part of Jerwood Open Forest 2014. Supported by Jerwood Charitable Foundation, Forestry Commission England and Arts Council England. Photograph: Laura Hodgeson
Forests are places of recreation and respite, deep reflection and enchantment. They are time-woven tapestries of layered histories, myths and legends. Witness to bygone gatherings and happenings; home to an abundance of plants and wildlife. They have provided materials and inspiration for artists and craftspeople throughout the ages.

Now, in an exciting initiative, forests are being explored as sites for artistic experience. Jerwood Open Forest – a joint initiative by the Jerwood Charitable Foundation and Forestry Commission England, supported by Arts Council England – invites early-career artists to submit "bold and broad-thinking" proposals for work to be realised anywhere in England's publicly owned forests. There is no brief. Submissions can be of any discipline, in any medium, temporary or permanent.

The first edition of Jerwood Open Forest took place in 2014, with two commissions awarded. The first went to Ruth Jarman and Joe Gerhardt, who work together under the name Semiconductor. Semiconductor's permanent spherical public sculpture Cosmos sits in Alice Holt Forest, Surrey like a fallen meteorite. Its make-up and surface texture are based on a year's worth of measurements such as wind, water vapour and the take-up and loss of carbon dioxide from trees, data collected at the top of a 28-metre flux tower. Semiconductor recontexualised this scientific data, making it tangible in sculptural form.

The other 2014 commission winners, Chris Watson, a composer, and Iain Pate, a producer, staged an interdisciplinary sound installation of a raven roost entitled Hrafn: Conversations with Odin, in Kielder Water & Forest Park, Northumberland, drawing on Norse mythology. Rarely experienced now, the sound of 2,000 birds returning to roost at twilight had a remarkable effect on those who experienced it.

Following the success of the first commissions, this year sees a second group of artists completing their supported six-month research and development period. These five artists, Rebecca Beinart, Magz Hall, Keith Harrison, David Rickard and David Turley, have been developing their commission proposals, testing feasibility and exploring potential sites, to culminate in a group exhibition at Jerwood Visual Arts in London in November and December this year. During the exhibition one artist will be selected to receive a £30,000 commission to realise her or his proposal.

The selectors include the artists Katherine Clarke and Neville Gabie, and the writer and curator Joy Sleeman. The range of imaginative approaches represented by the five shortlisted artists, Sleeman says, "is indicative of the rich inspiration such places inspire. The artists will each be embracing aspirations to bring new experiences into forests – whether by engaging with their human history, their relationship with their urban surroundings, or through an intimate engagement with individual trees."

Forests make up 13% of Britain's land area today. After demands on timber during the first world war left Britain's forests depleted, the Forestry Commission was founded in 1919 as a commercial endeavour to rebuild and maintain strategic wood resources. Today, although it retains a commercial forestry wing, the commission fills the role of preserving woodland for people's enjoyment, biodiversity and ecology.

This history interests artist Rebecca Beinart, who considers the contemporary framing of the Forestry Commission, its role as caretaker, and forests as constructed environments. Beinart has been researching narratives that relate to the specific sites she plans to work with, such as Leigh Woods outside Bristol – home to the whitebeam species endemic to the Avon Gorge – and the work being done in response to climate change and tree disease.

From interviewing people involved in the Newbury bypass protests in the 1990s to researching Victorian plant hunters, Beinart is collecting stories to thread into a script for a proposed large-scale live work to take place in two forest locations. She envisages using between 30 and 50 narrators to retell these anecdotes.

Sound and radio artist Magz Hall is meanwhile developing "an interactive trail of radio transmissions through the forest, playfully enabling trees to whisper to each other visitors' dreams". For her Jerwood Open Forest proposal Whispering Trees, she plans to set up recording sessions in a bird-hide-like studio in the forest with the Friends of Bedgebury Pinetum and members of the public, to record their secrets and dreams. The audience can then tune into these dreams 'broadcast' by different trees, using radios collected on-site.

Hall's proposal comes out of an earlier project for an Art for the Environment residency at Yorkshire Sculpture Park, Tree Radio, for which she transformed an oak tree into a micro radio station. She embedded a transmitter into the tree to relay the tree's reactions to light, motion and moisture via sensors and probes in the tree, "so the tree was broadcasting its own content".

Also selected for Jerwood Open Forest is Keith Harrison, who explores forests as places of recreation at the edge of post-industrial urban conurbations. He is proposing a large-scale performative sculpture, entitled Joy Ride, near Cannock Chase, Staffordshire.

David Rickard has proposed an installation of reclaimed timber, exploring the cyclical journey of the forests' trees entitled Returnings. He describes his search for a forest as headed simultaneously in two very different directions: "Firstly, for a growing, photosynthesising cluster of trees, a forest in the current tense, and secondly for a building with timber bones, a forest in the past tense."​​

Finally, David Turley's proposal centres on a Men of the Trees Forestry Diary from 1947, which documents the daily life of a man planting trees in Orlestone Forest outside Ashford, Kent. Turley explores the everyday in relation to the monumental, the idea of a daily task impacting the future, and the "understanding of a tree as having life beyond the scale of our own".

The work being created for Jerwood Open Forest exemplifies how artists are engaging with the environment and incorporating contemporary dialogues with Nature into their work in the public realm. Each proposal holds the possibility of shifting people's understanding, considering the experience of place or the layering of multiple histories and the capacity of history to touch us. As well as challenging artistic practice and giving artists the opportunity to work in new, different ways, it sees forests lending themselves to artistic experience and the potential to foster a deeper connection with the environment.

Jerwood Open Forest exhibition runs from 2 November to 11 December at Jerwood Space, London.
www.jerwoodopenforest.org