One Humanity, All Our Futures
Donate Now
Issue 300

Jan/Feb 2017
A Plea for Empathy
Welcome
One Humanity, All Our Futures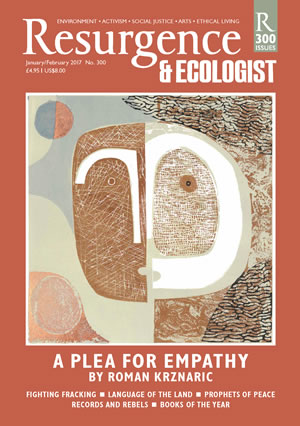 Cover: Artwork by Melvyn Evans www.melvynevans.com
For our 300th issue, a New Year plea for empathy in a divided world.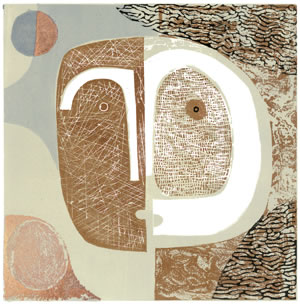 Artwork by Melvyn Evans www.melvynevans.com
As this issue of Resurgence & Ecologist was going to press, the result of the US presidential election was still generating reaction around the world. After a campaign characterised by disturbing levels of animosity – on all sides – and remarks that have stoked the fires of prejudice and bigotry, Donald Trump's victory was greeted with incredulity by many commentators. In some senses, there were parallels with the result of Britain's referendum in June, with a small majority voting in favour of leaving the European Union – again to the surprise of many observers in positions of influence in mainstream politics and the media.

This column is not going to discuss the politics of either vote. This magazine has no party political partisanship. But what struck me was the manifest failure of many commentators on both polls to seek to understand those for whom they clearly felt no sympathy.

That is a good reason for this issue's Keynotes feature being the philosopher and activist Roman Krznaric's plea for us to develop greater empathy. Without empathy we are hampered in our efforts to understand the lives, thoughts and feelings of other people. Instead, there is every risk that we see them as "The Other", onto whom we project our own fears, prejudices and mistrust.

Without empathy, we are unlikely to find common ground, or make new political settlements. Trump's disdain for the realities of climate change may not endear him to environmentalists, but that should not prevent them from understanding the plight of unemployed coal miners who voted for him. A new political empathy is required if we are to avoid our societies becoming more divided and our world more dangerous.

The Vietnamese Buddhist monk, writer and teacher Thich Nhat Hanh, the subject of a new profile in this issue by Christine Toomey, is one of those whose lives have exemplified such an approach. Thich Nhat Hanh is known as the father of mindfulness, a practice that is winning new adherents and which draws on his Buddhist precepts and Zen training. Yet what first drew him to the attention of the world – and encouraged Dr Martin Luther King to proclaim him an ideal candidate for the Nobel Peace Prize – was his work in war-ravaged Vietnam in the 1950s and 1960s, work that required an understanding of and willingness to talk with both sides in that conflict.

The image of Bob Dylan, recently awarded the Nobel Prize in Literature, stares out from a poster in the You Say You Want a Revolution exhibition at London's Victoria and Albert Museum, reviewed in our Arts pages. The exhibition's subtitle, Records and Rebels 1966–1970, initially focuses attention on the counterculture music and musicians of the era, before seeking a wider social and political context.

It's a shrewd move from a marketing perspective, though it can be criticised for overstating the importance of some of the stances and pronouncements of the pop pundits. Yet this was the era in which Resurgence was born, and we hope that reaching our 50th anniversary in 2016 is proof of the enduring relevance of the causes we embraced then as now: peace, social justice, protection of the environment through an understanding of our place in Nature, and liberation of the human spirit.

After an anniversary, another milestone: this is our 300th issue. As we look forward to a new year, we thank all of you who have sent messages of greeting. In return, we pledge ourselves anew to the message of Resurgence.

We wish all our readers a peaceful 2017, and much good reading.