Fracking Fight Heats Up Around the Globe
Donate Now
Issue 300

Jan/Feb 2017
A Plea for Empathy
Frontline
Fracking Fight Heats Up Around the Globe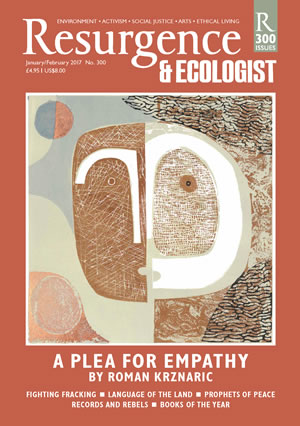 Cover: Artwork by Melvyn Evans www.melvynevans.com
Kara Moses reports on growing resistance to controversial drilling projects.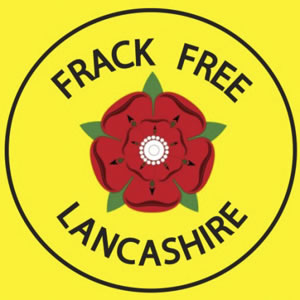 Courtesy www.frackfreelancashire.org.uk
Controversy over fracking for underground oil and gas in Britain is intensifying, with central government overruling local and county council rejections of fracking in Lancashire – and campaign groups vowing to escalate resistance.

The Lancashire 'Nanas' group, who have been campaigning against fracking with "tea, cake and smiles", said: "The oven gloves are off." National direct action group Reclaim the Power, who organised mass action camps at Balcombe and Blackpool, have said they will support local communities resisting the controversial practice with mass action.

"Fracking not only has no social licence: it flies in the face of the Paris Agreement and our climate change targets," said Kat Richardson from Reclaim the Power. "More and more people are willing to take direct action to stop fracking before it starts, and we'll be standing with those defending their communities."

Meanwhile in Yorkshire, a judicial review of North Yorkshire County Council's decision to grant planning consent for fracking was raised by local groups, delaying the beginning of work by months.

More planning applications are being submitted across the UK, but many are facing delays by legal challenges from campaign groups and local individuals. A number of energy companies applying for permission to begin operations, such as iGas and Europa, are reporting financial losses but put them down to falling oil prices.
The Advertising Standards Agency has overturned the decision it took last year to ban a Greenpeace anti-fracking advert, which stated: "Experts agree – it won't cut our energy bills." The watchdog found that most experts did not agree with former Prime Minister David Cameron's claim that fracking would cut UK energy bills.
Differences between Britain's two largest parties over fracking have widened. The Labour Party has said it would impose a permanent ban on the practice if it came to power, while the Conservative government has shown further support for the technique, proposing cash payments to home owners near fracking wells.
FRACKING IMPACT SEEN FROM SPACE

Fracking involves injecting water at high pressure into rocks deep underground, a technique that can lift the Earth's surface and cause earthquakes. This movement has now been detected from space and is being used to help predict where fracking-induced earthquakes are likely to strike.

tinyurl.com/fracking-seen-from-space
FRACKING LINKED TO EARTHQUAKE

The US state of Oklahoma has seen its strongest earthquake ever recorded, spurring regulators to shut down 37 fracking waste-water disposal wells. Commentators have linked the magnitude 5.8 quake to fracking, which has caused many previous quakes in the state. Oklahoma has seen a 5,000% increase in quakes since fracking began.

tinyurl.com/fracking-earthquake-oklahoma
BAN, MORATORIUM IN AUSTRALIA

The Australian state of Victoria has announced a permanent ban on the exploration and development of all onshore unconventional gas, including fracking and coal seam gas. Meanwhile the Northern Territory government has imposed a moratorium on fracking while it conducts an independent inquiry.

tinyurl.com/victoria-fracking-ban

tinyurl.com/n-t-fracking-moratorium
PIPELINE PROTEST CONTINUES

A stand-off was continuing in North Dakota, as Resurgence & Ecologist went to press, with more than a hundred Native American tribes, many of whom have not met for centuries, coming together to resist the building of a new oil pipeline. The US$3.8 billion pipeline would carry about 500,000 barrels of crude oil per day from North Dakota's Bakken oilfield to Illinois.