We Made A Beeline
Donate Now
Issue 300

Jan/Feb 2017
A Plea for Empathy
Ecologist
We Made A Beeline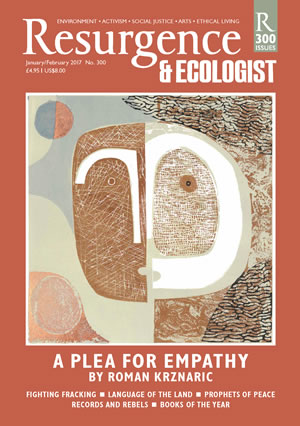 Cover: Artwork by Melvyn Evans www.melvynevans.com
Meg Beresford tells how she was inspired to make a cross-country trek to highlight threats to Nature.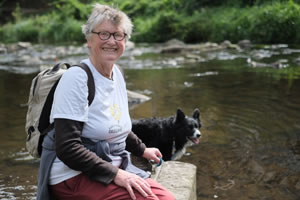 Meg and Pollaidh rest on the Water of Leith Walkway. Photograph by Roger Hyam
The idea came after a walk on a warm sunny afternoon in south Edinburgh early last June. My companion and I enjoyed passing gardens blooming with flowers, but climbing up Blackford Hill, which was covered with flowering broom and gorse, something seemed wrong. I asked my companion how many bees and butterflies he had seen. He answered: "None."

That walk confirmed what I had experienced in September 2014, when I went to my Aunt Eliza's funeral in Wiltshire. One day on this trip back to southern England, we visited our old farm on the edge of Salisbury Plain.

When we moved there in the late 1940s, the permanent pasture fields and ancient drove roads were hedged with wayfarer trees and carpeted with wild flowers and abuzz with bees, butterflies, dragonflies: insects of all kinds. But now it is a silent landscape, with few birds, animals or flying insects. The hedges have been replaced by fences enclosing 40-acre fields; the drove roads are all gone. And on our old farm there were no cows or sheep, no chickens and no farmworkers. Just contractors… This change left me feeling bereft and worried.

After the walk through Morningside, I contacted people I know who garden and grow, from Shetland to the south of England, to ask for their observations. The only places I have heard the 'buzz' reported as usual are the northern sea-coast fringes: Shetland, the north coast of Scotland, and the Islands. At Wiston Lodge, in South Lanarkshire, where I live, we have bumblebees, but fewer; honeybees when the wild raspberries are flowering, but fewer; a few moths, but almost no butterflies; and only one ladybird in the past three years. And one of my neighbours living near Biggar, our small local town, reports the same – and, even worse, a complete lack of worms in her garden soil.

I have always been interested in the natural world. I have a farming background; we always took camping and walking holidays; when I moved to London in the 1980s, I dug up the back garden attached to the flat I lived in in Stoke Newington to grow flowers and vegetables. Later I worked as a gardener for the Iona Community and started the garden at Wiston Lodge, and now I have a personal garden again.

In the late 1950s I was an agricultural student at Seale-Hayne Agricultural College. My memory is of learning to kill things; of being sent out by the botany lecturer to collect 100 "weeds" and arguing that they were what I knew as wild flowers; and of sitting with Lady Eve Balfour's The Living Soil on my knee in the chemistry lecture and being held up to ridicule.

It is just over half a century since Rachel Carson wrote Silent Spring. That vital book changed the way a lot of us think, but since then her message has gone unheeded by much scientific, agricultural, political and gardening practice. It is up to each of us to make the change we need.

Albert Einstein predicted that if the bee disappeared humankind would only have four years of life left. And in his book A Sting in the Tale, Dave Goulson, biologist and founder of the Bumblebee Conservation Trust, tells us that a bumblebee can travel 10 kilometres to make its way home to its hive. So some friends and I decided that, to highlight the loss of our pollinating insects, we would walk such a distance each day, for eight days, between the Royal Botanic Garden Edinburgh and Wiston Lodge.

So, on 30 August, we – that is, Ewan MacDonald, the Wiston Lodge cook, Paul Dear, a photographer, and I, together with Pollaidh, my nine-year-old Border collie – set off from the bee-friendly student plots in the Royal Botanic Garden. At the beginning of each day we were joined by others interested in what we were doing.

On the way, we visited gardens full of bee-friendly plants, made contacts with old and new friends, struggled to follow the routes changed by new developments. Significantly, the best wild place for bees and pollinators that we found, with a huge range of bee-friendly plants, was beside the disused railway track between the village of Broughton and Biggar. And the worst, sadly, was agricultural land and the over-strimmed roadside grasslands in towns and villages we passed through.

There were several high points of our trip – such as visiting the Lost Garden of Penicuik and the Penicuik Storehouse project, two important bee-friendly local initiatives; a talk by Andrew Whitley and Veronica Burke at the Atkinson Pryce bookshop in Biggar on their Scotland the Bread campaign and their way of growing bread-making grains in pollinator-friendly practice on their farm; and the rainbows following us up Tinto Hill on the last day of the walk.

The most vital thing I brought away from this 'beeline' walk, however, was the need to spread the word about better ways of taking care of the pollinators we must preserve. It may be in our own gardens and allotments, as part of the campaigns from organisations such as the Bumblebee Conservation Trust and the Scottish Wildlife Trust. It may be by getting farmers, garden centres and local authorities to change their bee- and other pollinator-threatening practices, whether it be excessive strimming of verges, or the use of insecticides, weedkillers and excessive nitrogen fertilisers. To find out more, see our website and blogs – and please, please grow pollinator-friendly plants wherever you can.

To encourage bumblebees, plant bee-friendly flowers, provide nesting places, and support regular surveys contact: www.bumblebeeconservation.org