Our Books of the Year
Donate Now
Issue 300

Jan/Feb 2017
A Plea for Empathy
Reviews
Our Books of the Year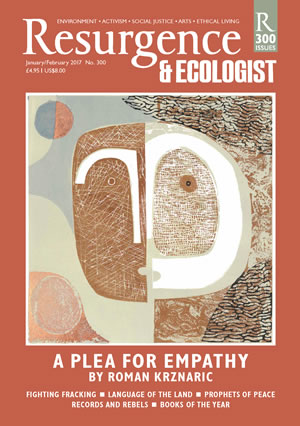 Cover: Artwork by Melvyn Evans www.melvynevans.com
We asked figures from the world of environment, social justice, spirituality and the arts: "Which book made the most impression on you in 2016?"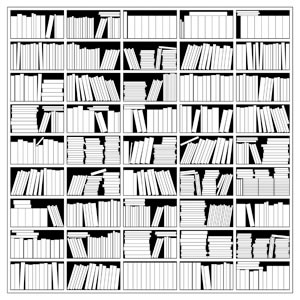 Illustration © Cihan Terlan / Shutterstock
DANNY CHIVERS

Those of us who want to take a stand against the unfolding climate nightmare: what do we actually need? More evidence, more facts and figures? Or are there more urgent things we lack? I believe there are. Reverend Billy began as a satirical anti-consumerist character created by the American Bill Talen but has evolved into the semi-spiritual leader – Reverend Billy and the Church of Stop Shopping – of an unlikely Earth-based activist church. Using real-life tales of guerrilla theatre and rebel performance, his new book The Earth Wants YOU (City Lights) left me feeling uplifted, ready to abandon my fears and carry on the fight for a better world. Earthalujah!

MIKE CLARKE

The naturalist and broadcaster Chris Packham's book Fingers in the Sparkle Jar (Ebury) conveys an account of his childhood with searing honesty that also brings alive an intense connection with Nature and living things. Why is it my book of the year? Because 2016 has been a momentous year for the UK and the rest of Europe, in which the nature of public discourse has changed. It has been a year that has seen a failure of rational, evidence-based debate, and ears have been closed to 'experts'. In an era of clashing worldviews, we must make the case for the intrinsic value of Nature – for the humanity in all of us. Chris's story, powerfully, does just that.

Mike Clarke has been chief executive of the Royal Society for the Protection of Birds since 2010.
NICK DEARDEN

Paul Mason's PostCapitalism: A Guide to Our Future (Penguin) provides an accessible journey through radical economic and political thinking over the last 100 years, masterfully blended to ground his vision of how we move past capitalism. Mason's enthusiasm for the revolutionary potential in the technological developments all around us is contagious and, in a world of Brexit and Trump, much needed – making it even more relevant than when it was published last year.

DANNY DORLING

One book that could do more to aid the environmentalist cause than any other published in 2016 is Alan Marshall's Ecotopia 2121: A Vision for Our Future Green Utopia (Arcade). Beautifully illustrated with 100 images of what the future might entail, it is a coffee-table book calling for revolution. It begins by describing a future sustainable Abu Dhabi basking in sustainability decades after the migrant workers have seized control. It's a good read, a beautiful book, but more than that it gives hope – and without hope what is the point?

Danny Dorling teaches in the School of Geography and the Environment at the University of Oxford.
LYNNE FEATHERSTONE

When I became Energy and Climate Change spokesperson for the Liberal Democrats I determined to study everything I could find on decarbonisation and energy supply. I am convinced that solar energy is the answer, together with battery storage. Of course, much more – including wind, tidal, hydrothermal and green gas – is needed to fulfil our energy needs and ensure our security. I finally found a book that agrees that solar is the ultimate solution: it is by Chris Goodall and is called The Switch. Goodall expounds the slightly magical qualities of the "experience curve", which demonstrates that solar energy costs will continue to plummet, and production ramp up. The speed at which this will happen is staggering. It really is the answer to life on Earth.

Lynne Featherstone was MP for Hornsey and Wood Green from 2005 to 2015 and had several government posts in the Conservative–Liberal Democrat coalition.
ELLA HICKSON

Not published this year, but I got around to reading it: Ha-Joon Chang's 23 Things They Don't Tell You about Capitalism (Penguin) is a brilliantly accessible guide to the complexities and contradictions of the economic system that is running our world. The author works from a rational, pragmatic and – crucially – capitalist standpoint, and yet he highlights the biggest flaws and contradictions within the system he essentially supports. He is one of the most brilliant economists of this century, with an ability to translate the most complex of ideas into everyday language for the layperson. This book is an essential read for anyone trying to understand the world.

CAROLINE LUCAS

To read Robert Macfarlane's Landmarks (published in 2016 in paperback by Penguin) is to share in an extraordinary celebration of language and landscape, and to discover dozens of languages and dialects of Britain and Ireland. Ammil is a Devon term for "the fine film of silver ice that coats leaves, twigs and grass when freeze follows thaw", while smeuse is a Sussex dialect noun for "the gap in the base of a hedge made by the regular passage of a small animal". If, as Macfarlane says, language has the power to shape our sense of place, the fact that we are losing so much of this rich texture of expression is not only a linguistic loss – it's a physical loss too. We are losing touch with the Earth itself. At a time when our environment is under such threat, the need to reconnect with the natural world has never been more urgent – and our rediscovery of the rich language of landscape offers us an important way to do so.

AMY MOUNT

Diplomacy has always been important to those of us seeking to influence policy, but now more so than ever as we try to anticipate and shape how the dynamics of Brexit will play out. It's a good time to pick up Naked Diplomacy (William Collins) by former British ambassador to Lebanon and Twitter addict Tom Fletcher. This book gives the reader a few peeks into the shadowy machinations of modern-day international relations, but it is primarily a call for a new type of diplomacy that's more in tune with the 21st century: building new kinds of coalition, and using new media to enable conversation, not just one-way broadcasting.

JONATHON PORRITT

Without vision, the people perish. And nowhere is a new vision needed more than here in the UK, diminished as we are by the wretched Brexit debacle and by the prospect of Tory rule extending indefinitely into the future. So my book of the year is The Alternative: Towards a New Progressive Politics, edited by Caroline Lucas, Lisa Nandy and Chris Bowers (Biteback Publishing). The Alternative is a playbook of the possible, inviting us all to get involved in an emerging progressive alliance, with the eventual aim of ousting Tory MPs in as many marginal seats as possible at the next general election. There are some great articles by politicians of all parties, a sufficiently clear vision to help people move beyond their default tribalism, and enough on the practicalities of making it all happen to whet the appetite!

FIONA REYNOLDS

I loved The Outrun by Amy Liptrot (Canongate), which tells the author's raw, shameless and personal story of her battle with drugs and alcohol, set between the profoundly contrasting places of London's underbelly and Orkney's wild, windy and remote harshness. Amy discovers herself and her route to freedom through her return to her home on Orkney, and by her immersion in the conservation world of corncrakes and seabird monitoring. She writes bravely, and with a self-revelatory exposure that can shock; and she also writes beautifully and profoundly about her experiences, including overwintering, like a solitary bird, on the tiny island of Papa Westray with only her computer and the internet for comfort. In this affirmation of Nature's healing power, Amy did not seek Nature, but Nature sought her, and her spare, lyrical prose is both powerful and tender.

JINI REDDY

Engrossed in the business of writing my first book, I've found myself reading fewer than usual books by others, and assessing those that I have with both a more critical and a more generous eye. The one I'd like to nominate and which I feel sure Resurgence & Ecologist readers would warm to is At Hawthorn Time (Bloomsbury), a novel by Melissa Harrison. I've come across very few novels that explore human connections with Nature and love and loss in such compelling and moving prose. The humanity of the characters shines through, whether disenfranchised rural dweller or drifter attuned to the ways of the wild. There is a rare hypnotic, compassionate quality to Harrison's writing: we need more novelists like her. (I ought to add here that I'm latterly one of many contributors – among them Satish Kumar – to Winter, an anthology edited by Harrison, with all proceeds going to the Wildlife Trusts.)

NICK ROBINS

If we are going to make real progress on climate change, we need to move beyond the worlds of science, economics and law and look hard at what drives our deepest desires – in other words, at our culture. This is why Amitav Ghosh's provocative book The Great Derangement (Allen Lane) is so timely. A novelist, Ghosh turns his gaze upon his own community and asks, why is climate change so absent from the arts and particularly from literature? As he works his way to an answer, he argues powerfully that Nature is a protagonist in human history and not just the inert stage setting of the modernist dream. It makes for often uncomfortable reading for those in the English-speaking world, as he charts the continuing centrality of empire to our current climate predicament, particularly in Asia. Yet out of this comes a vision of a new culture based on the rediscovery of our kinship with other beings, expressed in a new generation of art and literature.

ADAM THORPE

I loved Rob Cowan's Common Ground (Hutchinson). The author converts a tiny patch of Yorkshire squeezed between road, disused railway and creeping suburbs into a healing space, its ordinary creatures – particularly the owls, foxes and deer – growing into shamanic totems, extraordinary in their wild otherness. Interweaving his own troubled existence as a human with his perception of the natural world, he enriches both. His passing into the consciousness of a famished fox is a remarkable stretch of bravura writing.

Although published in 2011, Margaret Heffernan's Wilful Blindness: Why We Ignore the Obvious at Our Peril (Bloomsbury) is required rereading for what has turned out to be a surreal year. Persisting with something we know to be destructive – from burning fossil fuels to Brexit – has intensified. We need Cassandras more than ever.

JOAN WALLEY

Republished and relaunched at the Eden Project in autumn 2015, Whole Earth? Aligning Human Systems and Natural Systems by Mark Edwards and Lloyd Timberlake (Still Pictures Moving Words) is far more than just a beautiful glossy book. Its series of words and photographs frame the questions that urgently need addressing at local, national and international level. Its wonderful photographs reach out in a way that politics has so far failed to. I hope thousands of young people will draw inspiration from it. And of course, if Bob Dylan can receive the Nobel Prize in Literature in 2016, then all the more reason to choose a book in turn inspired by his lyrics.