Sweden Begins The Shift From Fast to Thrift
Donate Now
Issue 301

Mar/Apr 2017
Manifesto for A Green Mind
Undercurrents
Sweden Begins The Shift From Fast to Thrift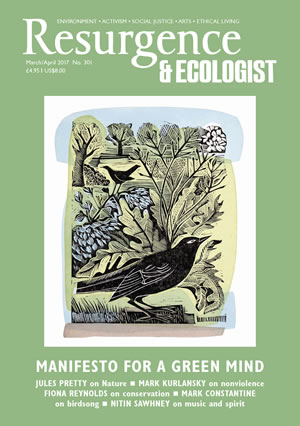 Cover: Artwork by Angela Harding www.angelaharding.co.uk
Richard Orange reports from Malmö on budget plans to encourage.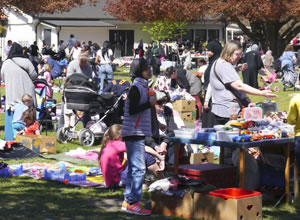 Photo credit Erik Lund
Once a month from spring to autumn, hundreds of stalls spring up in a park in Malmö, southern Sweden, from which parents sell off the clothes, toys and equipment their children have outgrown for as little as five kronor (50p) a pop. As many as a thousand new parents come to shop at the barnloppis, or children's flea market, every time. Some children are five years old before their parents buy them anything newly made.

Swedes have long loved a loppis. But recently, it's become more like an obsession.

"Something has happened only in the last couple of years," says Henric Barkman, a social entrepreneur focused on reducing consumption. "Sweden has a very high standard of living, and there is a higher development of post-materialist attitudes. In many other countries, there's still this stigma connected to having something second-hand, whereas in Sweden it's almost become high-status."

The home of the fast-fashion chain H&M and IKEA, the maker of relatively short-lived chipboard furniture, is recasting itself as a thrift nation, and the Swedish government is getting in on the act.

This January, a package of tax breaks and value added tax (VAT) cuts came into force, designed to make it cheaper to repair everything from clothes, shoes and bicycles to washing machines, dishwashers, fridges and ovens.

Per Bolund, Sweden's minister for financial markets and consumer affairs, says he has been amazed by how positive the international coverage of the proposals has been.

"There's been tremendous interest," he says. "This is a problem that countries all over the world are struggling with. It's a policy area which has been somewhat taboo, because there's a sense that having a policy which will reduce overall consumption will be seen as negative by the public."

Bolund, one of six Green Party ministers in Sweden's government, is committed to reducing his own consumption, even down to hiring the suit and shoes he wore to the launch of the country's sustainable consumption policy.

The changes reduce the VAT on repair and maintenance of bicycles, shoes, leather goods, clothing and household textiles from 25% to 12%. People can also claim 50% of the labour cost of home repairs to domestic appliances off their income tax.

"It's quite substantial," Bolund says. "We believe that could significantly lower the cost and make it more rational economic behaviour to repair your goods."

Fredrik Persson, who runs Malmö Kyl och Värme, a domestic appliance repair service, believes the changes will create a whole new industry.

"It will be a boom, a big boom," he predicts. "Outside the guarantee [period for appliances], I don't do that much now, because they sell domestic appliances so cheaply, but if we have this kind of tax break, customers will choose to repair them. It's wonderful."

Bolund hopes that the new tax breaks will spur a thriving repair industry, providing much-needed jobs for people without a formal education, particularly new immigrants from countries such as Afghanistan and Syria.

Thomas Söderberg, whose company re:Compute-IT sells recycled computers, televisions and other electronics, already employs a Syrian refugee to do the repairs under a government integration scheme.

"When you look at countries in the Middle East, they repair a whole lot more than we do," he says. "Here in Sweden, for the last 20 years, we've grown up thinking, 'If stuff breaks, buy a new one.'" Whereas a Swedish technician would tend to replace the whole power board on a broken television, he adds, a Syrian technician will change only the two broken capacitors, significantly cutting the cost.

Re:Compute-IT is based in ReTuna, a shopping mall in the city of Eskiltuna where all the shops sell second-hand or recycled goods. The mall was set up a year and a half ago at a new municipal recycling and incineration centre on the initiative of Green Party members on the council.

"We are the first in Sweden, and we believe we are the first in the world," Anna Bergström, the centre's manager, says. "There's a very, very big interest – we've had visits from over 30 municipalities, so it seems that we are only the first. There will be followers."

Other towns and cities in Sweden have their own sharing and reuse schemes. In Malmö, you can hire power tools from your local library. Fritidsbanken ('The Recreational Bank'), which hires out sports and leisure equipment for free, is now established in more than 20 towns and cities in Sweden.

Swedish companies are also jumping on the bandwagon. Three years ago H&M started collecting customers' old clothes for recycling and resale. The Swedish jeans company Nudie now mends customers' jeans on its premises, repairing 36,331 pairs last year. The Swedish washing machine company Electrolux is considering an "Uber for laundry", a mobile phone app that would connect people offering to wash strangers' clothes for a fee at the same time as doing their own.

H&M is also the biggest investor in Sellpy, a Swedish start-up that aims to make it easier to resell unwanted possessions online. The company sends out bags into which customers put their unwanted clothes, electronics and other items, collects and sorts the contents, and then sells them on online stores, including its own, giving the customer 40% of the profit. Barkman is developing an app called Swinga Bazaar, which is designed to make it easier for neighbours to borrow and rent things from each other, in a similar way to the British site Streetbank or the Dutch site Peerby.

This is not to say there is no resistance. "The centre-right opposition parties were negative towards this policy," Bolund points out. "At least a few of them said that they don't want this to be in the budget."

Henrik Sundström, vice-president for sustainability at Electrolux, argues that the increased energy efficiency of newer domestic appliances means that it is better to replace old ones. "If you have a product that is 15 years old, it is probably better for the environment if you buy a new one," he says. "Materials are important, but the energy you are using actually has a much bigger impact."

Bolund, however, is confident that this is only the start.

"I believe there is a shift in viewpoint that is ongoing in Sweden at the moment. There is an increased knowledge that we need to make our things last longer in order to reduce materials consumption," he says.

Bergström believes that the new shopping malls that have been built across Swedish cities over the last two decades will have to change.

"I think this is the future way of running business," she says. "All the established shopping centres you find today, are going to have to become more like us. We can't continue to consume in the way that we are today if we're going keep the world we have."