Poetry To Go
Donate Now
Issue 307

Mar/Apr 2018
A Song for Spring
Ethical Living
Poetry To Go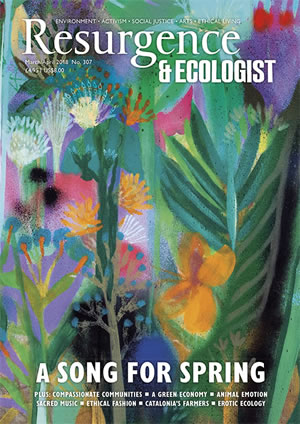 Cover: Emerald Love by Tiffany Lynch www.tiffanylynch.co.uk
Matt Harvey offers bespoke verse. To order.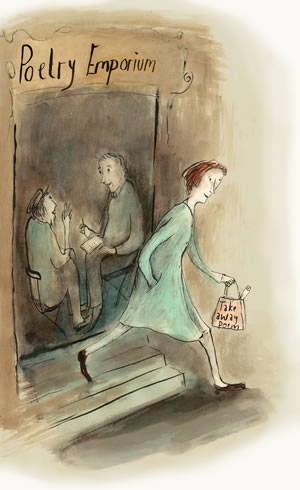 Illustration by Claudia Schmid www.claudiaschmid.co.uk
I'm sitting in a canvas chair by a folding table, back of the Nationwide Building Society stand at the North Wales Show, listening intently as Graham, a youthful sixty-something, speaks of what matters. He tells his love for his teacher wife, Sasha, their shared love of maths, of his plans to retire soon, his pride in his grown offspring, his worry that the kids flying the nest and him spending more time there may put pressure on his marriage. He and Sasha are currently reading together a book on Game Theory, and Graham waxes lyrical about "optimising outcomes" and the aesthetic of elegant mathematical proofs.

I'm not only listening, I'm taking notes, and Graham doesn't mind. Because he's ordered a poem from me. I'm serving up poems to order for the Poetry Takeaway, the world's first mobile poetry emporium, begun by Tim Clare and run these days by genial, big-hearted Michael Bolger, and it's my first day as part of the Takeaway team.

It's challenging. Over the years I've written so much to order and at short notice – for conferences, for radio, (whispers:) for the odd advert – but this is the hardest. And the most rewarding. I'm meeting people I wouldn't otherwise meet, opening ears and heart to listen to them speak, oh, so briefly, of who they are and the poem they'd like, and writing right here right now – bespoke, made to measure – for them to walk off with.

It takes me back to where poems start for many of us – verses for and about each other, ourselves. I frequently meet poets who only write for family occasions, colleagues' leaving dos. Poems written longhand that people keep and reread. I remember birthday lines I received when I was little. (James was a teddy bear.) "James is strong, I've heard him say / That he can lift up houses. / Matthew Harvey's six today / He'll need some bigger trousers." Ah, give me the child and I'll show you the man.

Today's stand-out memories: the nine- and ten-year-olds conjuring a poem for their shopaholic Nan, the couple mourning the untimely passing of their daughter's Shetland pony – they did me the honour of shedding a few tears when they heard their poem – and the tenor seeking a verse to commemorate his choir's greatest gig, when they received a standing ovation from Princess Grace of Monaco, Dame Shirley Bassey and Gareth Edwards. Oh, and the lady whose husband regrets selling his yacht.

I feel privileged to be here, probably because I am.

Back to Graham. He's my last order and, feeling tired but adrenalised, I decide to turn his concerns into a Shakespearian sonnet. It just feels appropriate. A final flourish after a rich day.

Names, of course, have been radically changed.
As time approaches when the time we spend
together will outweigh time spent apart,
it's time, Sasha – co-parent, lover, friend –
to optimise the outcomes of the heart.
The kids are grown up – well, give it a year –
(It's fair to say that we've done something right.)
A time when we've more time is drawing near,
at the end of this time's tunnel you're the light.
I trust we'll walk, we'll talk, we'll read, cook, mull
those chapters of Game Theory we discussed.
May maths never lose its lustre, never dull,
and, Sasha, it's my fervent hope and trust
the two of us become, as years go past,
elegant proof that, sometimes, love will last.
For more of Matt Harvey's poetry, visit www.mattharvey.co.uk
Matt Harvey is a performance poet and regular columnist for Resurgence & Ecologist.