Redevelopment Makes New Waves On The River
Donate Now
Issue 308

May/Jun 2018
Working Together
Ecologist
Redevelopment Makes New Waves On The River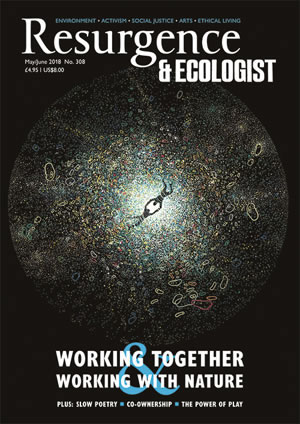 Cover: A Hundred Sunsets by James R. Eads, @james.r.eads.art
Plans for the future of the canalised Los Angeles River have brought praise and protest. Urban geographer Bradley Garrett walked its length.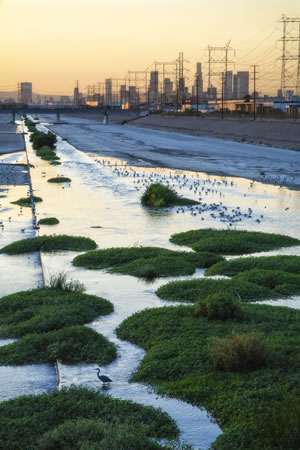 Los Angeles River and Downtown Skyline by Peter Bennett www.citizenoftheplanet.com
It was still dark when the we scaled the fence at the confluence of Bell Creek and Arroyo Calabasas to begin our three-day trek down the 51-mile Los Angeles River. Our plan was to walk inside the concrete channel right through California's largest city, from the headwaters at Canoga Park to the point at Long Beach where canalised rainfall is sluiced into the sea. Our crew consisted of four self-confessed infrastructure aficionados – two geographers, a historian and an engineer. We were all yearning for adventure, but also keen to get a sense of the communities that lived alongside, and in, this riparian slice. We didn't know if walking the river was safe – or in places even legal – but we were determined to trace its entire channel.

After the first 18 miles we became entirely dismissive of the 'no trespassing' signs, since no one seemed to be around to enforce them, save a government lorry full of what looked like firewood, spraying an arc of water as it sped past, destination unknown. Traversing the vast channel at gloaming, hemmed in by an imposing concrete grade screening industrial zones, flanked by sodium street lamps peeking over the banks, we felt we could be traversing a desert wash halfway to Las Vegas rather than a backstage of Burbank. Incongruent landscape features, including fake palm trees serving up mobile phone reception, bolstered an eerie sense of placelessness.

The river was long inhabited by Tongva people and described in lush terms by Spanish explorers in 1769 expedition journals. It has always played a dual role, being both crucial to life as a water source and a great danger when that water bursts its banks. In 1938, at the end of LA's 'boom town' era, a flood carrying as much as 99,000 cubic feet of water per second killed over a hundred people, prompting the Army Corps of Engineers to use 3.5 million barrels of concrete to transform it from watercourse to flood-control feature in the public imagination. Today, the river is central to media representations of the city – think Grease, Chinatown, Terminator – but is not enjoyed by residents in the way that rivers in other major cities are.

This is changing. LA Mayor Eric Garcetti has committed US$1.4 billion to the environmental and aesthetic revitalisation of the river and awarded the planning contract to the eminent architect Frank Gehry. Garcetti claims that the river will be redesigned as a prominent public space, adding 2,300 acres of new parkland to the metropolis.

However, a small group of residents called Friends of the LA River (FOLAR), who have spearheaded a decades-long campaign for the ecological restoration of the river, are apprehensive about Gehry's plans, given statements about prioritising flood protection and water capture over recreation and wildlife. Many are also unnerved by the make-up of the board of directors behind the project, which includes real-estate developers and property lawyers, raising concerns for some that the river restoration may also be a green-sheened gentrification ploy in the run-up to the 2028 Olympics.

Nowhere is this more visible than in the Glendale Narrows heading into Frogtown, where a two-mile stretch of the river has been declared a "recreation zone" by the mayor, who can be seen online kayaking through a metre-deep greywater flow in the vicinity. A local business called The Frog Spot runs kayaking classes where people can paddle around small islands of native rocks and trees festooned with shredded bin bags like post-apocalyptic Christmas tree baubles. One of these islands, we noted as we passed the area on day two, had been decorated for a Pirate Thug Party, according to a hand-painted sign hanging under a disco ball. Playful, slightly sordid, and altogether temporary places like this will almost certainly be eradicated by Gehry's 'vision' for the river.

We met with two local artists here, Rob and Jen, who took us through an outdoor exhibition space in an 18-acre post-industrial lot called Bowtie Parcel. As we walked, they told us that many of their friends and neighbours were feeling the pressure of the redevelopment. According to a recent article in The Nation, more than half of riverfront properties in Frogtown have changed hands in the last three years, sale prices have more than doubled, and rents have increased dramatically.

Later that day, we happened on a photo shoot in the shallow-pooled water under the charismatic Sixth Street Viaduct. Whereas most of our walk was lonely, here we encountered fellow trespassers who colonised the channel so utterly that police had long given up caring about those squeezing through the chain-link or driving down the access tunnel to reach the liquid flats. Weeks later, in orthodox LA style, the 84-year-old bridge, one of the city's most recognisable architectural features, was torn to pieces by heavy machinery and dragged to the dump to make way for a new one reminiscent of an airport terminal corridor.

Historically, the river has been a place where low-income Angelenos could afford to buy a home and even have outdoor space. Close to the district of Compton, we walked past makeshift plywood stables full of neighing ponies in people's yards. We also met people making the river itself home. As of last year, Los Angeles had almost 60,000 citizens living on the streets, some of whom made their homes astride the riverbanks and on sewage outfall platforms. One fellow we encountered had lashed himself and his belongings into bridge girders with a web of cables. Some of these riverside communities are so extensive that they have developed their own political structures, including mayors. I wondered how many of them had been consulted by Garcetti. What Garcetti has done is accept – perfectly legally – a US$5 million donation from developer Morton La Kretz towards the cost of building a new bridge across the river, next to an area La Kretz seeks to have rezoned in order to construct a 60-unit subdivision.

Given that the Army Corps of Engineers will be the ones to chip out the concrete they laid 75 years ago, the redevelopment of the river will undoubtedly retain, and probably enhance, its ability to curtail rare flood events. It may even improve the drought-prone city's ability to harness and recycle the water flowing through it daily – enough, by some measures, to serve the needs of the half-million people living in Long Beach at the river's mouth. However, given also that most Angelenos could not point you towards the river and that many who do care for it are being forced away, it remains to be seen how the future LA River will serve the citizenry as a public space worthy of the name. Perhaps more people would appreciate that potential if they were to walk it, stitching together this parched metropolis through its weird wet scar.