Working Together
Issue
308

• May/June 2018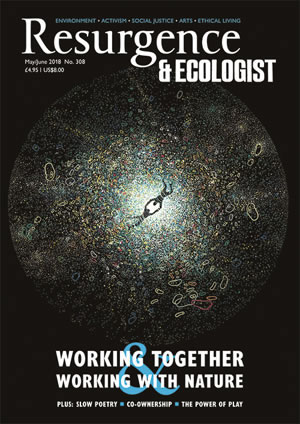 Buy a copy of this issue
Become a member and receive 6 issues a year
Contents
Key
Free for all to view
Free for members to view
Not available
Welcome
Reflecting on the importance of the natural world
Frontline
Reporting on the end of a 50-year project
Forum For the Future report highlights transformative trends for a sustainable future
A round up of environmental news from around the globe
Highlighting current threats to Hen Harriers and Swifts
Update on Resurgence monthly talks and our annual Summer Camp
Ecologist
An interview with Tony Juniper covering rainforests, wildlife and our shared future
Welcoming back a bird unfairly bedevilled by its behaviour
A new health bill could threaten the integrity of India's traditional medicine
Navigating the politics and potential of the Los Angeles River
Keynotes
How law and philosophy combine to inform a new ecological civilisation
Undercurrents
Veg-box pioneer on why he's opening his company to employee ownership
How poetry and slow reading can counter stress and depression
A new breed of inner-city activists are challenging austerity, apathy and party politics
We should unleash the spirit of play in our lives
A short story
Ethical Living
Cultivating Hope can help build a better future
In pursuit of happiness
A holistic view of life embraces nature, humanity and spirituality
The benefits of animal therapy
Taken in by the tides
The Arts
The latest work of artist Garry Fabian Miller
The art and profound experience of looking closely
Why Ecoacoustic artist Leah Barclay took the Amazon Rainforest up the Eiffel Tower
Inspired by a 400-mile pilgrimage in Norway
Regulars
Poet and author Fiona Sampon on how Nature informs her verse
A selection of letters to our Editors
Reviews
Review of Matter & Desire: An Erotic Ecology
Review of Replenish: The Virtuous Cycle of Water and Prosperity.
Review of The Business Plan for Peace: Building a World Without Water
Review of Voices For Peace: War, Resistance and America's Quest for Full-Spectrum Dominance
Review of Science and Spiritual Practices
Review of Food Sovereignty, Agroecology and Biocultural Diversity: Constructing and Contesting Knowledge
Review of Is Racism an Environmental Threat?
Web Exclusives
A journey along a Brazilian river threatened with dam development
Are humans so very different from other animals?
Surveying a new genre of eco-fiction
A movement striving for acknowledgement
Research on the sixth 'great garbage patch' in the sea