A round up of environmental stories
Donate Now
Issue 310

Sep/Oct 2018
Inspired to Action
Frontline
A round up of environmental stories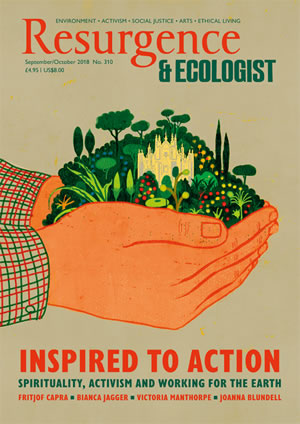 Cover: Milano Garden by Beppe Giacobbe www.beppegiacobbe.com/en
Hedgehogs, seabirds and medicinal plants.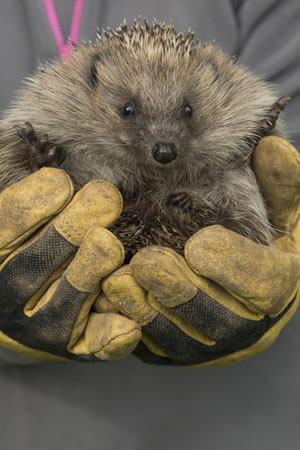 Photograph © Mike Powles / FLPA
HEDGEHOG CARE HELPS PRISONERS REHABILITATE

The Ministry of Justice is using hedgehog conservation to help rehabilitate prisoners and ex-offenders in England. "There is a growing trend in hedgehog projects," Phil Thomas, Ecology Lead at the Sustainable Operations Team, told Resurgence & Ecologist. "We know it's great for restorative justice and great for conservation."

In one of the latest programmes, set up last winter, 11 underweight hedgehogs were brought to Withington Road Approved Premises for ex-offenders in Manchester, where residents fed and cared for the animals to prepare them for hibernation, and release in spring.

"The project has been particularly successful with residents who struggle to engage with people in authority, as teamwork with staff is often needed to care for the animals," said Beatrice Finch, who works in Ecology Technical Support for the Sustainable Operations Team at the Ministry of Justice.

Jacqui Morris, a residential support worker at Withington Road Approved Premises, contacted a local hedgehog charity after seeing the positive effects working with the Dogs Trust had had on residents. "The impact this has had is great to see," she said. "Working with animals and providing care can be therapeutic and helps build a sense of self-worth."

Another project, at HMP Doncaster, a private prison run by the global corporation Serco, involved prisoners in setting up a special natural habitat for three hedgehogs in late 2017. The project has now started breeding hedgehogs with the intention of releasing them into the wild. More projects are in the pipeline. "We're actively helping with another approved premises to start a hedgehog project there," Thomas said.
THE SEABIRDS THAT SHUN PLASTIC

A paper published in Marine Pollution Bulletin suggests that Australian wedge-tail shearwaters eat far less plastic than other species do. The 13-year study also found that while these birds do eat some plastic, there was no clear influence of ingested plastic on body size.

"Monitoring plastic inside seabirds is one of the best ways to measure plastic pollution on an international scale," said Alex Bond, a senior curator of birds at the Natural History Museum in London and co-author of the paper. "Many studies on ocean plastic are based on one species during one year at one site, which may not be representative over a longer period of time. The great thing about this study is that it has given us a dataset over a longer term."

tinyurl.com/nhm-shearwaters-plastic
WILD MEDICINAL AND AROMATIC PLANT SPECIES COULD FACE EXTINCTION

One in five of the world's medicinal and aromatic plant species assessed under the criteria of the IUCN List of Threatened Species could face extinction, according to a new report released by wildlife trade monitoring network TRAFFIC. Ingredients derived from wild plants are important components of many products, including medicines, cosmetics, food and drink.

"Companies often have marketing strategies that emphasise the 'natural' and 'wild' properties of these ingredients and yet pay little attention to determining whether the sourcing of them is ecologically and socially sustainable," the report Wild At Home said. "With many plants facing pressures as never before, there is a risk of valuable species disappearing essentially unnoticed."

According to some estimates, between 60% and 90% of the trade by volume in medicinal and aromatic plants is in wild-collected material. However, much of the wild plant trade is informal, and trade and production statistics do not differentiate between cultivated and foraged. Only around 7% of 28,000 species have been assessed under the IUCN guidelines.

To reverse this trend, the report suggests providing full traceability, setting up cooperatives and providing certification like FairWild, which promotes sustainable use of wild-collected ingredients. The report advises consumers to look for potentially wild ingredients in the products they use and ask brands if these are collected sustainably. A dozen plant products are highlighted, including liquorice, frankincense, gum arabic and shea butter.

www.fairwild.org
tinyurl.com/wild-at-home
NEW FISHING HOOK CUTS SEABIRD AND TURTLE BYCATCH

A device designed to save wildlife in longline fisheries gets a boost. Anna Turns reports.
A British invention designed to make pelagic longline fishing safe for albatrosses and marine turtles has received a £72,000 boost from a recent crowdfunding push. It is estimated that, every year, the world's longline fishermen set about 3 billion hooks aimed at catching such fish species as tuna and swordfish. But before the hooks sink to the depths where the fish are to be found, they attract a lethal bycatch: an estimated 300,000 seabirds – of which a significant proportion are albatrosses – as well as marine turtles. Fifteen out of twenty-two species of albatross and six out of seven marine turtle species are threatened with extinction.

The new funding will equip five Brazilian tuna longline vessels with 6,000 Hookpod devices made by a Devon-based company, and possibly also subsidise the cost of using Hookpods for vessels in New Zealand, whose waters have large seabird populations.

"Each Hookpod is attached permanently to the branchline and the hook is then clipped up into the bottom, where there is a pair of spring-loaded gates so the barb of the hook is secure," Becky Ingham, chief executive of Hookpod, said. "It is cast off the boat and sinks down into the water.

"At a depth of 20 metres, the pressure in the air chamber increases, so it fires a piston – this opens the pod, so the hook is released to start fishing."

Initial trials using a Hookpod that opened at 10 metres depth show a 95% reduction in seabird bycatch and 50% reduction in turtle bycatch. It is hoped that by opening at twice the depth the current Hookpods will protect 80% of turtles.

Anna Turns is a freelance journalist and the founder of Plastic Clever Salcombe, a kids against plastic campaign.

CONFERENCE TO MARK PRINCE'S WORK ON GREEN, ARTS AND SPIRITUAL ISSUES

A conference to mark the contributions of HRH The Prince of Wales in the fields of environment, spirituality and the arts is to be held in November. The conference, celebrating his 70th birthday, will be held on Saturday 17 November in Canterbury Cathedral Precinct. It will focus on the fundamental spiritual principle of harmony underpinning the Prince's philosophy and articulated in his 2010 book, Harmony.

Almost all the speakers have worked closely with the Prince, including the co-authors of his book, Ian Skelly of BBC Radio 3 and the Temenos Academy, and Tony Juniper of WWF-UK. The Resurgence Trust will be represented by Satish Kumar, while organic agriculture will be covered by Patrick Holden of the Sustainable Food Trust and by David Wilson, the long-time farm manager of the Prince's estate at Highgrove. Rosy Daniel, formerly of the Bristol Cancer Help Centre, will present a new vision of health, while head teacher Richard Dunne will speak about the application of the principles of harmony to education. Keith Critchlow will appear in a film about sacred geometry.

The day will be chaired by David Lorimer, the author of Radical Prince. "At this watershed moment in history, applying the Prince's principle of harmony to science, healthcare, the environment, agriculture, architecture and wider social issues could not be more important as a constructive approach to addressing our many systemic challenges," he said.

tinyurl.com/harmony-conference

This environmental news round up was written and compiled by Marianne Brown, unless otherwise attributed.