Inspired to Action
Issue 310 • September/October 2018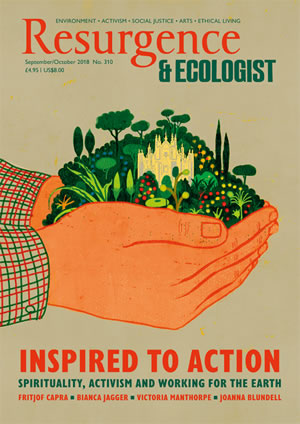 Buy a copy of this issue
Become a member and receive 6 issues a year
Contents
Key
Free for all to view
Free for members to view
Not available
Welcome
Relationship and interdependence are fundamental concepts of ecology
Frontline
Hedgehogs, seabirds and medicinal plants
A round up of environmental news from around the globe
Tess Tennant Obituary • Greg Neale
A tribute to a tireless activist, ethical campaigner and green investment pioneer
News from Resurgence • Greg Neale
Forthcoming Resurgence events: Festival of Wellbeing and Fundraising Dinner
Ecologist
Calling for a concerted effort to tackle plastic pollution in our oceans
Ocean conservation will only succeed if local knowledge is valued
A night out with bats and constellations for company
A marine biologist with tales of woe and wonder from the sea
Keynotes
Science, Spirituality and Religion • Fritjof Capra
New scientific discoveries reveal connections with a spiritual life
Undercurrents
What can we learn from Indigenous cultures about responses to climate change?
Coalition blues at the polls in Sweden
Profiles of three women activists
Schools and universities need to cut down on wifi
Exploring the wild on the not so wild on the Scilly Isles
Ethical Living
An award-winning show by Jenna Watt is raising the profile of the nuclear debate
The Thing Is - But Where? • Matt Harvey
Waxing lyrical over leopards, wet-wipes and words
Enjoying the mellow fruitfulness of Autumn
A Dream of Ecological Civilisation • Satish Kumar
A time of change in China
Life, the Universe and Pickled Walnuts • Leo Johnson
Deep thoughts about artificial intelligence
The Arts
Profiling three architects who have climate change on their minds
Mary Hunter Austin was one of the first writers to celebrate Native American sacred sites
A Life Suspended between Heaven and Earth • Simon Broughton
The Greek monasteries of Meteora
Regulars
Poetry

- In Praise of Solidarity • Peter Abbs

New poetic voices for social justice
Letters to the Editors
A selection of letters to our editors
Reviews
Review of More than Happiness: Buddhist and Stoic Wisdom for a Sceptical Age
Review of The Home Place: Memoirs of a Colored Man's Love Affair with Nature
Review of What Are You Doing With Your Life?
Review of Botanical Folk Tales of Britain and Ireland
Review of Down To Earth: Politics in the New Climatic Regime and The Shock Doctrine of the Left
Review of Birds in the Ancient World: Winged Words
Review of Owl Sense
Web Exclusives
Understanding the developmental psychology of Donald Winnicott
A place for the Parish
Deep reflection and meditation opens new possibilities and ways to protect the Earth.