Greens Count the Cost of Power Sharing
Donate Now
Issue 310

Sep/Oct 2018
Inspired to Action
Undercurrents
Greens Count the Cost of Power Sharing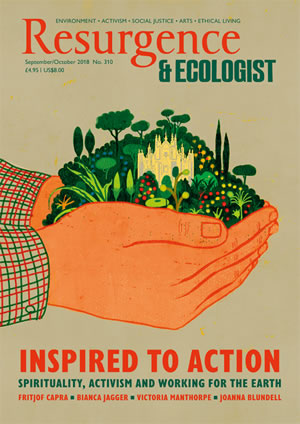 Cover: Milano Garden by Beppe Giacobbe www.beppegiacobbe.com/en
As Sweden prepares for the polls, Richard Orange reports from Malmö on the problems facing the country's Green Party.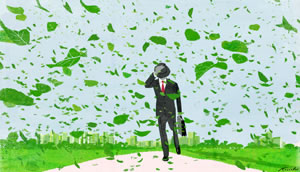 Who is the greenest? by Tatsuro Kiuchi tatsurokiuchi.com
A flight tax, doubled environmental spending, subsidies for electric bikes and low-emission cars, a new climate law, and a proposal that tripled the cost of European emissions allowances: Sweden's Green Party has been busy in its first-ever period in government.

"It's a massive list if you compare those results with what has been achieved by previous governments when it comes to climate and environment," says Fredrik Hannerz, until recently special adviser to the country's climate minister, Isabella Lövin.

"They have actually achieved a lot," agrees Roger Hildingsson, a researcher at Lund University. "In terms of greening Swedish public administration and environmental policy, they have been very hard-working."

Looking at the media coverage, however, you wouldn't know it. The Greens have been hammered in the press almost since the day they took office on 3 October 2014 as the junior partner in a Social Democrat-led government. In the election scheduled for 9 September this year, they will find out just what price they have paid for their place in power.

When the Swedish state power firm Vattenfall sold its German lignite coal mines and power plants two years ago, rather than seeking to end the use of that fossil fuel, it was seen as a catastrophic climbdown, earning the party leadership the annual Greenwash Award from the pressure group Friends of the Earth. The future of the lignite mines had been such an important part of the 2014 campaign that Lövin and Gustav Fridolin, the party's spokespeople (co-leaders), braved ridicule by brandishing chunks of coal in TV debates.

"When you put yourself on these high horses, the higher you ride the harder you fall," Hildingsson says. "From a green, ecological point of view, I would say it's the worst failure for the party."

Hannerz argues that the Vattenfall affair, along with the party's failure to stop an airport expansion and a ring road around Stockholm, involved "a miscommunication of what could be achieved".

"The party should have been much more strategic early on and realised that these things were not possible to stop," he says.

The price has been heavy, with the party losing roughly half of its 20,000 members and about half of its support among the electorate for this, a humiliating climbdown on immigration, and a scandal over a minister's alleged Islamist and Turkish fascist connections.

Hannerz argues that many Green voters have not understood the limited power that comes with the party's 25 seats in parliament, given the 112 held by the Social Democrats.

"Many people didn't understand what big sacrifices it would entail," he says. "The party has been in opposition for such a long time."

He also thinks environmental pressure groups and NGOs have not given the party the sort of outside support that the Social Democrats can rely on from trade unions, tending to criticise it rather than celebrate its successes.

Axel Hallberg, co-spokesperson for the Young Greens, agrees that it has been difficult to keep his members on board.

"The immigration policy changes in 2015 were extremely tough, especially for the Young Greens, but when you now look back from my perspective after four years, I think it's obvious now that we have been able to make incredible changes," he says.

Hallberg hopes that the new owners of Vattenfall's former coal mines will never develop them now that the 'Swedish Proposal', which will see millions of tonnes of unused EU emissions allowances cancelled annually, has tripled the carbon price.

In exchange for the Vattenfall climbdown, the party got the Social Democrats to agree to buy and cancel 300 million kronor (£25 million) -worth of EU emissions allowances a year, one of more than 50 different reforms the party lists as achievements.

Others include changing Sweden's carbon tax to make it increase with inflation, overseeing a rise in petrol taxes, and bringing in subsidies to help local municipalities and industry invest in climate-friendly projects.

Hannerz thinks the most significant change is the Climate Policy Framework committing Sweden to bringing net emissions of greenhouse gases to zero by 2045; António Guterres, the United Nations Secretary-General, described it in April this year as "probably the best programme in the world in relation to climate action".

The framework includes a climate law that will force future governments to report every four years on their progress towards the 2045 goal and outline the policies they are introdu­cing. It's a hugely significant change and it wouldn't have happened without the Greens – but very few Swedes know about it.

"We've been so focused on getting things done and ticking things off our very long list that we haven't focused very much on communicating those results," Hannerz admits. "Maybe we could have halved the list of policies and doubled the effort on communicating those policies, but that's not the way the Green Party worked."

This started changing this year, with policies such as the flight tax that came into force in April as a major concession from the Social Democrats.

Hildingsson believes the tax has helped the Greens differentiate themselves, particularly from the economically liberal Centre Party, which targets green voters but opposes the flight tax and was nominated for this year's Greenwash Award as a result.

With Swedish public opinion swinging over the past year from opposing the flight tax to supporting it, the Greens have been campaigning in the run-up to this September's election on a promise to increase it by between 60kr and 400kr (£5 and £35) per person per flight.

For ordinary Swedes, the most visible green policy has been the subsidy of up to 10,000kr (£850) for those who buy an electric bicycle. This has been very popular, with 33,000 people applying for it in its first month of operation this May.

"Opponents criticise it for being cost-inefficient, symbolic politics, and it might well be that, but as part of telling a story it is significant," Hildingsson says. "One way to illustrate what a low-carbon society looks like is to say, 'We will have more electric vehicles.'"

It's not unusual for a junior coalition partner to get a battering in government, as the UK's Liberal Democrats would tell you after their experiences in coalition with the Conservatives from 2010 to 2015. But the Greens in Luxembourg, also in coalition recently, are projected to win the same share of parliamentary seats in this year's election as they did in 2013.

The Finnish Green League even managed to increase its share of the vote in 2015 after a period in coalition, partly because, unlike their Swedish neighbours, the party's ministers resigned when it didn't get its way over a new nuclear power station.

Carl Schlyter, one of a rebel faction of Swedish Green MPs, argues that the Swedish party should have threatened to leave over Vattenfall's coal. "If you're dealing with old-fashioned power politicians from the Social Democrats, you must be willing to sacrifice your ministerial positions in order to achieve your objectives," he maintains.

But Hannerz thinks this misunderstands what the Swedish Green Party is for.

"This is not a pressure a group. This is not an NGO. It's actually a political party, and a political party needs to be united in order to achieve results," he argues.

"Why didn't we leave government? Because the main focus has been on achieving results. We have always seen that we can make more of a difference if we are still in. And we have."