Permaculture From the Heart
Donate Now
Issue 315

Jul/Aug 2019
Leading the Field
Reviews
Permaculture From the Heart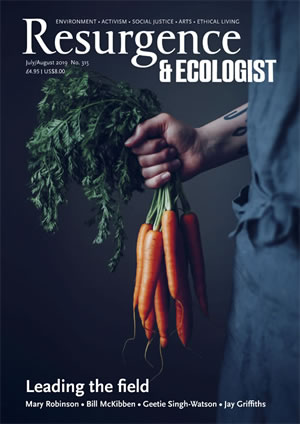 Cover: © Our Food Stories www.ourfoodstories.com
Helen Iles enjoys a new classic in the field. Permaculture Design Companion: A Practical Workbook for Integrating People & Place. Jasmine Dale.
Even as a PDF download, Jasmine Dale's Permaculture Design Companion looks like a classic. With a vellum-style background and dark-green edging, it has the air of a treasured sketchbook, which is exactly what it's intended to be. Gathering the fruit of 10 years of hands-and-heart-on labour, the charming hand-drawn sketches and fill-in boxes maintain a balance between engaging and informative, leaving room for the reader's own ideas to blossom. The hardback version, filled with dream projects, will likely become a family heirloom.

Jasmine and her husband Simon are famous in the natural building world for their 'hobbit'-style natural homes, and pictures of their straw-bale and turf-roofed dwellings have gone viral. Their last house – a three-bedroomed property built under new Welsh government One Planet guidelines at the Lammas ecovillage in Wales – was featured on Grand Designs and provided modern comforts while retaining strict off-grid credentials. After this stunning work of art burned down in 2018, Jasmine was moved to record her learning journey.

Despite compounding so much information, she keeps it real, drawing on personal, lived experience. She references expected permaculture tools – ethics and design principles, pattern language, sectors, zones and the like – but puts an imaginative spin on them so that even master practitioners might learn a fresh way of envisioning projects. And that is what this book is good at: transmitting a wealth of valuable concepts in a way that, regardless of our level of knowledge, helps us feel empowered to embark on projects big or small.

The opening poem, by US West Coast writer and permaculture teacher Starhawk, gives a clue to Dale's approach. Starhawk is a radical feminist witch, a prolific writer of dystopian/utopian fiction and an Earth activist. She pioneered a form of permaculture that takes account of social elements, and, though this is not the focus of the Permaculture Design Companion, there are reminders of the importance of people. It is not enough to examine prevailing winds, take soil samples and measure elevation. In this book, human heart and soul are welcomed. The visioner is central, the dreamer invited.

Dale also applies humour, adding an "Airy-Fairy Disclaimer" to her suggestion of a vision board exercise, while attesting that even "hard-nosed executives and tough blokes" find value in creative tools. She walks hand-in-hand with us through our process, pausing along the way to invite deeper connection with Nature through breath and sensory observation. There is an element of the shaman as she highlights experiential learning. For her, nurturing our intuition is an important part of this work, and her own wonder in the natural world and our place in it is evident throughout.

The book gives advice on mathematical scale modelling, financial awareness, "getting serious with laser levels, bunyips and more", alongside "rolling yourself or setting a full glass of wine" on a hillside to measure slope. It addresses the nitty-gritty, everyday, immersive, nuts and bolts and step-by-step, as well as encompassing a wider awareness and vision-driven imaginative dreaming, without which no creative work would ever get done. Jasmine Dale not only permits, but also encourages surprise in "unexpected outcomes". And therein, for me, lies the magic.

Permaculture Design Companion is available in PDF and hardback from www.beingsomewhere.net/pdcbook.htm