Regenerative Farming For the Future
Donate Now
Issue 315

Jul/Aug 2019
Leading the Field
Web Exclusives
Article
Regenerative Farming For the Future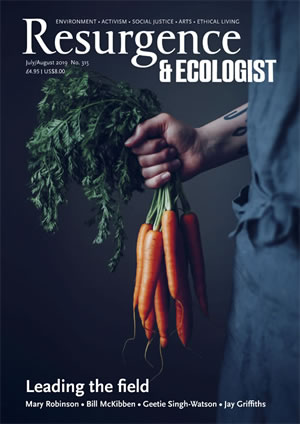 Cover: © Our Food Stories www.ourfoodstories.com
Martin Large reports on the success of a pioneering new project.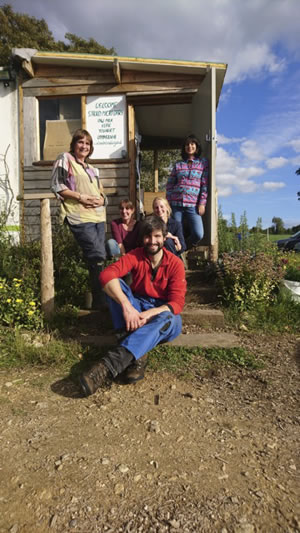 Photo of young farmers at Oakbrook Farm © The Biodynamic Land Trust
It is helpful when Herbert Girardet describes regenerative economics for a sustainable world so clearly in the March/April 2019 issue of Resurgence & Ecologist. One burning question arising is, how do we build a regenerative, circular economy that meets the needs of people fairly, whilst not undermining the needs of future generations and Mother Earth? Currently we have a cowboy economy that exploits Nature and destroys the planet for short-term profits for the 1%. But how do we make the transition to a regenerative, circular economy?

One way is by creating regenerative farms such as Laurel Foreman's Wark Farm (Resurgence & Ecologist 313). Such farms are beacons, showing what can be done and leading by example. Oakbrook Farm near Stroud, Gloucestershire also aims to become a farm for the future. Its purpose is to reconnect people with land, food, Nature and regenerative, biodynamic farming. A group of young farmers started the farm in 2016, and news is getting around.

In September 2018, Kees Frederiks of Stroud Micro Dairy, which is based at Oakbrook Farm, received a Young British Foodie Honorary award, and the following February the farm featured on the BBC television programme Countryfile. The young team of Frederiks, Charlotte Javelle, Laura Dally, Sue Campbell and volunteers are pioneering a viable, community-supported micro-dairy farm with 13 milking cows with 11 heifers, and 250 customers. Demeter biodynamic certification is coming up in 2019. Demeter sets high standards for soil health, animal welfare, care for wildlife and biodiversity. The biodynamic model of a farm as a closed system that nurtures soil fertility is an example of regenerative farming.

Frederiks' vision is of a cluster of enterprises producing real food for local people, including meat, milk, dairy products, vegetables and eggs, together in complementary farm niches. Whereas the rule of thumb for conventional beef farming is that it needs 100 acres to provide a livelihood for one farmer, and 400 acres of arable land for one person's job, Frederiks aims to create at least twelve biodynamic farming jobs on 42 acres at Oakbrook. With Ellie Price's egg business and Kit Wickstead's Starter Farm, is already happening, with six farm jobs. Stroud is lucky to have such hard-working young farmers, as many UK farmers are in their sixties.

But how did Oakbrook Farm come about? The pioneering Stroud Community Agriculture (SCA) co-op of 290 members needed more land for a starter farm for young growers. So, as the founder of the Biodynamic Farmland Trust, when farmland bordering the town and next to SCA's farm came up for sale in June 2015, we launched a share offer immediately. The land was purchased for £380,000 in autumn 2015 through gifts and shares. This community buyout continued the proud biodynamic and Stroud traditions of people investing in their community and land. Local bodies such as Stroud Town Council and Stroud Common Wealth became corporate members.

Stroud Community Agriculture and Stroud Micro Dairy became the anchor farmers, starting with bare land. We held workshops for land-use planning using permaculture design, led by Marina O'Connell of Huxhams Cross Farm, Dartington. The vision emerged of a community-supported, beautiful regenerative farm that connected people with land, food and biodynamic farming. The farm could offer a home for an outdoor forest kindergarten, a bee observatory, summer schools and the arts; wellbeing activities including volunteering, farm walks and tree planting; seminar and office space for food and Nature bodies; retail, food processing and café facilities; and care for the Oakbrook stream, soil, animals, birds, insects and plants.

Realising this multi-layered vision project by project takes time and capable people. The bee observatory and sanctuary is already established. Christian Gruetzmacher is creating a meeting place, a bee garden, for bees and humans, as an educational and research centre as much as a beautiful community space within the farm. Imagine yourself sitting on a sheltered terrace with views across the Oakbrook valley. Surrounded by log hives, various alternative and observation hives as well as movable frame hives, you breathe air full of buzz and farm scent. You can see the interior of bee colonies living in natural conditions through carefully designed observation windows and hear their buzz through stethoscopes. The air is full of a unique sweet smell of honey, pollen, wax, brood and venom, called in German 'nest-scent-warmth'.

There were several mountains to climb when developing Oakbrook Farm. The first was securing the land into trust for farmers and the community. The second was people, and it was a miracle finding hardworking, capable young biodynamic farmers. The third was that the farm was bare land when bought, with no farm or green infrastructure. Hard frosts and the 2018 'beast from the east' showed how much the farmers and the cows needed the shelter of a barn, improved water and electricity services, and good farm tracks to replace rutted, muddy ones.

Stella Parkes, a director of the Biodynamic Farmland Trust, sees Oakbrook Farm as a family of young farmers producing food for local people using regenerative farming to look after the soil and value Nature. People can see where their food comes from and reconnect with Nature and farming.

Starting with bare land, these enterprising young farmers are building a farm for the future. However, this not just a developing regenerative farm. It is also an example of practical regenerative economics, where local people commit to buying food direct from Stroud Micro Dairy and Stroud Community Supported Agriculture co-op rather than the supermarket.

Oakbrook Permaculture and Biodynamic Farm Workshop: 21–24 July 2019. www.stroudmicrodairy.co.uk