Women are catalysts for improving livelihoods in rural India
Donate Now
Issue 315

Jul/Aug 2019
Leading the Field
Web Exclusives
Article
Women are catalysts for improving livelihoods in rural India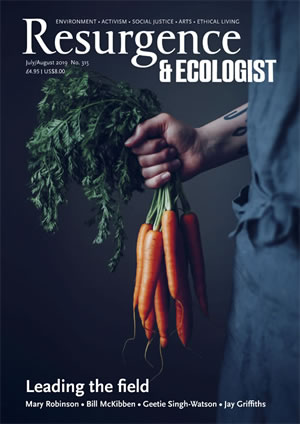 Cover: © Our Food Stories www.ourfoodstories.com
Julia Fairrie reports on an organic farming initiative in Tamil Nadu that is changing lives.
Poverty in India is rife. Some 43% of children under five are malnourished, and the country is home to a third of the world's poor. Systemic inequality means that those most affected are women and Dalits, who continue to face caste-based discrimination. Although the southern state of Tamil Nadu holds India's second-largest economy, it also has high levels of poverty, particularly in rural areas. Its people – around 22% of whom are Dalits – rely heavily on agriculture to earn a living.

For thousands of years India thrived on natural farming until the Green Revolution in the 1960s. Contrary to its current meaning the term 'green' refers to a period in the 60s and 70s where farmers in India were persuaded to abandon traditional organic methods and grow crops the modern, American way. Extensive dependence on chemical farming has resulted in the land losing its fertility and demanding larger quantities of fertilizers. Pests are becoming immune, requiring the farmers to use stronger, more expensive pesticides. Due to the increased cost of farming, farmers are falling into the trap of money lenders, who exploit and threaten them, forcing many to commit suicide. There are widespread concerns about the effects of chemicals on people's health. In terms of farmers' livelihoods, the Green Revolution has not created growth, it has created poverty and environmental destruction.

Amidst a plethora of paradoxes; government subsidies for chemical farming, a backdrop of shocking poverty, gender inequality and caste-based discrimination, a community of women are breaking social barriers and empowering themselves through an organic farming enterprise.

In the remote rural village of Annakanmurum, a small farm holding owned by Senthamilselvi is hosting an organic farming initiative, EcoVeg, funded by international development charity Christian Aid. The aim of EcoVeg is to help poor farmers, especially women and those from excluded, Dalit, communities to become self-sufficient. The project educates farmers about the benefits of organic farming, provides training and help with marketing, and selling their produce for a fair price.

Senthamilselvi, who helps run the project, is from the dominant Thevar caste. She knew nothing of caste discrimination until she did her degree in Sociology. The knowledge she gained changed her worldview and her life forever. She is now dedicated to fighting the oppression of women and caste-based discrimination. In India women have no right to land. Senthamilselvi was only able to inherit from her father because she had no brothers. She used her inheritance to buy land, which she has given to a collective of women to start an organic farming business.

'Organic farming is sustainable. That's why I am doing it: so we don't need to rely on anyone else, we can be self-sufficient. No mother wants to give poison to her child. Our work is to help people understand that chemical farming is poisoning them. Only women can understand and change this,' said Senthamilselvi.

It is having an encouraging impact. Not only is it producing quality organic vegetables for their community it is also improving rural women's working conditions and their health, and strengthening their financial independence, empowerment and social status.

'Previously we had no idea about business or organic farming skills. Women have no right to land in India and they don't manage the money, even when they earn it. As a women's group, we are working together to build a business,'said G Parvathy, of the women's collective.

For a woman from a Dalit community in India, opportunities are scarce. Other than working as a farm labourer on a chemical farm, which causes poor health conditions, alternative options include: back-breaking work as a brick labourer, or enslavement in a matchstick or fireworks factory, with exposure to toxic chemicals, which burn the skin and intoxicate the lungs. Payment is 150 rupees a day (£1.60)

The women at the Akkanapuram collective are now paving the way to a healthier and more equal community. They now have all the skills to prepare their own organic inputs and pesticides, and to preserve and propagate their own seeds. 'Chemical farming is more expensive than organic farming. It makes you dependent, it damages the soil and the environment. It damages your health – it causes skins issues, cancer, stomach infections and stunted growth in children,' said Alagumayil, a former chemical farm labourer and brick labourer.

Members of the Akkanpurum Collective are growing about nine crops – brinjal, chili, onion, tomato, snake gourd, beans, bitter gourd, ladies fingers, tuberose – in a single season by dedicating a row to each crop.

The natural farming method allows them to produce crops at near zero cost. Staff from the EcoVeg programme train the farmers on how to prepare organic fertilisers using cow dung and urine, jaggery and lentil powder, as well as organic pesticides using the leaves of local plants which are all available in the farm vicinity. They have also been trained how to preserve seeds in cow dung so in the future they will not have to buy seeds.

'I'm promoting an alternative livelihood,' said Senthamilselvi. 'In the factories the Dalit women would have been enslaved and dependent because that work leaves them without any skills. For example, in a matchstick mill they work on one specific part of matchsticks over and over again – they don't learn any process. When they leave they have no skills or alternative work prospects. Here they learn everything about all the organic farming processes, so they can be self-sufficient.'

Both consumers and farmers are now gradually shifting back to organic farming in India.

By 2021, India's organic food market is set to treble, as disposable income and consumer health consciousness rise.

Though the food market is flourishing in Tamil Nadu, opportunities are still limited for those in poverty. The EcoVeg project seeks to equip these people to take advantage of the growing demand for organic food, while increasing the consumption of healthy food across the region.

Thankfully through EcoVeg they will be able to bring prosperity to themselves and the wider community. As Vandana Shiva said: 'An organic farmer is the best peacemaker today, because there is more violence, more death, more destruction, more wars, through a violent industrial agricultural system. And to shift away from that into an agriculture of peace is what organic farming is doing.'

For more information on the work of Christian aid: www.christianaid.org.uk/harvest-appeal