Less is More
Donate Now
Issue 317

Nov/Dec 2019
Where Do We Grow From Here?
Undercurrents
Degrowth
Less is More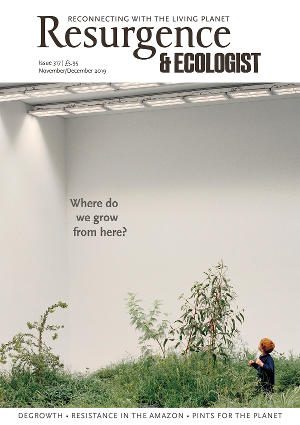 Cover: Repair by Baracco+Wright Architects with Linda Tegg. Photograph: Roy Gardiner
PL Henderson describes the highs and lows of living off-grid.
Living a modest, low-consuming lifestyle is not always a matter of ethical choice. For those in the shackles of poverty, it is an issue of skilfully negotiated daily survival. I was born in my grandmother's council house in the clogged heart of a struggling industrial town, and my family had a frugal 'make and mend' life shaped by economic recessions and low-income servitude. Despite this, we gained much pleasure from escaping the weekday grind by accessing the neighbouring dales and moorlands. From a young age I slept under canvas and splashed about in rivers long before such experiences required the prefix 'wild' to denote a liberating exercise. My later decision to simplify my life was therefore not only in terms of ecological morality, but also a nostalgic comfort.

An affinity with Nature was first nurtured in me by my mother. As a child she became fascinated by the array of wild flowers that clung to life like beacons of hope amongst the inner-city dereliction resulting from recent Nazi bombs. Carrying me high on her shoulders in the meadows of my childhood memories, she would recite each plant name, impressing on me the escape the natural world had gifted her. It was the forget-me-not flower that resonated most in my young consciousness, symbolic of such inherited wealth and with a folkloric message of remembrance. In a later chapter of life I warmly appreciated how the sky-blue flowers grew in earnest clusters in the sandy soil surrounding my newly acquired cabin home.

While not then aware of degrowth, I had been applying many of the ideas from the movement for much of my life. I had supported social and economic equality, lived communally, used a bicycle as my only means of transport, and been privileged, as a young countryside worker, to plant thousands of trees. Becoming a vegan for ethical reasons as a teenager in a family, town and era in which even wholemeal bread was considered an exotic delicacy had been somewhat challenging, however.

Motivated partly by romantic notions of off-grid wilderness living, I later embraced a modestly British version of this ideal. When the opportunity arose to borrow enough money to buy an old habitable shack within a rural Plotland community, I was thrilled. The Plotlanders were originally an early-20th-century movement of British working-class pioneers who liberated themselves from the polluted urban sprawl to build their own independent living spaces. Although rare, throughout the country a few of these sites remain. Having discovered one in my local area and been intrigued by the politics and ethics of its origins, in kinship with the original inhabitants I was compelled to get involved.

My tiny kingfisher-blue cabin, with a kitchen, living room and mezzanine bedroom, all stocked with second-hand furnishings, was in urgent need of the essentials of heating, power and sanitation. After installing a wood stove for warmth and cooking, in addition to a solar panel enough for my small energy needs, I created a compost toilet with an alternating three-bin system, in which layers of waste and garden surplus would eventually be broken down. With no water supply, and only a standpipe in a nearby farmyard, I used rainwater barrels to collect this most precious commodity, rigging up a cheap solar camping shower to bathe away the satisfying aches of each industrious day.

Next I constructed a series of raised beds for a small-scale crop rotation, encompassing the garden with my own self-built stockproof fencing. Among the beans and courgettes, I grew edible flowers to share between the bees and my picturesque summer salads. I pickled, preserved and ate as much of my own produce as possible, using any surplus for exchange and gifts. I had luckily acquired various skills over the years in countryside and gardening work, including basic carpentry and woodland crafts, combined with inheriting my mother's dogged determination to simply 'have a go'.

Heights, however, were my nemesis. As the cabin was on top of a slope, the elevation was dizzyingly exaggerated, and no number of attempts to crawl like a commando across the roof to inspect a suspected leak could prevent my retreat and cursing surrender. Worse, however, was the slow drip of water into a metal pail in my kitchen, which ticked ominously with tormenting regularity during every downpour. At the point of near madness, I skill-exchanged with a neighbour, and while my roof was being repaired the forging of the imperative bonds that establish a sense of belonging and much-needed community began.

In my free time I enjoyed the occasional country music song that moseyed from my wind-up radio. Freedom from the addiction of electronic devices created a space to be filled with as many fulfilling pastimes as I could muster. As a would-be artist, I took up the hobby again with renewed vigour, filling my small sketchbooks with representations of the neighbourhood flora and fauna. I would sit in the clover field under an ancient oak, quietly observing the local inhabitants until the roe deer gently trotted and the rooks strode studiously across my pages. When life is blissfully slow, simply noticing the lonely cry of a lapwing or the quivering shadows of candlelight in the long, dark evenings can reward you with the spirit of a poet too.

I lived this way for almost seven years, through the mud and sunshine to the diamond-encrusted frosty dews. For work and family reasons I now live in the sprawl of a bustling metropolis, a world away from the haven of my old wooden home. While I maintain a belief in individual responsibility and creating our own ecological initiatives, only lifestyle changes combined with organised, large-scale strategies for global survival will suffice. As I weave my way through the chaotic corridors of the cityscape, I still spot the occasional cluster of powder-blue flowers clinging to life amongst the urban debris, reminiscent, as always, of hope.