Kenny Young: Obituary
Donate Now
Issue 320

May/Jun 2020
Stubborn Optimism
Web Exclusives
Article
Kenny Young: Obituary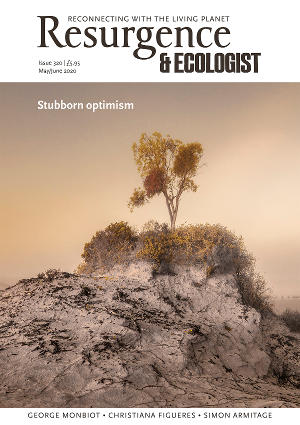 Cover: Lake Mungo National Park, Australia by Russell Curr www.russellcurr.com
A tribute to a truly gifted songwriter and producer, who founded Artists Project Earth.
Our dear friend Kenny Young left us on 14 April 2020. His passing was both expected and unexpected; he lived cheerfully with cancer for several years until, in the last few months, sadly he succumbed.
Kenny was a truly gifted songwriter, musician and producer who in the 1960s co-wrote a song that became so famous and successful that he could have taken life easy and never worked again. But instead, after a great music career, he turned his focus to environmental activism and worked tirelessly to support Indigenous rainforest communities in their fight for land rights, to help people the world over most at risk from climate change, to fund the work of cutting-edge environmental campaigners, and to provide humanitarian relief for people affected by natural disasters. Right up until the last days of his life, he continued his efforts to raise awareness that what we do to the Earth, we do to ourselves. Until the end he walked a spiritual path, seemingly unafraid of death, with laughter in his heart.

Kenny was born in Jerusalem and grew up in New York City. At the age of 22 he decided to try his luck in the music industry and was soon installed as a songwriter in the Brill Building on Broadway, at that time the world's foremost popular music hub. There, in 1964, he co-wrote with Arthur Resnick the Grammy Hall of Fame song 'Under the Boardwalk', which has been recorded by many artists, including The Drifters, The Rolling Stones and Billy Joel; subsequently he co-wrote with Ben Yardley 'Captain of Your Ship', which was first recorded by Reparata and the Delrons in 1968. In the early 1970s, at the height of the Vietnam war, Kenny decided to make his home in the UK, where he continued writing and producing chart-topping songs, including 'Only You Can' and 'S-S-S-Single Bed', recorded with his band Fox, which went to no. 3 and no. 4 in the UK Singles chart respectively in the mid-seventies, and 'Just One More Night', recorded with his band Yellow Dog, which went to no. 8 in 1978. In 1980 he co-wrote with Chaz Jankel 'Ai No Corrida', which became a chart-topping song for Quincy Jones.
In the late 1980s Kenny took a major change of direction, putting all his creative energy into producing albums with leading musicians to raise money for environmental causes. With film-score composer Nick Glennie-Smith and The Jam producer Vic Coppersmith-Heaven he recorded the song 'Spirit of the Forest', which was supported by a line-up of some of music's finest artists, including Chris Rea, Bonnie Raitt, Donna Summer, Joni Mitchell, Ringo Starr, Debbie Harry, and members of Pink Floyd and Fleetwood Mac. This was Kenny's genius: to work with the great and the good of the music business and in so doing to raise awareness globally of environmental issues. In 1989 he co-founded the charity Earth Love Fund (ELF), which he headed from 1990 to 2005. Two best-selling compilation albums released by ELF funded some 300 environmental initiatives around the world, with particular emphasis on rainforest projects.
In 2006 Kenny launched a new charity, Artists Project Earth (APE), which has produced five compilation albums, in cooperation with some of the world's most renowned musicians, to raise money for environment projects and for disaster relief. The special feature of these albums was that Kenny added new backing tracks to the existing songs, featuring Cuban and African musicians. So far APE has supported over 400 climate change mitigation and disaster relief projects around the world. In recognition of this work, Kenny received a UN Global 500 Award for outstanding environmental achievement.
Kenny's final music project is an EP featuring a new version of 'Spirit of the Forest' with a Cuban backing track, together with three other tracks.
When we think of Kenny Young, of the joy he brought to the world through his music and his laughter and through his profound love for Mother Earth, we feel a great sadness for his loss: that we will never hear his rich Brooklyn accent cracking a joke again; that we will no longer sit late into the evening with him imagining a different world into being. There will never be anyone quite like Kenny. He combined a unique talent as a songwriter and record producer and his incredible connections within the music world with his unshakable passion for the natural world and his irrepressible sense of humour.
Kenny is survived by his son Joel, Joel's partner Rhiannon and their daughter Ava, and by his partner Ariadne. He will be greatly missed by a huge circle of friends and by music lovers and environmental campaigners all over the world.

For more information about Artists Project Earth and the Spirit of the Forest EP, visit www.apeuk.org