Wheels of Fortune
Donate Now
Issue 322

Sep/Oct 2020
Lessons for the Future
Ecologist
Wheels of Fortune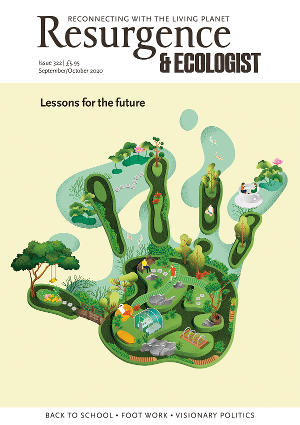 Cover: Illustration by Jing Zhang www.mazakii.com
Issue availability
In Paris, cycling seems to be the new normal, writes Matt Kendall.
As legions of cities worldwide scrambled to enforce lockdowns aimed at keeping the spread of coronavirus at bay, citizens across some of the biggest cities in the world encountered a strange sight. Streets that would usually be teeming with noise and fumes fell blissfully silent, replaced by clean air, the rustling of leaves and an often-piercing symphony of birds. It was, as former world and Olympic cycling champion Chris Boardman noted, as if car use had been switched off, rolling the world back 70 years.

For a brief moment, the roads belonged to people. Perhaps emboldened by the sheer number of people taking to walking and cycling or, as is more likely, heeding technical guidance issued by the World Health Organization to prioritise walking and cycling for the sake of social distancing, many cities began fast-tracking plans for walking and cycling. Some cities moved at a remarkable pace. Berlin built 14 miles of cycle lanes virtually overnight.

Paris has also moved quickly. In late April the mayor, Anne Hidalgo, committed to rolling out 650km of 'pop-up' cycleways (coronapistes) in the region. Like many cities, Paris had little choice. Around 10 million people are said to cram onto the city's public transport network every day, but under social distancing conditions capacity has shrunk to just 2 million. For Hidalgo, the coronapistes are not only practical, but also a means of ensuring one respiratory pandemic is not replaced with another. Around 1,000km of protected cycle lanes have been rolled out in recent years, along with the closure of major city thoroughfares infamous for suffering heavy traffic.

Although the city is short of its target, having rolled out only about 50km of coronapistes so far, the transformative effect this has had on the city in such a short space of time has been remarkable. The Place de la Bastille, a bustling square in the city centre, now sees more bicycles than it does buses and cars. Bicycle vendors and repair shops in Paris are struggling to meet demand; across France the number of cyclists is said to have increased by 28% year on year in May. Photographs and video abound on social media of the French city flooded with bicycles, spilling out onto vehicle lanes. Ignore the French road signs, and you would think this was Amsterdam. At least for now, cycling seems to be the new normal.

Can this last? Residents appear to be generally receptive to the changes, giving the mayor leverage over a typically hostile press and her political rivals. Undeterred, in an election year for Hidalgo, she is pledging to go even further. As well as rolling out more coronapistes, she proposes to ban diesel vehicles inside Paris city limits by 2024, slash speed limits, and transform half of the city's parking spaces to pedestrian space, among other measures.

Perhaps most surprisingly of all, Hidalgo is placing these commitments at the forefront of her re-election campaign. The polls suggest this is working. Should she clinch victory, the lesson for other world cities will be clear: having been presented with a glimpse of a city without cars, many urban residents want their city to put people first. For decision-makers, there are no more excuses.