Lessons for the Future
Issue
322

• September/October 2020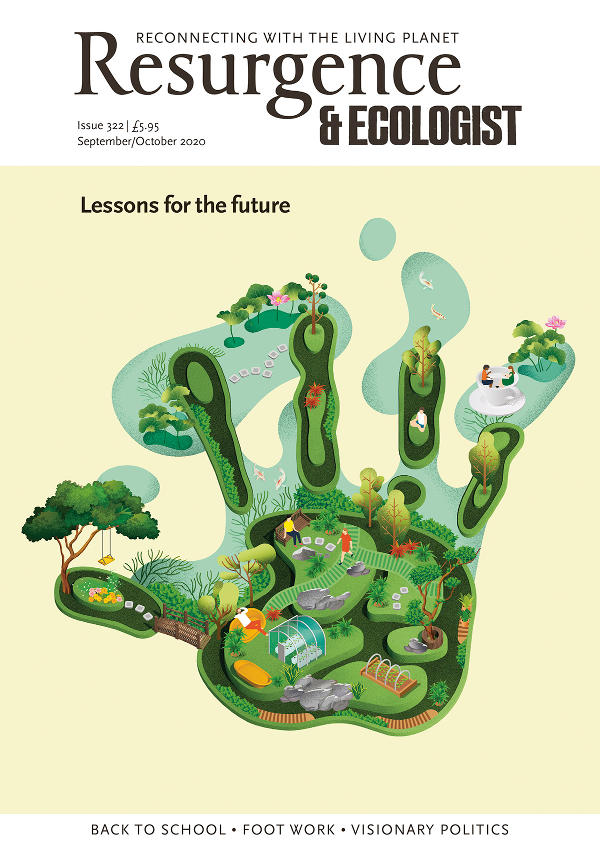 In this issue of Resurgence & Ecologist magazine, we look at ways people around the world are nurturing life – and hope – in the extreme. In the Ecologist section, Matt Kendall celebrates post-pandemic pedal power in Paris, and Rhiane Fatinikun speaks to Resurgence & Ecologist about Black Girls Hike and tackling racism in the British countryside.
In Keynotes, Russell Warfield interviews Jane Davidson about the pioneering Future Generations Act, which sets a precedent for leaders across the globe. In Arts, Michael Benson explores how images can be a powerful tool for communicating hope amid the horror of human-made crises.
Our September/October issue also explores the role of education at a time of coronavirus and the vital lessons we can learn.
Highlights
Think on Your Feet: Tansy Hoskins
The Outdoors Should Be For Everyone: Rhiane Fatinikun
Acting for the Future: Russell Warfield
Teaching Children Strategies for Peace: Helen Porter
Digital Dictators: Satish Kumar
How to Build a Movement: Andrew Papworth
Buy a copy of this issue
Become a member and receive 6 issues a year

Contents
Key
Free for all to view
Free for members to view
Not available
Welcome
People around the world are nurturing life - and hope - in the extreme
Frontline
Translating climate information to reach more people around the world
Community action in Scotland and an RHS project to create garden corridors
A round up of environmental news stories
Resurgence centre news and the line up for this year's Festival of Wellbeing
Ecologist
Investigating the horrors of the footwear industry
In Paris, cycling is becoming the new normal
Resurgence & Ecologist catches up with the founder of Black Girls Hike
Nigel Sizer from the Rainforest Alliance on the destruction of the rainforests
Keynotes
Interview with Jane Davidson about a groundbreaking piece of legislation in Wales
Undercurrents
Introducing our special section on education
We need to teach colonialism to tackle the climate crisis
Exploring fossil fuel divestment in higher education
Australian researchers want to put Indigenous wisdom at the heart of education
Schools must cultivate connection with the living planet
Sharing experience of building peaceful schools
After lockdown, home schooling has a lot to teach us
Wisdom and Wellbeing
In an era of self-isolation we are learning the importance of touch
Celebrating Sourdough September with homemade crumpets
Discovering the joys of staying close to home
Finding love in the Anthropocene
Computers can't teach kindness
The Arts
The power of photography to tell a complex story
Interview with extreme craftivist Carrie Reichardt
Gavin Munro on making furniture from living trees
Regulars
A selection of letters to our editor
Reviews
Review of Braiding Sweetgrass: Indigenous Wisdom, Scientific Knowledge, and the Teaching of Plants; Sand Talk: How Indigenous Thinking Can Save the World
Review of The Accidental Countryside: Hidden Havens for Britain's Wildlife
Review of Amber Waves: The Extraordinary Biography of Wheat from Wild Grass to World Megacrop
Review of The Wild Silence
Review of The Music of Time: Poetry in the Twentieth Century
Review of From What If to What Next: Podcast
Review of Gandhi the Organiser: How He Shaped a Nationwide Rebellion, India 1915-1922
Web Exclusives
The founder of Resurgence magazine and truly one of a kind