The Outdoors Should Be For Everyone
Donate Now
Issue 322

Sep/Oct 2020
Lessons for the Future
Ecologist
The Outdoors Should Be For Everyone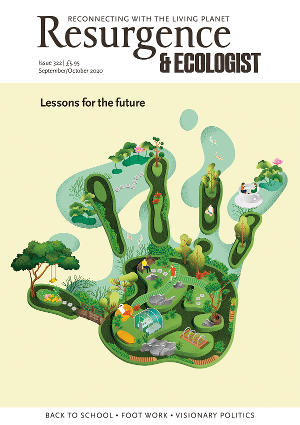 Cover: Illustration by Jing Zhang www.mazakii.com
Issue availability
Resurgence & Ecologist spoke to Rhiane Fatinikun, the founder of one group helping to make that happen.
Walking in Nature has proven health benefits for mind and body. While this should be accessible for everyone, the experiences of many people tell a different story. As Louisa Adjoa Parker writes in her article The Countryside is for Everyone (issue 312), the UK countryside is often perceived as a white landscape, predominantly inhabited by white people. When there is no one around who looks like you, going for a walk in Nature can be deeply intimidating.

Rhiane Fatinikun, who lives in Greater Manchester, has an answer to this. In 2019 she set up Black Girls Hike (BGH), an organisation that offers a safe space for black women to explore the outdoors. So far BGH has organised 20 hikes, including to the top of Snowdon, the highest peak in Wales, as well as caving and gorge walking. "We've had around 150 people attend, most people return for more, and we have a core group of regulars," Fatinikun tells Resurgence & Ecologist.

She founded the group after watching hikers get on and off a train running through the Peak District. "I remember posting a video of the scenery on my social media with a caption that said 'I'm taking up hiking this year – Black Girls Hike'," she wrote in an article for Women's Health. "The lack of representation in hiking is clear for all to see: it's never something I associated with Black people – it's not even marketed at Black people." As hiking is dominated by white middle-class males, she pointed out, "I wasn't keen on the prospect of venturing out alone or joining a typical hikers' group where there'd be nobody I could identify with."

The group is more of a sisterhood than a hiking club. "A sisterhood is a place where you are accepted, supported and continually inspired to be the best version of yourself. That's what BGH has become," she explains. "Think networking meets the outdoors. It's become a community where everyone wants to see each other win. Our group chat is sometimes non-stop with people sharing information, advice and opportunities. Everyone is warm and welcoming. It's so uplifting. It's got a real family vibe to it."

Fatinikun tells us more about her favourite hike with the group so far, Snowdon. "Seventeen of us reached the summit. We had women from across the UK attend. It was the group's first mountain and our first weekend away. Climbing mountains isn't something I would have seen myself doing a few years ago, but the feeling at the top is hard to put into words. It was nothing like what I'd expected. I couldn't believe how busy it was – you had to queue to get to the summit. As we were ascending, everyone who passed on their way down cheered us on. The atmosphere is so warm and encouraging."

The group are now raising money for healing retreats – at the time of writing, their crowdfunder has attracted nearly £4,000 from 195 donors. Fatinikun tells us why.

"Occupying outdoor spaces is great for our mental and emotional wellbeing, and experiencing Nature is something everyone should do. Constantly experiencing and fighting against racism is psychologically damaging and there needs to be more focus on the accumulative impact on people's mental health," she says.

"Black people face discrimination in every facet of life, from healthcare to education, housing and the justice system. The events of this year such as the coronavirus pandemic and the recent Black Lives Matter resurgence have further highlighted the structural social and health inequalities that exist, which people face every day. These events have had a huge impact on the mental wellbeing of our community.

"I set up the healing retreats as a way for women to recoup after the recent traumatic events and heal in Nature. We'll have trained counsellors delivering resilience and wellness workshops, and other therapeutic activities like forest bathing, yoga and meditation. We'll also obviously be doing plenty of hiking."

To support the fundraiser visit www.gofundme.com/f/black-girls-hike-healing-retreats
For more information about BGH visit www.instagram.com/bgh_uk