Once Upon A Climb
Donate Now
Issue 322

Sep/Oct 2020
Lessons for the Future
Wisdom and Wellbeing
Once Upon A Climb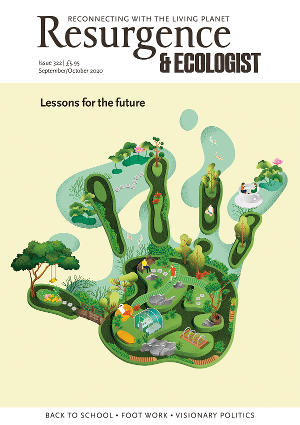 Cover: Illustration by Jing Zhang www.mazakii.com
Issue availability
Caroline Ciavaldini discovers the joy of staying close to home.
My husband James and I are professional climbers. I am French and have a history of competition climbing, while James is a British traditional climber. In other words, I come from performance and the inner pursuit of excellence on artificial walls, while he is a daredevil of the rock, always in search of a more dangerous challenge.

This is where we started: within the same sport, our games were as different as free-ride skiing from giant slalom, and as we collided we began travelling together, purely for climbing at first, but somewhere along the way we realised that we had begun using climbing as an excuse to travel, to live extraordinary adventures, and to feel that shift of reality that you get from witnessing at first hand people and cultures on the other side of the world.

As the shifts occurred, the air miles added up. I graduated as a biology teacher, and at 20 I already knew that something was going wrong. At 35, I hear the world around us shouting louder. Becoming parents has also put on our shoulders the responsibility of our little one's future. Our love of travel and exploration was fighting with our need to press the brake pedal, to reduce our carbon expense.

We made our first experiment two years ago with a train-bus-bike-climb project to the Pyrenees. We expected to be deadly bored on the endless, arduous approach to our goal, but the reality could not have been more different. Travelling by bike is an adventure in itself, and the bike's slower pace allows us to see so much more. We know where we are going, but we don't know the path, the pace and the stories. And if on the way we see something unusual, be it a waterfall that we had never heard of, an abandoned stone village or a wild tortoise, then we will be more than happy to take a break and explore.

Earlier this year we were about to begin a bike-and-climb trip along the Danube in Germany with a baby trailer and an equipment trailer, but lockdown changed the game, not only because it gave us time to think, but also because France imposed a 100km travel limit when initial restrictions were lifted. Did we need to travel all the way to Germany to embark on our adventure? We planned a new itinerary, hopping from crag to crag around the Alpilles mountains, within easy reach of our home in southern France but as yet unexplored by us, and set off.

As I write, we are halfway through our adventure. The feeling of excitement and the freedom of travelling began as I turned the key in our door. An hour later, we were riding up a valley that we had never seen. Every single day I tell myself off for having waited so long before daring to travel close to home. Our little one is 18 months old. He climbs into his little trailer in the morning, plays with the stones, dirt or even goat droppings on the crags, meets everyone with a big smile, stuffs his mouth with wild cherries. We go from wonder to wonder, sometimes breaking a piece of our mini-caravan, sometimes having to repair a tyre, reorganise, reinvent.

It is life at its very best: simple.