Between Science and Knowledge
Donate Now
Issue 322

Sep/Oct 2020
Lessons for the Future
Reviews
Between Science and Knowledge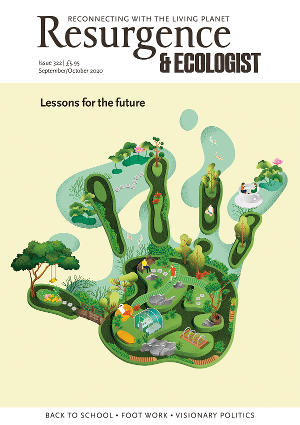 Cover: Illustration by Jing Zhang www.mazakii.com
Kathryn Aalto reviews two books about reclaiming Indigenous wisdom. Braiding Sweetgrass: Indigenous Wisdom, Scientific Knowledge, and the Teachings of Plants by Robin Wall Kimmerer. Milkweed Editions, 2020. ISBN: 9781571313560. Sand Talk: How Indigenous Thinking Can Save the World by Tyson Yunkaporta. HarperOne, 2020. ISBN: 9780062975645.
As a student at Berkeley in the early 1990s, I took a class called 'Nature Writers' with Carolyn Merchant, an environmental historian who wrote The Death of Nature: Women, Ecology, and the Scientific Revolution. That book is one of the most influential environmental histories ever written and analyses how humans have used, abused and conserved Nature since the Scientific Revolution. Merchant challenges the "grand narrative" that has been constructed since that time, arguing that our attempts to control Nature through sexism and domination have resulted in the ecological devastation we now live. The land became a machine, humans its drivers.

Since then I have been interested in how diverse cultures perceived the natural world before the Scientific Revolution – especially Indigenous ways of knowing. Two books satisfy this historical sweet tooth.

Seven years after its initial release, Braiding Sweetgrass became a New York Times bestseller with Milkweed Editions, a small American independent press. This word-of-mouth surge in popularity reflects a growing interest in acknowledging precolonial land practices and combating erasure of Indigenous history, land ethics and botanical knowledge.

Robin Wall Kimmerer, a distinguished professor of envir­onmental biology at the State University of New York, opens the book with lyrical generosity: "Hold out your hands and let me lay upon them a sheaf of freshly picked sweetgrass, loose and flowing, like newly washed hair."

As the book's five sections unfold – Planting, Tending, Picking, Braiding and Burning Sweetgrass – Kimmerer, who is an enrolled member of the Citizen Potawatomi Nation, attentively weaves science, spirit and story. She shares encounters with the botanical world as a mother, botanist, tribal citizen and teacher. There are gratitude stories and cautionary tales. There are consolation stor­ies about water lilies that bring peace after her daughter Linden leaves home for university. There are stories of symbiosis in The Three Sisters – corn, beans, pumpkins – that grow and thrive together. There are ceremonies and the laying of bones in streams to return nutrients to the world. Woven together, these stories help people transcend the realm of the individual and human exceptionalism to become part of a larger community.

In this new classic of Nature writing, Kimmerer invites us to consider ecological restoration loosened from the exclusive domain of science. Turning each page of Braiding Sweetgrass, we begin to see land and the greater-than-human world differently. "Land as sustainer. Land as identity. Land as grocery store and pharmacy. Land as connection to our ancestors. Land as moral obligation. Land as sacred. Land as self."

In Sand Talk, Tyson Yunkaporta examines global systems from an Australian First Peoples perspective. An academic, artist and researcher with a complex identity and a tumultuous early life, he makes clear that "the only sustainable way to store data long term is within relationships – deep connections between generations of people in custodial relation to a sentient landscape, all grounded in vibrant oral tradition. This doesn't need to replace print, but it can supplement it magnificently – these two systems might back each other up rather than merely co-exist."

The construction of Sand Talk is itself novel and revealing. Each chapter is built on oral exchanges or yarns – conversations with diverse people who, Yunkaporta writes, "make me uncomfortable" and "extend my thinking". Yunkaporta belongs to the Apalech Clan in the far north of Queensland, Australia. Using First Peoples traditions, he carves symbols in wood or draws images on the ground to convey what has been learnt or discussed, embedding these symbols into his written narrative. From there he crafts his raw and revealing, diverse and utterly original stories.

Where Kimmerer's writing flows like clear water in a chalk stream, Yunkaporta's fresh and provocatory style tumbles over rocks in a creek. "I change gears from academic to campfire voice from moment to moment."

Like Kimmerer, Yunkaporta comes from a tradition where long-term, non-linear oral relationships with people and places are paramount in creating one's worldview. Contrast this with our detached, jet-setting, postmodern world. His admirable aim in Sand Talk is, he states, to transcend unanswered questions about implementing Indigenous pattern-thinking, perspectives and thought processes into sustainability practices now. He has grown frustrated, he admits, with attending conferences and talks about Indigenous knowledge and sustainability that lack concrete ways of integrating precolonial knowledge into modern sustainability practices.

"Solutions to complex problems take many dissimilar minds and points of view to design," he writes, "so we have to do that together, linking up as many other us-twos as we can to form networks of dynamic interaction."

The yarns are wide-ranging, and mind-bending. They build and build until Yunkaporta blends into one symbol five ways of thinking: story-mind, kinship-mind, dreaming-mind, ancestor-mind and pattern-mind. ("They are not capitalised because I don't want them to become buzzwords absorbed into the marketplace.") The symbol represents dialogue between scientific and Indigenous knowledge systems – a way to converse, to understand, and to link back to precolonial and pre-Scientific Revolution ways of being and knowing.

Yunkaporta ends Sand Talk with a dream walk he created as a sound installation in an art exhibition called Revealed, in Melbourne. With "a deep state of ancestor-mind focus", it feels like a guided meditation aimed at transforming our sense of being in the world. He encourages people to read it aloud to someone or a group while they sit or lie down, eyes closed.

"See the campfire in your head, crackling yellow and red. Feel the heat of it reach your face. Now try and move it down, that image, see it move and feel the warmth of it move, down your face and past your chin, down your neck and to your chest…" Having equipped us with a beginner's understanding of sand talks and symbols, the book leaves us with a way to reconnect – wherever we live – with our mind, brain, body, land and loved ones.

Both Braiding Sweetgrass and Sand Talk invite readers to understand the interrelationships between all things and help bridge the gap between Indigenous knowledge and scientific understanding.