Helping Delhi's Waste Workers Boost Recycling
Donate Now
Issue 324

Jan/Feb 2021
Resilience
Frontline
Helping Delhi's Waste Workers Boost Recycling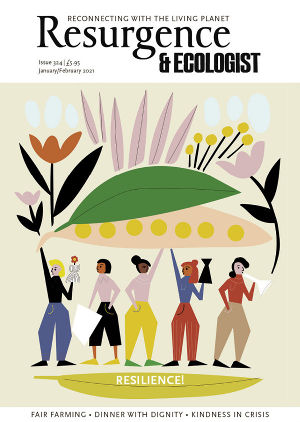 Cover: Artwork by Leah Duncan www.leahduncan.com @leahduncan
Vandana K speaks to 14-year-old developer Freya Thakral.
Last June, Freya Thakral, a British Indian teenager, received The Diana Award 2020 for creating Recycler, an app that has served 500 homes by collecting a tonne of plastic and e-waste in the Indian capital, New Delhi.

Fourteen-year-old Freya, who studies in the 9th grade, was born in England and has lived in Nepal and India. Two years ago, watching a cow eating plastic bags from a pile of rubbish on the street provoked her to learn more about plastic pollution. She participated in the Young Founders Summit, an international start-up competition for young changemakers, where she came up with the idea of creating a recycling app.

During her research, Freya went to recycling plants in the city. "There were bags and bags of plastic just lying there because people mix their waste. This contaminates plastic and makes it very difficult to recycle," she said.

Freya's research also opened her eyes to the extreme vulnerability of people who collect waste. An estimated 160,000 people pick and recycle waste in Delhi, the majority of them poor informal workers. They consist of Dalits (oppressed castes), minorities and rural immigrants and include a large number of women and children.

Through the summit, Freya secured funding that helped set up a warehouse, cover transportation costs and pay salaries to waste collectors. She struggled with working with app developers who did not take her and her app seriously, so she learned coding for a year. "I took online courses and I also worked with my father. Although he does not know coding, he teaches computer science and was able to help me a lot," she said.

The Recycler app launched in June 2019. "Recycling is a big deal in a developing country like India, but unfortunately it is underestimated," said Freya. While there is no current data, according to an estimate India produces 25,940 tonnes of plastic waste a day, of which only 60% gets recycled.

Freya calls her app "the Uber of recycling". On Recycler, users can book a free door-to-door waste collection service. The collected waste is sent to a partner recycling plant. The app covers three neighbourhoods in the city and employs four waste collectors, who are paid a minimum monthly wage.

Freya won The Diana Award earlier this year along with more than 150 young people who are doing exceptional social work in their communities in the UK and the world. Though the award means a lot to her, her favourite moment was talking to a group of female students from rural India about her app. "I found it heartwarming. Some of the girls are now learning to code," she said.

Recycler's operations have been on hold since late March 2020, due to the pandemic. "The current circumstances have shown us that we need to act together," said Freya.