Welcome to London
Donate Now
Issue 324

Jan/Feb 2021
Resilience
Wisdom and Wellbeing
Welcome to London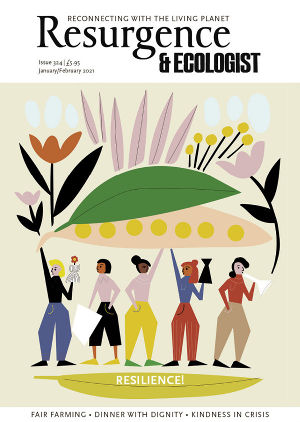 Cover: Artwork by Leah Duncan www.leahduncan.com @leahduncan
Jini Reddy meets a group of walkers helping refugees.
Very occasionally there are good news stories where the plight of those who find themselves displaced, traumatised and on our shores is concerned. One of those is Fences & Frontiers, a grassroots community initiative started by a small group of Londoners. "Our aim is to make our city and the UK a more welcoming place for refugees and asylum seekers," says Lewis Garland, one of the founders. "Settling in a new country, with a new language and customs, can be incredibly daunting, even frightening. This is particularly the case for people who have been forced to flee their country of origin and seek asylum in a country far from home."

The group runs two projects, both of which launched in 2018. The first, Never Walk Alone, is a monthly walking group that happens in and around London. To date, trips have taken participants to beauty spots including the Chilterns, Bushy Park in south-west London, Limpsfield Common (a National Trust property in Surrey), and the Kent and Essex coasts. Jaunts further afield are on the horizon, but are dependent on resources and funding. The second, equally inspiring project is London, Museums, and Me, which gives children from refugee backgrounds and their families the chance to explore the capital's museums and cultural attractions.

Crucially, travel fares are paid for, an easy-to-reach central meeting point is agreed, picnic lunches and drinks are provided, and the walks, which vary from around four to eight miles (depending on the weather and the needs of the group), are guided by one of the team.

Kobi, a teacher and asylum seeker from Iran – a country where human rights violations have been well documented – has been in the UK for 15 months. She describes Never Walk Alone as a lifeline, a beacon of hope, and a way of countering the depression that descends upon her as she exists in limbo waiting for her claim to be evaluated. "I found out about Fences & Frontiers from a leaflet at the hostel I was staying at. I sent an email to Lewis and we had a chat," she says over the phone. "I've been on four walks with the group. I will always remember the first as a walk full of hope and care and kindness. It was the first time I was welcomed by English people. I had nothing, no money, and they took care of everything."

She tells me she used to walk in Iran, with her family, in the mountains, and that she misses her two children terribly. Although a teacher for over 20 years, she is not permitted to work in the UK. "I want to be able to contribute, to use my skills," she says, her frustration pouring out. "We face so many challenges: there is no one to facilitate the integration of asylum seekers. There is so much confusion and the Home Office is not organised."

The outings, she says, offer her a rare burst of happiness. "I have introduced many, many people to them. All I want is to express my thanks to Lewis and the team and other groups like them, who have helped."

Kobi's comments are echoed by the feedback others have shared, deeply moving expressions of heartfelt gratitude from refugees and asylum seekers from Sudan, Eritrea, Albania and DRC. They speak of new friendships formed, health benefits (including a drop in blood pressure, an easing of pain in the knees), a vital boost to mental health, the touching kindness, and the joy of being introduced to beautiful places. On reading the comments, it's hard not to feel that the work Fences & Frontiers does deserves far, far greater recognition and financial support.

Covid-19, of course, has proved to be a major obstacle, with many walks and events cancelled in 2020. "We have tried to find ways to keep in touch and continue to support our walkers and museum families, ranging from sending books out to all of the children, to creating a list of support and resources in various languages," says Garland. "However, none of these things can replace the sense of community and connection that comes out of meeting new people and sharing experiences."

The chance to build friendships, practise language skills and gain a sense of community is a core aim of the projects. But, adds Garland, "Earlier this year there was a YouGov statistic doing the rounds that claimed 49% of Britons feel little or no sympathy for people crossing the Channel. I believe prejudice and distrust usually come from fear. And the best way to fight fear is by bringing people together. It's far harder to demonise people you have walked, danced, shared food and joked with. If people are naturally 'tribal', the answer is to widen the parameters of the tribe."

In this spirit, self-funding non-refugees are invited to take part in the outings. "This said, we prioritise refugees and asylum seekers," says Garland. Thank goodness someone does.

For more information: www.fencesandfrontiers.org