The Last Word
Donate Now
Issue 324

Jan/Feb 2021
Resilience
Reviews
The Last Word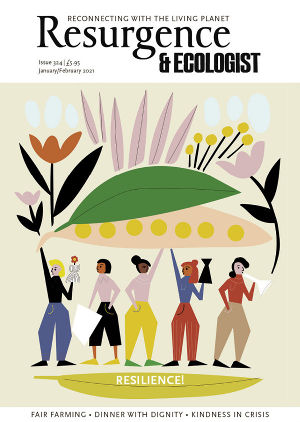 Cover: Artwork by Leah Duncan www.leahduncan.com @leahduncan
Kate Blincoe reviews a celebration of our connection to the world through language. Fifty Words for Snow by Nancy Campbell. Elliott & Thompson, 2020. ISBN: 9781783964987
The snowflake lands on my cheek; a moment's cold kiss. I smile and stick out my tongue to catch an icy fragment that vanishes instantly. I can taste it, strange yet familiar. I turn another page, for I am not outside, but curled up in the snuggle chair, reading Nancy Campbell's words.

Fifty Words for Snow transports me gently around the globe, tasting new languages on my tongue like snowflakes, as each section brings me an international word for or about snow. It could be Māori, Swedish, Russian; Huka-rere, Snöängel, Sastrugi. I am immersed in the places and landscapes described; it's a sensory experience that resonates in my mind and body. My foot crunches through Onaabani Giiziz, the hard crust on the Snow Moon, and my hand reaches out to feel the falling Hundslappadrífa, snowflakes as big as a dog's paw.

Words are the focus for discovering snow, and, as Campbell explains, "the climate is a prism through which to view the human world – just as language can be." Beneath each word are rich layers of story, science, myth, etymology and history. From frozen forest to mountain peak, school yard to park, snow brings different emotions: it may be welcomed, feared, played with or prized. Beyond the pretty chocolate-box scenes, we discover the life of humans and wildlife and how they interact, survive and thrive with snow.

Campbell is an award-winning writer inspired by the polar regions. She has been writer-in-residence on the north-west coast of Greenland, in the northernmost museum in the world, and has travelled widely in the Arctic. Her style is understated, so that bursts of emotion catch us by surprise. Take this sentence, transporting us from the scientific to the sublime in simple elegance: "Urban snow is dependent on a particular set of timings and conditions, almost as miraculous a coincidence as falling in love."

The book inevitably has a thread of climate change running through it, but at no point are we preached to. Instead, the focus on individual places and stories brings climate sharply into focus in a meaningful, specific and moving way. In Siberia, "The tundra landscape is changing fast. The climate is warming as a result of the human fossil fuel consumption […] The region is suffering hot summers without rain, making the ground dry and difficult for the reindeer to draw the heavy sleighs across."

This is a book of now. Written in lockdown, the world in Covid-19 crisis, masked protests for Black Lives Matter, and with a backdrop of Brexit, it is both an escape from these things and a clever metacommentary. It shows us how we are connected and united across languages and across borders, through our environment, climate, stories and Nature. It reminds us that for us to be healthy as a society and as individuals, we need healthy, resilient environments. Incredibly lightly, Campbell has shown that we are in jeopardy if we fail to respond to the shared threats. It is no wonder she has been described as "deft, dangerous and dazzling" by former poet laureate Carol Ann Duffy.

The pages are printed in a rich, dark blue throughout, with a magnified snow crystal adorning each chapter, mirroring the way Campbell holds her magnifying glass to each word. The images are mesmerising. I find myself puzzling over the unique complexity and the near but not quite perfection, as well as marvelling at the dramatic difference between flakes. This book is an object of beauty, and eminently giftable.

Who knows if the snow will fall where you are this year? Fifty Words for Snow is both gorgeous and important to hunker down with, whatever the weather outside.