Peter Abbs (1942–2020)
Donate Now
Issue 325

Mar/Apr 2021
Watershed Moment
Frontline
Peter Abbs (1942–2020)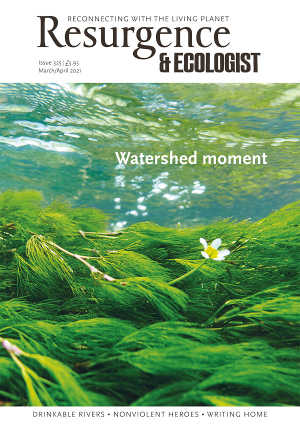 Cover: A single flower / ray of hope by Zena Holloway zenaholloway.com
Issue availability
Peter Abbs, poet, emeritus professor of creative writing at Sussex University and contributor to Resurgence for over four decades, has died aged 78.
Peter was born, three months premature, in Sheringham, Norfolk, to Eric (a coach driver) and Mary (a shop assistant). Against the odds, he survived. At the age of 11 he decided to train for the priesthood, but after a few months studying at a Catholic seminary in Liverpool he changed his mind and returned to his family, taking O levels and A levels at Norwich Technical College – the first generation in his family to stay at school after the age of 14. He went on to do a BA in English and Philosophy at Bristol University, before becoming a teacher.

It was moving to a remote Welsh smallholding in 1970 that fundamentally changed Peter, introducing him to ideas of ecology and the burgeoning green movement. Establishing a smallholding with his wife and three young children opened his eyes to the realities and challenges of
self-sufficiency, farming, and living from the land. In Wales he met other smallholders, and pioneers of organic and biodynamic farming, becoming deeply influenced by the writings of E.F. Schumacher, Leopold Kohr and John Seymour. Kohr and Seymour visited Peter on his smallholding, where he and his wife, Barbara, grew their own organic produce, kept chickens and attempted to farm their own pig. When Peter's children turned the pig into a playmate, Peter realised he could neither kill nor eat it – an epiphany that resulted in a less ambitious, 'plant-based' smallholding.

During his six years in Wales, Peter also wrote, published, and taught at Aberystwyth University, as well as helping Barbara home educate their children. At their kitchen table, he founded and published the magazine Tract, a forum for exploring ideas that were to preoccupy him for the rest of his life: questions of identity, creativity, and the place of art in human life. He also continued writing poems – poetry was to be his enduring passion. His first volume of poetry, A Fisherman of This Sea, was published in 1965 and was immediately praised in The Observer. A further 10 volumes of poetry won the praise of Seamus Heaney, Kathleen Raine and Ted Hughes.

Peter was constantly inspired by Nature and by the landscapes in which he lived – from the north Norfolk coast of his childhood to the valleys of Wales, from the rolling downs of Sussex to the Greek island of Paros. He edited the first book of eco-poetry, Earth Songs, published by Resurgence in 2002. Meanwhile, his own work continues to appear in print, with poems this year in Prospect and the New Statesman. His last poem was completed on the day he died.

Peter left Wales for a post at Sussex University, where he co-founded an MA (now the MA in Creative Writing) and earned a reputation as a charismatic and impassioned mentor, nurturing a new generation of teachers and creative writers. He completed a doctorate on autobiography, wrote 10 polemical books on the philosophy of education, gave lecture tours across the world, and regularly authored articles for magazines and newspapers. His work for Resurgence began in the 1970s when he first met Satish Kumar and became the books editor. Within a few years Peter had become the poetry editor, a position he held – with great pride – until 2019. His last article appeared in the January/February 2021 issue.

He is survived by his second wife, the writer Lisa Dart, three children – Miranda, Theo and me – and eight grandchildren.