Watershed Moment
Issue 325 • March/April 2021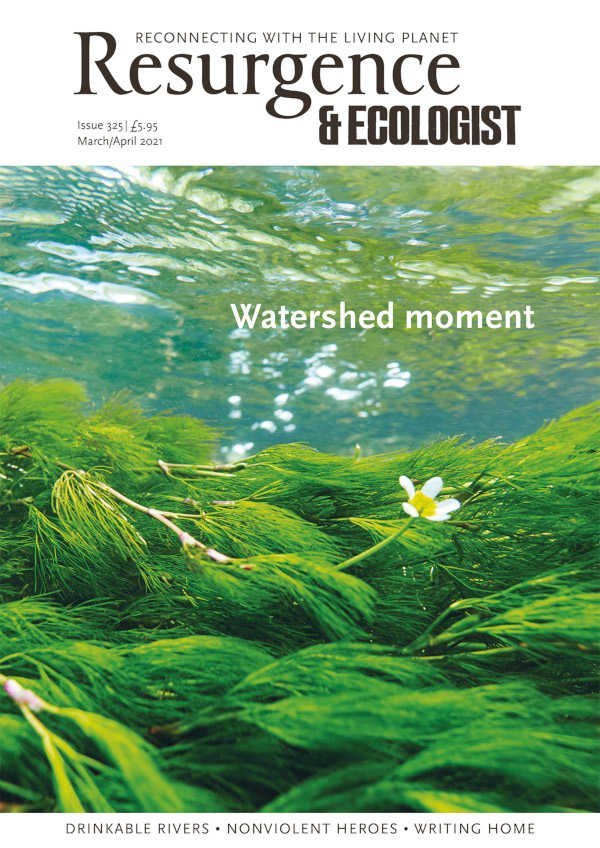 In this issue of Resurgence & Ecologist we share stories of people across the world inspired by Rivers. Rivers have shaped landscapes over millennia, arteries of fresh water that have carved paths through rock and soil from source to sea.
As our relationship with Nature frays, the threads connecting us become all the more precious, and people across the world are fighting to protect the rivers they love. In this issue, Vandana K investigates grassroots activism in India, and Nicola Cutcher celebrates a recent victory by citizen scientists. Li An Phoa walks along the river Meuse, and Derek Gow brings beavers back to Britain.
We also focus on the need for wisdom, compassion and hope. Julian Abel explains why being compassionate is good for us, Russell Warfield interviews Rutger Bregman about his book Humankind and Louisa Adjoa Parker speaks to Romalyn Ante about migration, home and family.
Highlights
The End of Neoliberalism: Russell Warfield
Survival of the Kindest: Julian Abel
Real Heroes: Rivera Sun
Rewilding Britain's Waterways: Marianne Brown
Bonding and Belonging: Satish Kumar
Buy a copy of this issue
Become a member and receive 6 issues a year

Contents
Key
Free for all to view
Free for members to view
Not available
Welcome
People across the world are protecting the rivers they love
Frontline
Restoring marine ecosystems
Investigating the shocking state of Britain's rivers
A round up of environmental news stories
Introducing a new project focused on listening and connection
Honouring the life of poet, professor and long-term Poetry Editor at Resurgence
Ecologist
The latest on the post-Brexit landscape
The End of Neoliberalism… So, What Next? • Russell Warfield
Historian Rutger Bregman shares his optimism
More experts are arguing in favour of human compassion
May Project Gardens is transforming lives in London
Transport must be at the heart of a low-carbon future
A leading scientist in Poland is using his personal story to deliver a stark message
Keynotes
How researching for a novel lead to activism
Undercurrents
An introduction to our themed section on rivers
Rivers

- Wholesome Flow • Vandana K

The twists and turns of grassroots activism to save India's waterways

Beaver man' Derek Gow shares his story

Listening to the lessons of old tales
Rivers

- The Source of Life • Li An Phoa

Walking 900 kilometres to campaign for drinkable rivers
Rivers

- The Right to Bathe • Nicola Cutcher

Citizen science could set a precedent for cleaner waters
Wisdom and Wellbeing
Exploring the landscape of love
Lockdown comfort food recipe
Inspired by birdsong
Going for a plant walk in London
The Arts
Extolling the power of performance poetry
An interview with poet and nurse Romalyn Ante
Lights, Camera, Creative Action • Huw Wahl
Exploring the expanding genre of ecological film-making
Regulars
Letters to the Editors

- Letters to the Editor

A selection of letters from our readers
Reviews
Review of The Reindeer Chronicles: And Other Inspiring Stories of Working with Nature to Heal the Earth; and Islands of Abandonment: Life in the Post-human Landscape
Review of Competition is Killing Us: How Big Business is Harming Our Society and Planet - and What To Do About It
Review of The Cost of Free Shipping: Amazon in the Global Economy
Review of Vesper Flights
Review of A Spell in the Wild: A Year (and Six Centuries) of Magic
Review of A Small Farm Future: Making the Case for a Society Built Around Local Economies, Self-Provisioning, Agriculutural Diversity and a Shared Earth
Review of How They Made Us Doubt Everything