Lights, Camera, Creative Action
Donate Now
Issue 325

Mar/Apr 2021
Watershed Moment
The Arts
Lights, Camera, Creative Action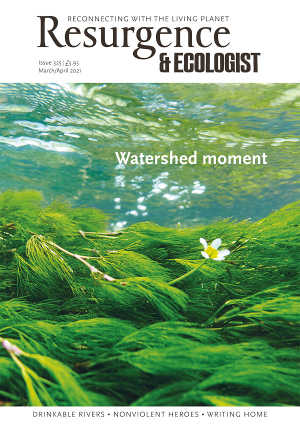 Cover: A single flower / ray of hope by Zena Holloway zenaholloway.com
Huw Wahl explores the expanding genre of ecological film-making.
We all know the power of a quality environmental campaign documentary, which can stir us to act, bring to life abstract statistics and facts, or enable us to see clearly the impact of a climate injustice and its effects. Films like An Inconvenient Truth (2006) and the series Our Planet (2019) are of great value in raising awareness, shifting opinion, and informing us in a direct and important way about the climate crisis. Yet there is also another sense in which film can speak to the situation we have created: a sense that can cultivate our emotional resources, encourage changes in representation, ...
To read the rest of this article, please buy this issue, or join the Resurgence Trust. As a member you will receive access to the complete archive of magazines from May 1966.
If you are already a member, please Sign in