Taking on an Empire
Donate Now
Issue 325

Mar/Apr 2021
Watershed Moment
Reviews
Taking on an Empire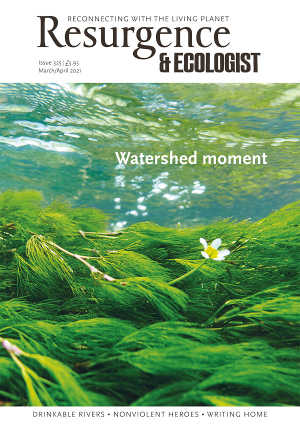 Cover: A single flower / ray of hope by Zena Holloway zenaholloway.com
Georgina Quach counts the cost of free delivery. The Cost of Free Shipping: Amazon in the Global Economy by Jake Alimahomed-Wilson & Ellen Reese (eds.). Pluto Press, 2020 ISBN: 9780745341484
Flicking through TV channels recently, I stumbled across a documentary titled The Truth About Amazon. Airing just days before Black Friday, the series seemed poised to awaken British shoppers to the sinister tactics behind Amazon, whose stated aim is to be "Earth's most customer centric company". But would this change viewers' shopping habits? Perhaps not, given that the presenters also unveiled their tips for finding the best bargains on Amazon.

The Cost of Free Shipping, by contrast, doesn't stop at the consumer: the book broadens our picture of the way we shop, by exploring links between this multifaceted tech giant and the communities it exploits. Lining miles of conveyor belts and machinery in Amazon warehouses are people.

As a daughter of refugees deeply aware of the power of immigration authorities, I was horrified to learn of Amazon's links with deportation operations in the US. Through a series of essays, the book's contributors set out to uncover the retail world's most secretive deal – the one driving Amazon's soaring profits at a time when all other shops were losing theirs. At one point in the pandemic, the company was reported to be making sales of almost US$11,000 a second. But this volume also spotlights our ability to forge alliances across borders – to mobilise mass human creativity for global change, from virtual rallies to boycotts.

There is a bitter irony that Amazon – our planet's most valuable corporation – has become so central to the fight for corporate action on the climate crisis. In 2019, Amazon Employees for Climate Justice gathered almost 8,000 signatures from Amazon software engin­eers, designers and other workers on an open letter to CEO Jeff Bezos demanding that the corporation adopt a comprehensive climate action plan. This action was one of the largest employee-driven environmental initiatives in history. During the global climate strike later that year, 1,000 Amazon employees in Seattle walked out of their jobs. In response, Amazon pledged to become carbon-neutral by 2040 and to purchase electric vehicles.

As this book highlights, what makes the corporation so powerful – a tight supply chain that can deliver packages within hours – is the same factor that makes it so vulnerable to disruption. To show the power of collective action, the essay by Peter Olney and Rand Wilson takes the example of Amazonians United, a worker-led group that campaigned for better healthcare benefits and air conditioning on-site. Amazon's reliance on speed gives workers more opportunities to effectively resist its practices.

However, the big problem is Amazon's constant pushing of the costs of emissions and pollution onto different communities. It owns so many delivery stations and fulfilment centres that if there's disruption in one area, orders can just be sent to another. In its relentless push for e-commerce dominance, Amazon has built logistics checkpoints across major highways across the US, bringing traffic with them. Areas near distribution centres have become known as "diesel death zones" because of the levels of air pollution there from emissions. Jake Alimahomed-Wilson's essay humanises the raw facts with moving case studies. We step into the shoes of Miguel, an undocumented immigrant and delivery driver in Los Angeles. "The Rabbit stresses me out," Miguel says, referring to the tracking device that pressures workers to hit targets. For low-wage subcontracted workers like Miguel, Prime Day is a solitary race – where bathroom breaks could cost them not only missed packages, but also their jobs and livelihoods.

Amazon's free shipping is not free at all: it creates enormous costs for communities and workers alike, particularly communities of colour. The Cost of Free Shipping shows us concrete solutions to a human problem that seems far beyond our reach. Global resistance against Amazon has pushed the climate crisis onto the corporate agenda, inspired workers to come forward, and given agency to the many real people who before felt utterly helpless.