Green Recovery
Donate Now
Issue 326

May/Jun 2021
Building Back Hope
Welcome
Green Recovery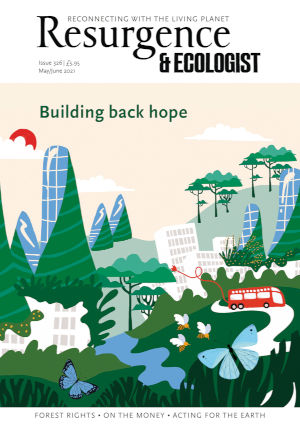 Cover: Illustration by Cécile Girardin @cecilegirardin
We can create a better future by connecting with Nature and each other.
A hotel owner in Cornwall has stoked outrage and sadness by destroying an area of woodland to extend accommodation for the G7 summit, a meeting of world leaders in June. A message on the community Facebook group Carbis Bay Beach developments described the importance of the area as a home to wildlife. "The tree root systems alone supplied natural protection from exposure to weather and the threat of coastal erosion," it said. "What sort of message is this giving the G7 leaders & the world?" In response, the local MP said on social media that any work needed to accommodate the summit "must be removed and the area returned to its former state, including nature recovery".

The move was not an auspicious start to this year's meeting, an event the UK government has said it would use to "seize the opportunity to build back better from coronavirus, uniting to make the future fairer, greener and more prosperous". The UK is certainly not doing a great job so far, and it is by no means alone. According to a report backed by the United Nations detailing the fiscal rescue and recovery efforts of 50 leading economies, at the time of writing only around 18% of the rescue spending could be described as green. Despite countries like France, Spain, Italy and Denmark leading the way, the analysis, which looks at potential impacts on the environment and the socio-economy, shows that the world is not on track for a green recovery. "This report is a wake-up call," said Cameron Hepburn, Professor of Environmental Economics at the University of Oxford. "We know a green recovery would be a win for the economy as well as the climate – now we need to get on with it."

When trees are ripped up to make way for luxury hotels, it's easy to feel that 'building back better' is an impossible dream. But as the following pages show, we are already building the foundations. We hear from Change the Rules, a project mapping communities that are developing local economic models to share prosperity and protect the planet. Jonathan Neale explores how we need global solidarity over climate jobs to forge a green transition, and think tank Common Wealth helps us visualise what tenement life in Glasgow would look like under a green recovery. We also hear from Lesley Riddoch, who points to the example of Norway to call for a renaissance of the Scottish hut to better connect us with Nature, and Katie Dancey-Downs describes how young people are setting the stage for eco-activism in theatres.

In lieu of sitting at the negotiation table at Carbis Bay in June, we can take Professor Hepburn's advice to 'get on with it' by connecting with each other to rebuild our communities and connection with Nature and show others what a better future can look like.