Building Back Hope
Issue 326 • May/June 2021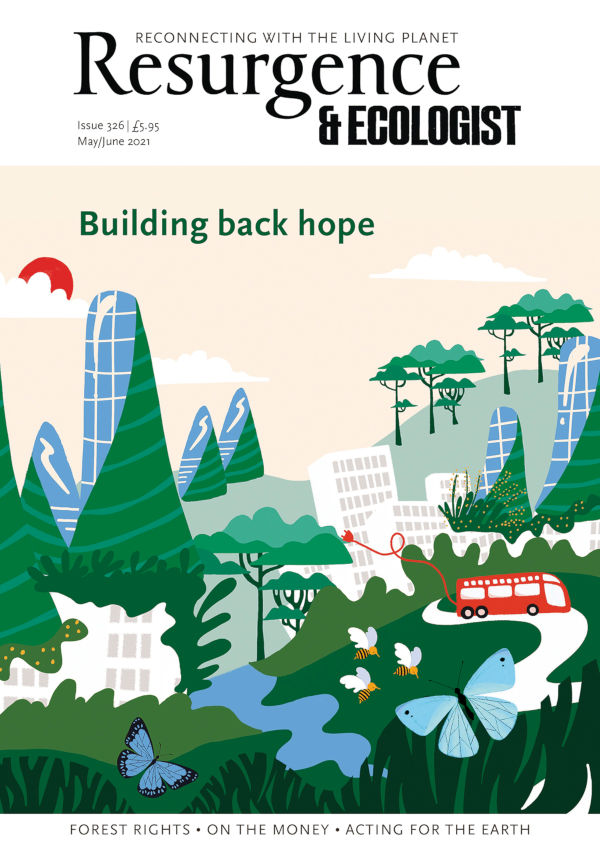 In this issue, we look at a 'Green Recovery'. It can be easy to feel that 'building back better' is an impossible dream, but as our feature articles show, we are already building the foundations.
We hear from Change the Rules, a project mapping communities developing local economic models to protect the planet. Jonathan Neale explores the need for global solidarity over 'climate jobs' to forge a green transition, and think tank 'Common Wealth' helps us visualise what tenement life in Glasgow would look like under a green recovery.
Lesley Riddoch calls for a renaissance of the Scottish hut to better connect us with Nature, and Katie Dancey-Downs describes how young people are setting the stage for eco-activism in theatres.
By connecting with each other to rebuild our communities and connection with Nature, we can create a Green Recovery and show others what a better future can look like.
We hope you enjoy our selection of free articles from this issue of Resurgence & Ecologist magazine.
Highlights
Defending our Forests: Helen Dancer
A Questions of Development: Tsitsina Xavante
Reframing Economics: Herbert Girardet
A Call for Green Sabbaths: Jonathan Schorsch
The Fabric of Resilience: Claire Wellesley-Smith
Buy a copy of this issue
Become a member and receive 6 issues a year

Contents
Key
Free for all to view
Free for members to view
Not available
Welcome
We can create a better future by connecting with Nature and each other
Frontline
An interview with Anjali Raman-Middleton, co-founder of Choked Up
Legal protection for Nature • Marianne Brown
Landmark legal action on climate change, and renewed calls to protect Nature
Challenging the policy on beavers, plus news from the Beaver Trust
A round up of environmental news
Ecologist
Are Rights of Nature the answer?
To look forward, Brazil has to accept its violent past
A photo essay from the Gaia Foundation
Extolling the virtue of clover
Calling for a renaissance of the Scottish hut
Building a boat has connected people with their home and its history
Keynotes
A weekly day of rest is an environmental remedy
Undercurrents
Green Recovery

- A Fairer Future Beyond Covid • Clifford Singer

Communities are already leading the way
Green Recovery

- Putting Change on the Map • Clifford Singer

Celebrating communities forging a sustainable future

A 12-point plan for recovery

We need global solidarity over 'climate jobs'

A new report 'The Inequality Virus' calls for lasting structural change
Green Recovery

- Visualising the Future • Marianne Brown

Glasgow gets a glimpse of what could be
Wisdom and Wellbeing
Reflections on politics and poetry
Sharing a project connecting people, place and plants
Setting the scene for a new anthology
A search for wisdom
The Arts
Young actors are bringing eco-activism to the theatre
Theatre-makers have a duty to raise the alarm
Exploring an exhibition by Baldwin & Guggisberg
We talk to Will Coleman about a record-breaking labyrinth
Regulars
Letters to the Editors

- Letters to the Editor

A selection of letters from our readers
Reviews
Review of Exploring Degrowth: A Critical Guide, and Post-Growth Living: For an Alternative Hedonism
Review of How to Disagree: Negotiating Difference in a Divided World
Review of I Am Greta: B-Reel Films
Review of The Lonely Century: Coming Together in a World That's Pulling Apart
Review of A Still Life: A Memoir
Review of The Next Great Migration: The Story of Movement on a Changing Planet