Cabin Fever
Donate Now
Issue 326

May/Jun 2021
Building Back Hope
Ecologist
Cabin Fever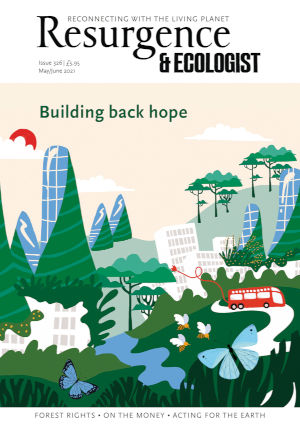 Cover: Illustration by Cécile Girardin @cecilegirardin
Issue availability
Lesley Riddoch calls for a renaissance of the Scottish hut.
It's almost summer. We're nearly all vaccinated and out of Covid restrictions. So, can we dare to think about life beyond our own four walls? What then does the summer hold?

What gift could thank the locked-down population for enduring fear, illness, redundancy, isolation, and social lives pared down to the bone? What permanent reward might there be for frontline staff? What simple change would transform everyday lives, absorb restless energies and allow 'build back better' in that most precious commodity – our own leisure time?

Hugs, nights out, cinema visits, family get-togethers, trips to see elderly parents and a decent normal-ish holiday will all be on the agenda. But at the time of writing, summer flights to the sun look unlikely. So folk can camp, rent a pricey self-catering cottage, hotel or B&B, join the 2.5 million people who took a caravan or motorhome holiday in the UK last year – a third of them hopeful first-timers – or just stay put. Now, I'm not knocking anyone's method of escape, but for two week's rental of any commercial holiday option, you could build a basic wooden hut – for life. So why – alone at our latitude – don't we do that?

In Norway there are almost 500,000 wooden huts – one per 10 Norwegians. In Scotland there are fewer than 600 wooden huts – one per 8,035 Scots.

The most recent figures suggest there is one cabin per 12 Swedes, one per 18 Finns and one per 33 Danes, along with widespread cabin ownership in Russia, the Czech Republic, Germany, Spain and other parts of central and Southern Europe as well as the northern states of America and Canada. It's hard to find any statistics for England amidst pages of distracting ads for glamping, weekend cabin rentals and woodland lodge retreats. A classic hut is none of these things.

In the Nordic nations, each hytte, sommerhus, stuga and mökki is a priceless heirloom – family-owned (not rented), self-built and enjoyed every weekend, for life. In Britain such family-owned, wooden, weekend huts are like hens' teeth. What are we missing?

Put simply, a deep connection with Nature, our families and ourselves.

I spent a decade comparing the hut and leisure traditions of Norway and Scotland for a PhD, completed in 2020, which then formed the basis for a book based on my experience of renting an abandoned Aberdeenshire hilltop bothy (without electricity, running water or sanitation) for seven eventful years in the 1980s. Back then everyone thought I was crazy. But a chance trip to Norway made me realise how normal huts are everywhere else – and how much the difficulty of physical escape in Britain may be fuelling liquid and chemical alternatives.

Research shows that time in Nature produces measurable reductions in anxiety, blood pressure and stress. Japanese doctors prescribe 'forest bathing' (shinrin-yoku) to strengthen the immune system, Scandinavian parents choose outdoor over indoor kindergarten, and Richard Louv, the man who coined the term 'Nature-deficit disorder', believes "Nature is not only nice to have, but it's a have-to-have for physical health and cognitive functioning," which means more than just looking from a car window. It means time, ease, access, curiosity, relaxation and shelter – immersion.

That's why in Norway there's a hut in the extended family for almost every citizen – rich and poor. The majority of Norwegian huts are fairly hardcore, with no access roads, running water, flushing or indoor toilets. And there are a lot of them. Roughly half a million, tucked inside forests beside fjords for summer swimming or up on the mountains for winter skiing. Eighty per cent of hytte owners also own the land – a natural development in a country where nobility was abolished in the 1800s and land has long been owned by tens of thousands of ordinary locals. That makes hytte building and land purchase far easier than it is here, where would-be hutters must trace, contact and finally charm hard-to-reach feudal landowners or the Forestry Commission.

As a result of this simple difference in land ownership patterns, most Norwegians possess the ultimate luxury – a wee hut for escape from the stress and pressures of modern city life. Not for a long weekend, an expensive week or a bank-busting fortnight. For ever.

That should be the birthright of British people too, because our grandparents and great-grandparents fought for it. After the first world war, land values crashed, soldiers returning from the trenches were determined to build better lives, and socialist organisations organised to get working people out of tuberculosis-ridden cities and into the countryside. Meanwhile, the British government raised taxes on land and imposed death duties of 40% on the largest 'sporting' estates. As a result, a quarter of England and a fifth of Scotland changed hands between 1918 and 1921. Some was bought by enterprising Londoners (the 'Plotlanders', who turned marshy bits of Essex into large hutting communities), and by farmers happy to diversify into huts.

Barry Downs – the hutting site near Dundee that probably inspired the 'but 'n' ben' owned by the cartoon Broons family – began in 1939, months after the Holidays with Pay Act. Seton Sands near Edinburgh – Scotland's largest hut site for many years – started in 1922 when Boys' Brigade members asked to camp on land newly bought by agricultural lecturer and farmer William Bruce. Huts on rented plots soon followed. During the interwar years, enterprising Scots squeezed themselves into marginal bits of land at Soonhope, Carlops, Lendalfoot, the Cloch, Rascarrel, Glen Devon, Eddleston, Dunbar, and Carbeth near Glasgow, which survived the Blitz, vandalism, eviction and a decade-long rent strike to be designated a conservation zone by Stirling council in 2001. Now – bought by hutters – it is one of the few interwar hut sites left.

Others succumbed to the same pressures that brought the 'Plotlands' to a halt in the 1950s – new planning and building control rules designed to strike down humble huts, and a government-backed programme of holiday camps that made a week at Butlin's far easier for hard-working families than trying to strike out alone.

Nothing much has changed since then.

Half of England is still owned by just 0.04% of the population. In Scotland, half the private land is owned by fewer than 500 people. This concentration means that small plots of land rarely come onto the market, and they are unaffordable for the average citizen when they do. Many woodlands are exempt from inheritance tax and capital gains tax, so wealthy investors almost always outbid groups of hutters.

The cards are currently stacked. But that could change – just as tax laws changed to create some semblance of a 'land fit for heroes' in the wake of the first world war. A low-impact, family-owned hut is precisely the mood-lifting gift cooped-up families could do with. A place beyond the city but also beyond the commercial tourism market. A place that needs no booking, deposit or forward planning. A place that's affordable and available for year-round small adventures – for ever. Why not?

Join Lesley for a Q&A with Marianne Brown for our May/June Resurgence Book Club on 23 June at 7pm. www.tickettailor.com/events/theresurgencecentre/514780/