Back from the brink
Donate Now
Issue 327

Jul/Aug 2021
Small is Beautiful
Welcome
Back from the brink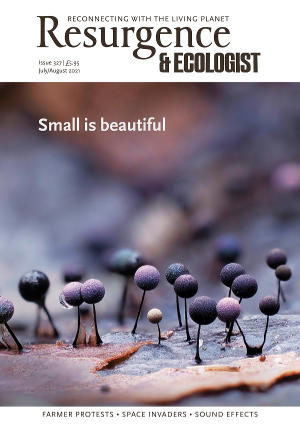 Cover: Slime mould © Andy Sands / naturepl.com
Towards a soulful engagement with the world.
Among the jubilant colours of thrift, gorse and speedwell, I recently spent an afternoon on the edge of a cliff in the rain wrestling the paralysing effects of a panic attack. I was walking along the South West Coast Path with a friend and had been confronted with a sudden attack of vertigo. The slippery track we were following had risen, and over the edge I could see how close we were to a high vertical drop and violent waves below. My skin tingled as adrenalin flooded through my body and my heartbeat raced. I couldn't move.

Two things then happened.

My friend took my hand and led me slowly forward, singing a song to distract me from my intrusive thoughts. As we edged along the path, with me focusing hard on steadying my breathing, a black bird with a white bib emerged from a scrubby blackthorn bush – a ring ouzel. Grounded by my friend's beautiful voice, I found myself wondering about this little bird – had it just arrived from an arduous journey across Europe, or was it nesting here on the Cornish coast? We continued to see it every so often as it moved along the gorse, and its presence in my mind pushed away fears of the cliff edge until at last we were back inland.

My moment on the cliff edge showed me two things. First, the incredible strength of a friend's helping hand, and secondly, how contemplating a bird could lift me out of the confines of my anxiety.

Anxiety is a common affliction in our consumer-driven world, although the cliff edge we teeter on is not always a literal one. In this issue of Resurgence & Ecologist, our Keynotes essay by Steffi Bednarek explores how we need a psychological shift from toxic normality towards a soulful engagement with the world. Philip Lymbery points to the link between our industrial farming and deadly viruses and asks us to join him in taking action ahead of the UN Food Systems Summit. Seeing ourselves as part of a natural system is an important part of connecting with Nature. Nat Dyer considers this in his interview with author Frank White as they discuss the profound spiritual and ecological awakening of seeing the Earth in space. And in Arts, Vandana K finds solace in the stirring poetry of Amitav Ghosh's latest work, Jungle Nama.

Just as the firm and steady presence of my friend helped lift me from fear, I hope the stories in the following pages offer you a hand of hope.