Small is Beautiful
Issue 327 • July/August 2021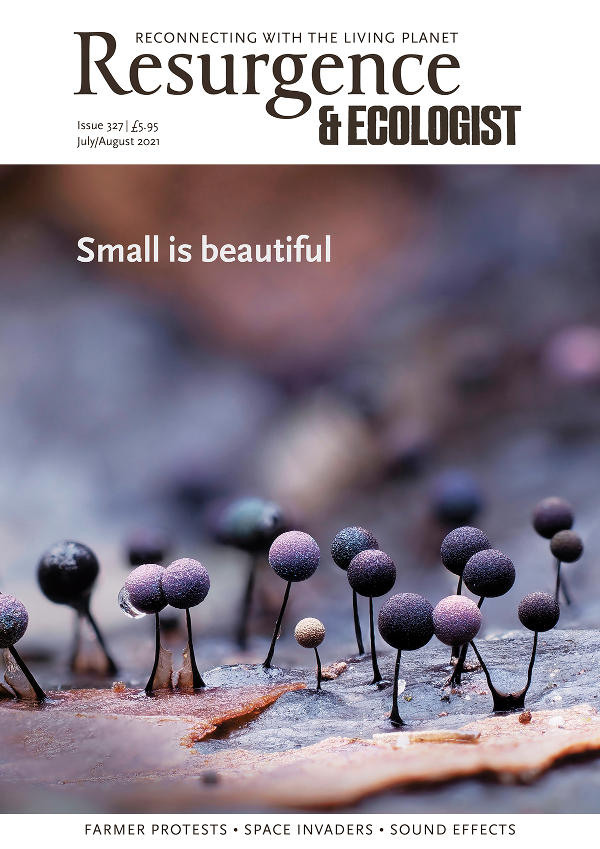 In this issue, we celebrate 30 years of transformative learning with a special section on Schumacher College in South Devon, with features by Alan Boldon, CEO of the Dartington Trust, and Ann Pettifor on the origins of the Green New Deal.
In the Ecologist section, Kieran Lynn reports on a conservation partnership in Australia where traditional knowledge is helping to save the country's endangered wildlife, Laura Alcock-Ferguson reports from the home of the 'Survivor Tree' in Scotland, and Vandana K visits a collective in the Indian Himalayas.
The Keynotes essay in this issue is by psychotherapist Steffi Bednarek, who explains why in this time of toxic normality, we need soulful connection with the world. In our Wisdom & Wellbeing section, Nat Dyer speaks to author Frank White about viewing the Earth from space, and in our Arts features Gary Cook explores an immersive audio and video installation 'What Listening Knows'.
We hope you enjoy our selection of free articles from this issue of Resurgence & Ecologist magazine.
Highlights
Losing Touch with Heaven: Isabella Tree
Agriculture at a Crossroads: Renuka Odedra
The Power of Partnership: Kieran Lynn
A Time of Derangement: Steffi Bednarek
Economy, Ecology and Equity: Ann Pettifor
Science and Spirituality: Satish Kumar
Buy a copy of this issue
Become a member and receive 6 issues a year

Contents
Key
Free for all to view
Free for members to view
Not available
Welcome
Towards a soulful engagement with the world
Frontline
A battle between Nature and development in Sussex
Climate activist Clover Hogan on overcoming a sense of powerlessness
England Proposals for Woods and Peatlands • Marianne Brown
Two action plans to improve tree coverage and drive net zero targets
A round up of environmental news
Humberto Maturana (1928 - 2021) • Fritjof Capra
A tribute to a groundbreaking biologist
Ecologist
Agriculture at a Crossroads • Renuka Odedra
Reporting on India's mass farmer protests
An all-women producers' collective in the Himalayas is creating livelihood opportunities
Conservation science and traditional knowledge are helping to save Australia's wildlife
Visiting the home of the Survivor Tree in Scotland
The UN Food Systems Summit is a chance for change
Keynotes
In this time of toxic normality, we need soulful connection with the world
Undercurrents
Schumacher Legacy

- School for Life • Satish Kumar

Celebrating the 30th anniversary of Schumacher College

Times of crisis often lead to creativity
Schumacher Legacy

- Economy, Ecology and Equity • Ann Pettifor

On the roots of the Green New Deal
Wisdom and Wellbeing
Reflecting on the spiritual impact of seeing the Earth from space
A group of experts are calling for lunar legal protection
Biodynamic Farming is taking root in Moldova
Tips for attracting pollinators
Exploring the wisdom of Winnie-the-Pooh
Science and Spirituality • Satish Kumar
In the face of climate breakdown, we need both
The Arts
Listening to a new show
Lessons from the Sundarban • Vandana K
Folklore, art and verse communicate the urgency of the climate crisis
Exploring the Shiant Isles
Regulars
Letters to the Editors

- Letters to the Editor

A selection of letters from our readers
Reviews
Review of How to Avoid a Climate Disaster: The Solutions We Have and the Breakthroughs We Need
Review of Who Cares Wins
Review of Finding the Mother Tree: Uncovering the Wisdom and Intelligence of the Forest
Review of Land: How the Hunger for Ownership Shaped the Modern World
Review of Parents for a Future
Review of Make It Happen: How to Be an Activist
Review of The Care Crisis: What Caused It and How Can We End It?
Review of Earthed