Losing Touch with Heaven
Donate Now
Issue 327

Jul/Aug 2021
Small is Beautiful
Frontline
Losing Touch with Heaven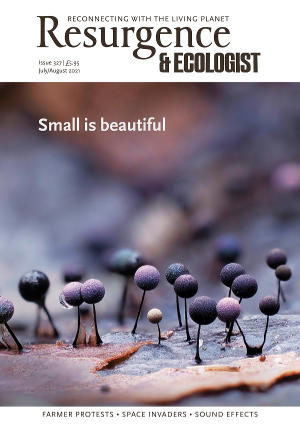 Cover: Slime mould © Andy Sands / naturepl.com
Isabella Tree writes about a battle between Nature and development in Sussex.
In March this year, as the world launched its first ever Rewilding Day, my husband Charlie and I were far from celebrating. We were launching a campaign against a proposed development of 3,500 houses that would prevent our rewilding project at Knepp in West Sussex from ever connecting with areas of Nature to the north of us, such as St Leonard's and Ashdown forests. It seemed ironic that, only a few weeks earlier, Natural England had invited Knepp to become a National Nature Reserve – something that, had the designation already been granted, would almost certainly have stopped the development proposal in its tracks. Ironically, too, the housing site, if it goes ahead, will destroy habitat identified by Sussex Wildlife Trust as of "high Nature value" – land that Horsham District Council has included in its own Nature Recovery Network plan.

What started as a local campaign has attracted national attention. On 13 April, 34 leading environmentalists, including chief executives of WWF, RSPB and Flora and Fauna International, and Knepp Estate wrote to the Secretary of State for Housing, Communities and Local Government, Robert Jenrick, imploring immediate action to stop this development. To date we have received no reply.

On old maps the development site, now known as Buck Barn, was called 'Heaven'. You can see why. Undulating farmland enfolds pockets of rare ghyll woodland, thorny scrub, ancient woods, gigantic open-grown oaks and old hedgerows, home to nightingales, yellowhammers and cuckoos. Skylarks levitate above the field margins. A dynamic floodplain – a flyway between Knepp and St Leonard's Forest, part of the High Weald Area of Outstanding Natural Beauty – provides rich hunting grounds for birds, bats and insects. It is a rare patch of heaven, indeed.

The forthcoming Environment Bill, likely to be passed in advance of the UK hosting COP26 in November, aims to create a nationwide Nature Recovery Network, supported by Local Nature Recovery Strategies such as Wilder Horsham District, and protect 30% of the country's land by the end of the decade, setting legally binding and strong biodiversity targets. "New development", it pledges, "will happen in the right places, delivering maximum economic benefit while taking into account the need to avoid environmental damage."

But these bold ambitions for Nature are at odds with the drive felt at local level to 'build, build, build'. As usual Nature is shouldered out of the ring. For its local plan Horsham District is expected to meet a staggering target of 1,200 new houses every year from 2019 to 2036, an allocation based on a controversial algorithm imposed by central government. Councils can only choose between development proposals that come before them. And developers prefer greenfield sites because they're larger, and simpler and cheaper to build on, and therefore the most lucrative. All the major sites currently under consideration for development by Horsham District Council are greenfield sites apart from one – a golf course next to Horsham's tiny Warnham Nature Reserve. All have value for wildlife. All have potential for greater Nature connectivity and provide public benefits such as carbon sequestration, air purification, flood mitigation, wellbeing – and joy.

The decision to build at Buck Barn will be irreversible. Once the bricks are in and the concrete and tarmac driveways laid and access roads slice through the site, and the last migrating sea trout has slipped away from the polluted streams, any meaningful connectivity for wildlife through this land will be lost forever.

Central government must honour its environmental pledges. Top of the list must be, as the Wildlife Trusts put it, the 'rewilding' of the planning system so that the right houses are, indeed, built in the right places and we can recover heaven on earth before our landscapes become a living hell.

To take action visit: savewestgrinstead.eaction.org.uk/action