Turning Anxiety into Action
Donate Now
Issue 327

Jul/Aug 2021
Small is Beautiful
Frontline
Turning Anxiety into Action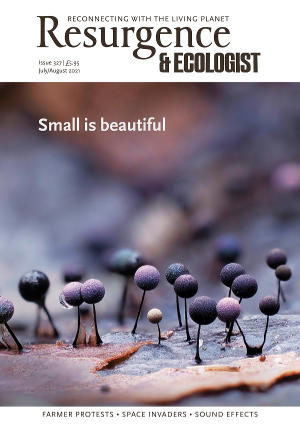 Cover: Slime mould © Andy Sands / naturepl.com
Rashi Goel speaks to youth leader Clover Hogan.
Clover Hogan, a 21-year-old climate activist, founded Force of Nature in 2019 to help young people around the world overcome their sense of powerlessness in the face of the climate crisis and convert it into informed, constructive action. The organisation helps educators, businesses and nonprofits mobilise mindsets through classroom and boardroom training sessions.

Hogan owes her closeness to Nature to her Australian upbringing. At the age of 13 she attended the Green School in Bali, backed by her "wacky, supportive parents", who, she says, fuel her by constantly reminding her that she does not have to live stereotypically. She then chose to attend a mainstream educational institution in France. "I wanted to prove that I was every bit as capable of succeeding in a rigid system as a flexible one," she explains, "so I immersed myself in one of the most institutionalised learning curricula in the world."

Having experienced the antipodes of education styles, Hogan is determined to tackle the education system. "Students are not a set of averages," she says. "Only when schools begin to reflect the bright minds within them will the education system measure up to all our dazzling advancements of the 21st century."

Her journey can be traced back to when she was 11 years old and first watched Al Gore's film An Inconvenient Truth. For the first time, she experienced ecophobia, a sense of powerlessness to prevent disastrous climatic change. Five years later she attended COP21. As she grew in her endeavours as a climate activist, her anxiety increased. "It was then that I realised that the threat greater than climate change is the feeling of powerlessness in the face of it," she says.

Hogan learned that, according to Friends of the Earth (FoE) 70% of people aged 16–25 around the world grapple with the uncertainties associated with the looming climate crisis. The FoE report also highlights that three out of four teachers feel ill-equipped to teach on the subject of climate breakdown. "I believe that we can solve environmental threats by fixing a crippled education system," Hogan says.

By the age of 20 she had already spent half her life engaged in tackling the climate crisis. From working with Impossible Foods to leading sessions in the boardrooms of Fortune 500 companies, she continues to focus on mobilising mindsets through Force of Nature. "We must shift away from token actions and lean into our fears and frustrations – and then use those emotions to create lasting change," she says. Through her Force of Nature podcast she brings forward conversations around cross-generational solutions to course-correct our impending climate breakdown.

Her work sits at the nexus of mental health and the climate crisis. "Many of us experience anxiety around doing the right thing by the environment, but there are tangible solutions we can take together to turn anxiety into action," she says. Force of Nature helps build leaders in climate and sustainability by disrupting mindsets in the room. Through student and teacher training programmes, it deals with the emotional needs of young people, as well as working to improve the impact of potential of nonprofits by helping them address their mental wellbeing. Force of Nature is a prominent player in the efforts towards a resilient planetary future.