Reimagining Learning
Donate Now
Issue 327

Jul/Aug 2021
Small is Beautiful
Undercurrents
Schumacher Legacy
Reimagining Learning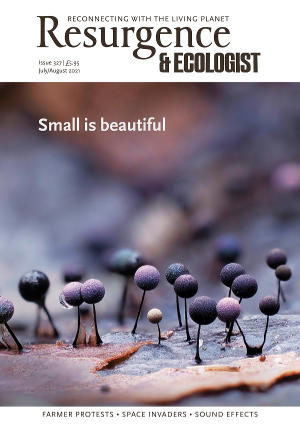 Cover: Slime mould © Andy Sands / naturepl.com
Times of crisis often lead to creativity, writes Alan Boldon.
Schumacher College is part of a great history of innovation in education at Dartington Hall. The founders of The Dartington Hall Trust, Dorothy and Leonard Elmhirst, were deeply committed to learning by doing. Dorothy was central to the founding of The New School in New York. This re-invention of higher education was based partly on American philosopher and educator John Dewey's approach to problem-based experiential education and came soon after the tragedy of the first world war. It is often the case that times of crisis lead to creative responses and adaptation. Leonard and Dorothy, inspired by both Dewey and poet Rabindranath Tagore's commitment to learning that involves the 'head, hand and heart', established Dartington as a base for ongoing experiments in education. Other notable examples on the estate include Dartington College of Arts, Dartington School, with its emphasis on experimental pedagogy, and of course Schumacher College, co-founded by Satish Kumar. Recently Schumacher College has been going through a renaissance and a new Dartington Arts School has begun. I will briefly describe here how we are reimagining learning at Dartington and how Schumacher College, for some years at the periphery of the work of the Trust, is now at the heart of all we are doing.

In the winter of 2018, a group of people gathered in the picturesque surroundings of Dartington Hall in Devon. We were a relatively small number, with staff from Schumacher College and the former Dartington College of Arts. There were also leading thinkers and practitioners in the arts and pedagogy, including senior figures from MIT, the V&A, Carnegie Mellon University, The New School and the journal Leonardo. We were there to try to identify where the leading edge of progressive learning in the arts is and how we might once again manifest this at Dartington.

In 1954 Hannah Arendt, who would become a professor at The New School, wrote an essay titled 'The Crisis in Education'. It was clear that the people gathered at Dartington in the winter of 2018 shared the view that once again we were seeing a crisis in education. It can easily appear as if our current education systems are set up primarily to serve the economy, and I'm not sure they do that too well. How and why might we effect systems change? We see with climate how statistics are unlikely to convince people to change habits and patterns. But in a time of climate crisis, mass biodiversity loss and obscene inequality and inequity there has arguably never been a more vital time to press for change.

In many ways the ideas explored and refined at the gathering in 2018 grew out of the progressive histories of the College of Arts and Schumacher College. One of the last courses developed at the previous College of Arts was an MA in Arts and Ecology that started in 2003. This course prototyped pedagogic models and commitment to place, collaboration and whole-systems learning. It came from a series of extended conversations with artists, scientists, economists, designers, engineers and others who were all experts or leaders in their fields. Many said there were questions that interested them that went beyond the reach of their discipline. They talked about people from other fields whom they admired and who seemed to have insight that eluded them. We shaped the degree as a way to bring these people together in regular 'learning labs' designed to allow them to inhabit each other's practice. The process was based on our collective desire to know the place deeply and to reach beyond our habits of seeing, thinking and knowing, as well as on relentless curiosity and the wish to try to know the world through others. This encouraged connection and a love of place, and for kinds of learning and collaboration that incited a yearning for more. What became clear was that a close attention to place, any place, when approached through the prism of many ways of knowing, will reveal endless complexity.

Following that meeting, we redesigned all the learning programmes at Schumacher College and the new Arts School. They are all focused on regenerative culture and based on the kinds of pedagogy I have described: short, intensive, place-based programmes with online and peer support, with collaboration and community central to the learning. Learning from, and with, each other is vital if we are to meet the challenges of our time. The kinds of curiosity, collaboration, criticality and compassion I have tried to articulate here seem central to this. I would go further and suggest that love needs to be at the heart of learning. A love of the places we are in, with all their complexity and wonder, along with a love of learning.

For 30 years Schumacher College has been supporting vital learning for so many people from around the world as well as providing a rich and nurturing environment for many brilliant people to workshop ideas that would go on to become deeply impactful and inspiring projects, initiatives or publications. The college has done this, to an extent, at the fringes of the work of the Trust as well as being on the physical edge of the estate. The Dartington Trust is once more reimagining its future and is doing so in a time of global crisis. What is clear is that the deep ecological values of the college are now at the heart of the Trust and are determining the next phase of its work and mission.