Beyond Organic
Donate Now
Issue 327

Jul/Aug 2021
Small is Beautiful
Wisdom and Wellbeing
Beyond Organic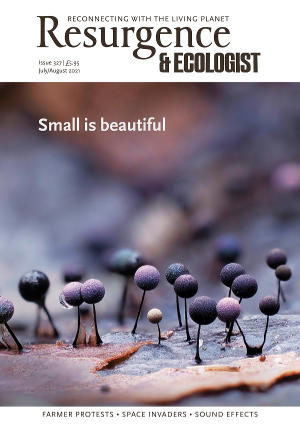 Cover: Slime mould © Andy Sands / naturepl.com
Biodynamic farming is taking root in Moldova, writes Coreen Grant.
Rolling purple fields have long been a feature of the Moldovan countryside, where the rich black soil provides a fertile base for growing lavender. These aromatic plants have a history of medicinal and therapeutic use dating back thousands of years, and a thriving agricultural trend in the small eastern European nation is demonstrating how farming this plant ethically can have wide-reaching benefits today.

Resendjer Farm in the Rezina area of Moldova is an organic farm that is currently undergoing certification to become the first biodynamic farm in Moldova. Resendjer is a unique venture, with over 300 hectares of lavender fields as well as a dedicated distillery and a processing plant to purify the essential oils.

Biodynamic farming incorporates all of the prerequisites of organic agriculture, such as the elimination of artificial fertilisers, pesticides and herbicides, but also involves additional measures. These include the requirement that farm systems produce their own fertility (compost and nutrients), use local production and distribution systems, and set aside space on the farm for biodiversity gain. Certification is conducted by the international organisation Demeter. Resendjer Farm manager Bob Ethrington explains: "What I like about Demeter is that it's not just about sustainable farming, but also it includes requirements for environmental protection, biodiversity and wildlife preservation. Here at Resendjer we're in the vanguard and pushing those things forward."

Biodynamic agriculture originated from the ideas of the Austrian philosopher and social reformer Rudolf Steiner. With roots in German idealist philosophy and theosophy, Steiner's ideas attempted to find synthesis between science and spirituality. Thus biodynamic farming treats soil fertility, plant growth and livestock care as one ecologically interrelated system. Steiner also encouraged farmers to look to the cosmos before planting and harvesting crops, and some farmers are dedicated followers of the more mystical elements of biodynamic farming. However, many of these elements lack conventional scientific evidence, and following the lunar calendar is not a requirement for Demeter certification.

For Ethrington, a British development expert who started the Resendjer business over two decades ago, the strength of biodynamic farming lies less in its spiritual elements and more in the holistic approach it promotes. Ethrington emphasises that biodynamic farming and lavender production go hand in hand: "Essential oils, cosmetics and medicinal products do harmonise with organic ethical production. Steiner was way ahead of his time, and the world is only catching up now. We've got to become much more conscious about not exhausting the Earth's resources."

This philosophy of sustainability underpins all the operations at Resendjer. The farm follows a traditional method of harvesting, which involves a labour-intensive process of cutting the lavender plants by hand with a scythe. The flowers are then collected and processed in the dedicated distillery by the fields, sealed in barrels to preserve the purity of the oil, and then packaged in the local town of Mincenii.

Resendjer has only recently begun phasing biodynamic practices into its farming. Ethrington explains that one of the major changes from organic to biodynamic is that the farm now puts considerable effort into creating compost from its own waste. For every hundred kilos of lavender flowers only one kilo of oil is extracted, so it is important that the excess waste is reused. "We have several hundred tonnes of waste material from the distillery each year," Ethrington says, "and I have to admit, we used to burn it. But we now utilise green material to produce compost, which goes on the fields." In this way the farm is able to maintain circularity within its processes. Resendjer also participates in an exchange with a neighbouring cattle farm: Resendjer grows alfalfa (used as animal fodder) in the 'resting' fields between lavender crops, which it then exchanges for cattle manure to make up part of the compost recipe. It is a mutually beneficial exchange that allows Resendjer to keep its operations local.

Ethical production has been at the heart of Resendjer's operations since its conception. The Resendjer idea was supported from the beginning by Weleda, a manufacturer of natural cosmetics and pharmaceuticals. Weleda was founded by a group of Swiss doctors who were followers of Steiner's philosophy. Today the company is at the forefront of sustainable and ethical production, and 78% of its raw materials come from organic or biodynamic farming.

The company's principles emphasise social as well as environmental benefits. Close partnership with Weleda has not only helped Resendjer pursue sustainable methods of farming, but also benefited the local community. Weleda has invested in local infrastructure, including renovating the village school and building a health and welfare centre in Mincenii. "Part of why Weleda supported us", Ethrington explains, "is that the company seeks to provide employment in rural communities, and our local villages depend heavily on the farm." At harvest time the farm employs between 200 and 230 seasonal workers to cut the fields, collect the flowers and run the distillation.

This is doubly important in the context of Moldova's agricultural economy. Lavender farms enjoyed a heyday during the Soviet occupation of Moldova, with around four to five thousand hectares under cultivation, but after Moldova's independence in 1991 the economy collapsed and lavender farms all but disappeared. After independence there ensued a mass exodus of young people leaving the countryside to seek work in cities or other European countries.

"The headman of the local village always says that their village wouldn't have survived if we hadn't started the farm," says Ethrington, "but now the village is thriving, and the farm is very much a part of it."

Resendjer Farm is the only operation of its size in Moldova, but lavender is becoming increasingly popular among Moldovan farmers as global demand rises for ethical products. Resendjer provides a model for start-up lavender farms in the country, many of which have literally taken seed from Resendjer's plant nursery. Perhaps the success of Resendjer Farm, which brings benefits to both Nature and people, will inspire similar approaches within this blossoming economy.

For more information on Weleda: www.weleda.co.uk
Flower power

Lavender is a flowering plant in the mint family, easily identified by its purple flowers and sweet floral scent. Believed to be native to the Mediterranean, the Middle East and India, it has a history of human use dating back to over 2,000 years ago, when it was used as a holy herb. Today, it is commonly used for medicinal and therapeutic benefits. Modern research shows that elements in lavender's essential oil have a direct soothing effect on the central nervous system. Lavender is frequently used to help treat a variety of health problems, the most common being insomnia, cramps and indigestion, as well as high blood pressure or difficulties with the heart and circulation. It is popular for its relaxing and calming effect, and its oils are often used in balms and lotions to help relieve stress and tension.