Who Cares Who Wins?
Donate Now
Issue 327

Jul/Aug 2021
Small is Beautiful
Reviews
Who Cares Who Wins?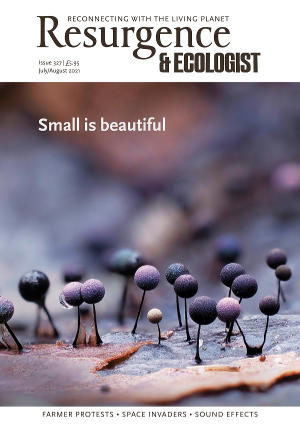 Cover: Slime mould © Andy Sands / naturepl.com
Gwen Buck enjoys a podcast on tackling the climate crisis. Who Cares Wins by Lily Cole. Podcast
Before listening to Who Cares Wins, I was apprehensive at best, and cringing at worse. I couldn't help but think that a podcast on the environment by a supermodel would be shallow. I was wrong, and once I started listening I really enjoyed it. Lily Cole's podcast is now a firm favourite.

Whilst Who Cares Wins is upbeat and accessible, it probes a fairly fundamental fact about environmentalism – that whilst there is a clear consensus that the climate crisis is happening, and most of us want a happy life and a healthy planet, the environmental movement is fractured with divergent views on how to travel towards a sustainable future.

Each episode asks a new question, such as 'Is technology the solution?' 'Is meat killing us?' 'Can you afford to be green if you're not rich?' and each aims to grapple with the contradictions, tensions and divergent perspectives at the heart of every issue.

The podcast, which sits alongside Cole's recently published book Who Cares Wins: Reasons for Optimism in Our Changing World, sees her interview an all-star line-up of experts and high-profile commentators, from David Attenborough to Elon Musk, Patti Smith to Paul McCartney. But whilst it might be the big names that draw you into the podcast, it's the interviews with the less well-known that sit alongside them that I found most interesting.

In the first episode, 'Is technology the solution?' Cole interviews two men on very different sides of the argument: Elon Musk and Mark Boyle. Musk is a business magnate, industrial designer and engineer. He was an early investor, CEO and product architect of Tesla, Inc., which pioneered electric vehicles. Musk is worth US$164.1 billion. Boyle has lived completely technology-free since 2016 in a straw-bale home on a half-wild smallholding in County Galway, Ireland. On listening to the episode, I realised I had never actually heard Musk being interviewed before. Whilst Cole tries to keep the conversation on track, Musk seems to have given up on Earth altogether as he describes his latest venture, SpaceX, which aims to revolutionise space technology and settle a human base on Mars. In comparison, Boyle's account of living without technology feels profound – it's a wonderful insight into living more closely with Nature and how to get back in touch with ourselves.

'Can you afford to be green if you're not rich?' addresses a paradox in the environmental movement: that of affordability. This episode covers everything from how the economy is structured to carbon pricing and universal basic income (UBI). An excellent section is the interview with then mayor Michael Tubbs, who was leading a trial UBI project in California. This kind of on-the-ground discussion gives real flavour to solutions that can sometimes feel abstract.

Throughout the podcast, Cole tackles a number of weighty topics, asking a list of truly spectacular guests thoughtful and probing questions. As different sides of the arguments play out, you can't help but wonder which side will win when it comes to saving the planet. And ultimately, if it means ending the climate and Nature crisis, does it matter? Cole describes herself as "a bit like Sellotape, ribbon or string, holding together divergent voices and sort of asking, who cares who wins?"

Lily Cole is speaking at the Resurgence Festival of Wellbeing on 30 October 2021. Who Cares Wins is available for sale in the Resurgence bookshop.