Good Books
Donate Now
Issue 330

Jan/Feb 2022
The Future in Our Hands
Reviews
Good Books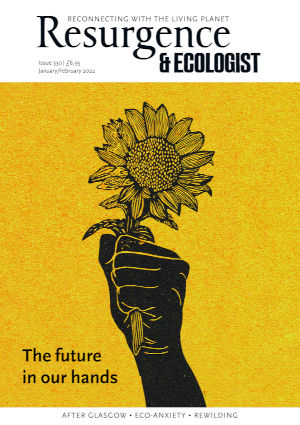 Cover: Artwork: Sunflower, linoprint by Rosanna Morris www.rosannamorris.squarespace.com
Looking for a compelling read in the new year? Jini Reddy shares her recommendations.
As someone who is drawn to narrative writing that crosses genres and cultures, I've found compiling a book list with Resurgence & Ecologist readers in mind a real treat! I've relished the opportunity to shine a light on ideas and authors who are looking at the world, including the natural world, in fresh and compelling ways. I hope you'll enjoy the following.
Spirit Run: A 6,000-Mile Marathon through North America's Stolen Land

Noé Àlvarez. Catapult, 2020. ISBN: 9781948226462

If ever a book deserved a broader readership in the UK, it is this gripping memoir. Noé Àlvarez comes from a working-class Mexican American background and manages to escape his job as a fruit packer, courtesy of a university scholarship. He struggles to fit in and by chance hears of a First Nations movement called Peace and Dignity Journeys, marathons that help Indigenous runners to reconnect with their lands and ancestry. He quits his studies, signs up, and begins a gruelling 6,000-mile run, a journey of self-discovery and healing across stolen lands from Canada to Guatemala. The run is fraught with physical dangers and human tensions, and the story Àlvarez tells is propulsive and deeply moving.
World of Wonders: In Praise of Fireflies, Whale Sharks and Other Astonishments

Aimee Nezhukumatathil. Souvenir Press, 2021. ISBN: 9781788168908

This is far from the matter-of-fact collection of essays about natural phenomena the book's cover suggests. The author, Chicago-born, and of mixed Filipino and South Indian descent, weaves her heritage into the story and presents an unusual and beguiling blend of cultural memoir and Nature writing. Aimee Nezhukumatathil grew up in the United States, and she and her family led a peripatetic existence. Wherever they moved, she found that a particular plant or animal or some other aspect of the natural world offered guidance, connection and kinship. Her irrepressible spirit and zest for life shine throughout the book.
Bewilderment by Richard Powers

Penguin, 2021. ISBN: 9781785152634

Trees, most poignantly the redwoods of California, gave The Overstory, Richard Powers' Pulitzer Prize-winning opus, its soul. Bewilderment continues the ecological fiction theme, but this time the deep love between a widowed astrobiologist and his grief-stricken son takes centre stage. How is a father to offer comfort to a child who is mourning the death of his environmental activist mother as well as raging against the destruction of the planet? Bound by their passion for the natural world and the cosmos, the pair navigate a dystopic near-future and their relationship with touching honesty.
Heaven Is a Place on Earth: Searching for an American Utopia

Adrian Shirk. Counterpoint, February 2022. ISBN: 9781640093300

Becoming a primary carer to her father-in-law in her mid-twenties, with all its attendant anxiety, sets Adrian Shirk off on an odyssey through American utopian communities. Driven by a deep desire to live in community, the author explores everything from the radical faerie communes of Tennessee to the pacifist ecstatic-dance-loving Shakers and the Bronx rebuilding movement. A mix of travel writing, memoir, historical biography and spiritual journey, Heaven Is a Place on Earth – the title is drawn from a Belinda Carlisle song from the 1980s – is impeccably researched and vivid in its telling. Given the current state of the planet, it will likely provoke some serious soul-searching too.
Small Bodies of Water

Nina Mingya Powles. Canongate, 2021. ISBN: 9781838852153

What is a body of water? What has this connective, life-giving force meant to the author at various times in her life? This 'umbrella' theme allows for wide-roaming essays on language, migration, movement, Nature, colonialism and the intersections that exist between them. Nina Mingya Powles has lived in Shanghai, New Zealand, London and Malaysia, and her canvas spans continents – no room for parochialism here. In a book filled with metaphors, dreams and vignettes, she brings her poet's eye to all she alights on. A deserved winner of the Nan Shepherd Prize.
Everything the Light Touches

Janice Pariat by HarperCollins, 2022.

Proofs weren't available at the time of compiling this list, but I'm a huge fan of Janice Pariat's previous fiction, and there's a buzz surrounding Everything the Light Touches – it will be published simultaneously in India, the UK, and the US. Pariat is an award-winning Indian author who grew up between the plains of Assam and the hills of Meghalaya and has explored the landscapes and lives of people in Northeast India in her previous novels and short stories. This, her most ambitious novel to date, spans four centuries and a quartet of narratives, but connection underlies all. "How do we see the world around us? In fixity or fluidity? In categories or unity?" she asks. Encounters with travellers, including a young Indian woman, a British science student, the botanist Linnaeus and a plant-obsessed Goethe, feature alongside Indigenous communities in India, and sacred forests.