The Future in Our Hands
Issue
330

• January/February 2022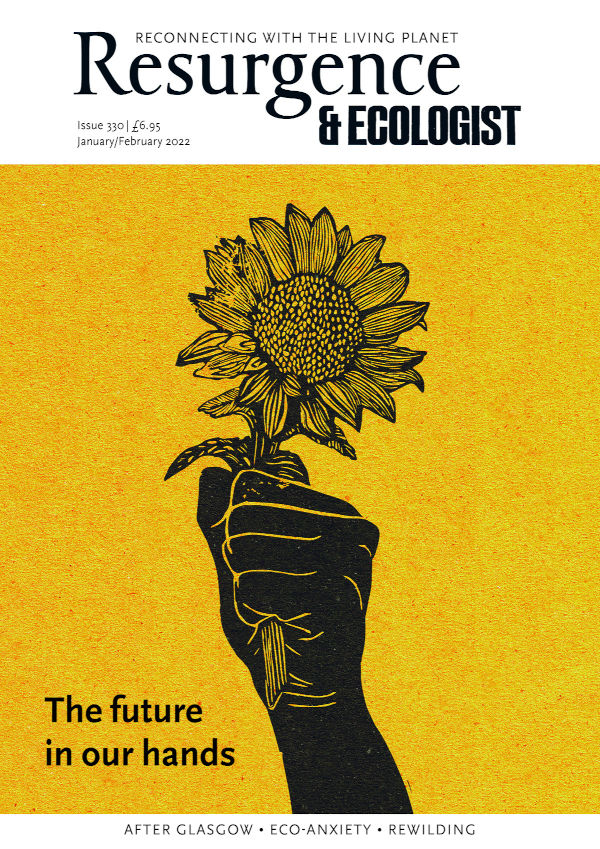 In our New Year issue we look at Rewilding and include an interview with conservationist and author Isabella Tree; and a piece by Fiona MacIsaac and Magnus Davidson about why Scotland's rewilding plans should utilise Gaelic to inform the debate.
In the Ecologist section Brendan Montague explains how tougher rules on fossil fuel investments could help avert economic disaster and Jonathan Neale looks at what comes after COP26. In Connected Life Laurie King finds out how young people are turning eco-anxiety into empowerment and Gary Cook meets former tree surgeon turned activist Robin Walter.
Our Feature Story is the winner of the essay competition 'Education As If People and Planet Matter', launched to celebrate the 30th anniversary of Schumacher College and set up in collaboration with Resurgence & Ecologist. In Wisdom & Wellbeing Sandor Katz introduces us to perpetual pickling delights, with a turmeric paste fermentation recipe; and in Art & Culture Anna Souter speaks to Zadok Ben-David about his new exhibition Natural Reserve at Kew Gardens.
Highlights
Brendan Montague: Banking on Our Future
Katie Hodgetts: Building Resilience
PL Henderson: Free Wheeling
Matt Carmichael: The Wasp Lesson
Hugh Webster: With or Without Wolves
Satish Kumar: Long Live The Wild
Buy a copy of this issue
Become a member and receive 6 issues a year

Contents
Key
Free for all to view
Free for members to view
Not available
Welcome
Another world is possible if we face the future with strength and hope.
Regulars
A selection of stories from our community
A selection of letters to our Editor
Ecologist
Top stories from The Ecologists online
Indigenous collective calling for a justice reset
We need to take matters into our own hands
Tougher rules on fossil fuel investment could help avert economic disaster
Connected Life
Protests against Line 3 Pipeline in Minnesota
Young people are turning eco-anxiety into empowerment
Building butterfly corridors in the city
An interview with former tree surgeon turned activist Robin Walter
Exploring how cycling has helped women's emancipation
Keynotes
Winning essay from the Schumacher competition 'Education as if People and Planet Matter'
Rewilding
An interview with rewilding pioneer Isabella Tree
How restoring marine life can help heal the planet
Gaelic should have a central place in Scotland's rewilding
Where next for rewilding?
The wonder of wilding
Art and Culture
Zadok Ben-David's new exhibition
News of a collaborative arts project
The winning poems from The Beaver Trust's inaugural poetry competition
Wisdom and Wellbeing
Social reforms starts at the grassroots
Recipe for fermented turmeric paste
Seeing theatre in our natural surroundings can connect us to Nature
Recording Britain through Japan's 72 seasons
Meeting a community of swimmers in Finland
Reviews
Review of Reading recommendations for the New Year
Review of Three Podcasts with different world views
Review of The Treeline: The Last Forest and the Future of Life on Earth
Review of Beak, Tooth and Claw: Living with Predators in Britain
Review of How Compassion Can Transform Our Politics, Economy and Society
Review of Can Fixing Dinner Fix the Planet?
Review of Around the World in 80 Plants
Review of Light Rains Sometimes Fall: A British Year Through Japan's 72 Seasons
Web Exclusives
Thoughts on the Vatican conference bringing faith leaders and scientists together
Satish Kumar and his family are the winners of the P.E.A Award for Greenest Family 2021
On the intertwining of ancient wisdom and modern living
Guy Dauncey on their School in Siquirres, Costa Rica
Satish Kumar remembers a friend and colleague Geoffrey Lee Cooper, 9 May 1937 – 7 October 2021.