Listen Up!
Donate Now
Issue 330

Jan/Feb 2022
The Future in Our Hands
Reviews
Listen Up!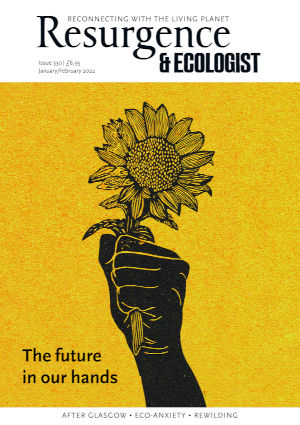 Cover: Artwork: Sunflower, linoprint by Rosanna Morris www.rosannamorris.squarespace.com
Three podcasts with different worldviews.
Planet A – Talks on Climate Change

In this podcast, Danish Minister of Climate, Energy and Utilities Dan Jørgensen asks some of the world's leading experts, policymakers and activists to share their thoughts on how to stem climate change. Now into its third season, the podcast offers a variety of thoughtful insights into the challenges we are facing, as well as some of the solutions. We are reminded throughout that Denmark has a goal of becoming a climate leader, but Jørgensen does not shut down criticism, thus creating an informative and refreshingly open conversational tone.
On the Green Fence

www.dw.com/en/on-the-green-fence/a-55160456

Produced by German broadcaster Deutsche Welle, this fortnightly podcast explores complex and often divisive environmental issues in a friendly and accessible style. Episode highlights include 'We Didn't Have the Luxury to Care about the Environment', where two brothers who grew up in a working-class neighbourhood in western Germany discuss their at times differing takes on environmental activism. Presenter Neil King guides listeners with enough authority and humour to make this a very entertaining and informative listen.
The Climate Question

www.bbc.co.uk/programmes/w13xtvb6

This weekly podcast from the BBC World Service gives a global perspective on climate-related issues with the tagline 'Stories on why we find it so hard to save our own planet, and how we might change that'. General themes range from football – how the 'beautiful game' is affected and contributes to climate change – to gas flaring. More country-focused topics include the North American heatwave and 'Putin and the Planet'. Presenters vary each week, but the use of two helps create a tone of 'banter' even though the script is very slick.