Geoffrey Lee Cooper
Donate Now
Issue 330

Jan/Feb 2022
The Future in Our Hands
Web Exclusives
Article
Geoffrey Lee Cooper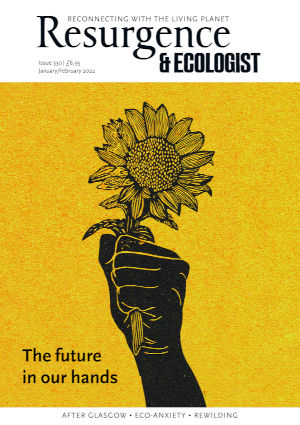 Cover: Artwork: Sunflower, linoprint by Rosanna Morris www.rosannamorris.squarespace.com
Satish Kumar remembers a friend and colleague Geoffrey Lee Cooper, 9 May 1937 – 7 October 2021.
It was with great sadness that I heard about the death of Geoffrey Lee Cooper. My friendship with Lee Cooper began in 1973 when I took up the editorship of Resurgence magazine. Geoffrey acted as my friend, philosopher and guide! In addition to copy editing, proof-reading and designing the magazine he also advised me about the content and the quality of the articles to be published. His knowledge and experience in the environmental movement was broad ranging. Geoffrey combined his high intellectual understanding with practical punctuality and efficiency. It was always a pleasure and a privilege to work with him.

His editorial responsibilities did not deter him from his artistic pursuits. He always found time to devote to singing and acting. His passion for performance and engagement with the audience was outstanding. His commitment to acting and singing was primarily to inspire and entertain the audience as he deeply believed that self-fulfilment is derived by bringing joy to the audience.

Geoffrey moved from London to Cornwall where he continue to work as the sub-editor and proof-reader for Resurgence magazine. He was an avid cyclist and when he retired from his work at Resurgence we marked the occasion by giving him an electric bicycle.

In addition to his work on the magazine, Geoffrey also assisted me with the transcription and editing of many of my books and articles. When he moved to Totnes, I was able to meet with him more regularly as I was working at Schumacher College and we often met and shared delightful days together.
Lee Cooper is no longer with us in his body, but he will remain in my memory for ever. May his soul rest in peace.