Hero With a Thousand Enemies
Donate Now
Issue 331

Mar/Apr 2022
Making Change
Wisdom and Wellbeing
Hero With a Thousand Enemies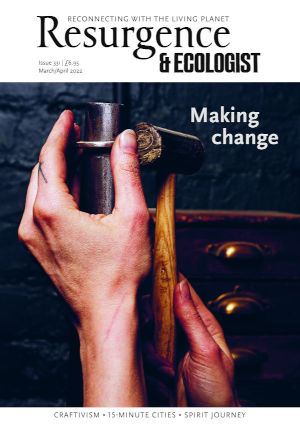 Cover: Rebecca Struther, watchmaker by Asia Werbel for John Smedley. www.strutherswatchmakers.co.uk
James Clarke revisits the children's classic Watership Down.
This year marks the 50th anniversary of the publication of Richard Adams' novel Watership Down. Written for young readers, it has secured its place as a 'classic' read by both children and adults. What, then, might be understood as its allure?

The book is suffused with Adams' fascination with mythology, and also with the rich folklore that has wrapped itself around the rabbit across the centuries. Part of Adams' myth-interest invoked the writing of American scholar Joseph Campbell to inform the shape and trajectory of what would become Watership Down. Amongst other interests and approaches, Campbell's work focused on the hero's journey, in which the hero moves from a state of innocence to experience and self-realisation. In doing so, the hero is compelled to leave their home community, travel way beyond it and finally return for the benefit of all who are still there. Endless variation is possible within that framework and all of its thematic possibility and visual potential. The animated film adaptation of Watership Down that was released in 1977 maximises that visual potential of the source-material, not just in terms of depicting an idyllic English countryside (which contains threat and terror for the rabbit), but also in the way that it pictures the fluid forms of the rabbits' own mythological story.

The adventure at the centre of Watership Down is sparked when the buck Fiver has a vision of an imminent apocalypse, and urges his colony to head for a new home. This device might have a range of political and cultural echoes that lend the adventure and fantasy a particular human power. In the mythology that Adams shapes for the rabbit communities, he weaves the story of the rabbit-world myth of the rabbit hero El-ahrairah. That story includes the following note of warning, from the great deity Frith, for the heroic rabbit: "El-ahrairah, your people cannot rule the world, for I will not have it so. All the world will be your enemy, Prince with a Thousand Enemies, and whenever they catch you, they will kill you." This mythological strand touches on the dynamics of Nature and implies a human threat to the rabbit. The novel's original moment of publication saw it resonate with a very real frame of reference in the early 1970s (and it's one that continues to echo): Adams' story helped place a lens on the growing animal rights movement. Indeed, Adams' later novel The Plague Dogs explores this subject more overtly, continuing a tradition in children's literature to which Anna Sewell's Black Beauty, published almost a century before, has been fundamental.

Certainly, Watership Down reminds us of the value of fantasy as a means with which to reconnect all the more vividly with reality. Adams' novel explores the connection between individuals and their community, and the balance of mutual responsibilities between both worlds speaks to us rather pointedly in our current moment. In doing so, we again return to the idea of a classic story (as suggested by Italo Calvino) as a story that has not finished with what it has to say to a given audience, whatever their time, wherever their place.

Critical to the novel is its stress on the power of story-telling as a binding agent of a community. Somewhat chillingly, chapter 21 includes the narrator's comment that the weaker rabbits use storytelling, and more specifically prophecy, to improve their standing in the community when they do not have the physical prowess or belligerent character to make their presence known. This is a novel about those who wield power and express it through force, and those who are powerless and seeking a more harmonious community. Powerless heroes are the stuff of fairy tale, and in that lies a particular quality of Adams' novel, alongside its mythological threads.

Watership Down, then, draws together a number of enduring and sustaining themes and preoccupations. In part it's a celebration of the sights, sounds and sensory experience of Nature: specifically, the English countryside of the county of Hampshire. It attunes the reader's attention to Nature or, at least, reminds the reader to be attuned, notably in the epigraphs at the beginning of each chapter. In chapter 23, the words of the American poet Robinson Jeffers are quoted, and this is fitting, as Jeffers' writing often made the connection between animal and human. With these epigraphs, Adams creates a set of meanings and wider reference points that sit alongside the action and events of the novel's plot.

It might seem somewhat astonishing that Adams always claimed that he did not intend anything allegorical in the material. Though written with young readers in mind, the novel soon secured the faithful fascination of adults. That was in 1972, and the book has remained central to children's literature and Nature writing within fiction ever since. Fittingly, Adams has long acknowledged his esteem for his fabulist contemporaries Alan Garner and Ursula K. Le Guin, who make such powerful connections between Nature and wilderness and humans' inner lives across time and place. Watership Down might also recall Robert C. O'Brien's novel Mrs Frisby and the Rats of NIMH (1970).

Watership Down, then, is a story about storytelling and how powerfully stories help create and bind communities together. Part of that storytelling for us concerns our sensitivity towards Nature, and a recognition that we are of Nature. In Watership Down we read: "Creatures that have neither clocks nor books are alive to all manner of knowledge about time and the weather…"

A novel like Watership Down might just work as an entry point for readers into the pleasures of Nature writing in all of its diversity. Adams' novel inherits a tradition that extends back to Aesop's fables with their stories about the powerless and the powerful, and it's a story that always needs telling. As the American Nature-writer Barry Lopez reminded his readers, stories are the enemy of forgetting.