An Anthem for Climate Justice
Donate Now
Issue 331

Mar/Apr 2022
Making Change
Reviews
An Anthem for Climate Justice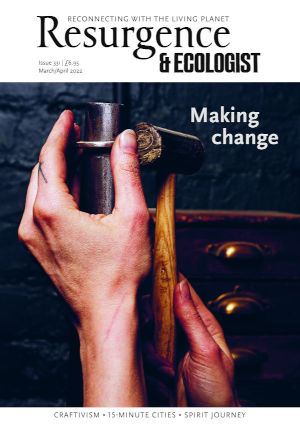 Cover: Rebecca Struther, watchmaker by Asia Werbel for John Smedley. www.strutherswatchmakers.co.uk
Katie Hodgetts celebrates a book on youth power.
As an avid climate campaigner throughout my youth, I am all too familiar with the hopelessness, anger and eco-anxiety that dispirit us. That's why I started the Resilience Project, which builds peer-support communities in the UK to activate a generation of resilient change-makers, by youth, for youth. Committed to so many important causes, including mental health, Mya-Rose Craig sits on the Resilience Project's board of youth. It's no surprise to me, then, that she has crafted a book crammed full of hope, power and inspiration.

Craig's debut book, illustrated by the wonderfully talented Sabrena Khadija, recounts the conversations between Craig and 30 young Indigenous campaigners and campaigners of colour around the world. This book is phenomenally important for two reasons: the message it carries, and the people it centres.

Since the inception of Extinction Rebellion, the UK has seen a media circus around the uprisings. Whilst these direct actions are powerful and important, the media's representation of them has muddied our understanding of what successful activism is, what it looks like, and whom it's for. We Have a Dream powerfully chronicles different ways in which young people have effected change and empowered those around them. Take for example Lesein Mutunkei, who set up Trees 4 Goals to tackle deforestation in Kenya. He started planting 11 trees for every goal he scored in football. Or Ghislain Irakoze, who developed a recycling app in Rwanda at the age of 18.

I know that young people often feel powerless, particularly due to the exclusionary nature of the Conference of Parties and the imposition of national voting ages. But this book offers a myriad of ways for young people to do something powerful for themselves and others. Ariel Chen began a birding club at her school in China. Yujun Kim, alongside secondary school education, is suing the Korean government for inadequate greenhouse-gas emission reduction. This book is a field guide to creative and inspiring practice, with each page reinforcing the truth that you're never, ever, too small to make a difference.

We Have a Dream centres the voices and issues of the most affected people and areas. It educates readers about the frontline communities and countries from the global south that are being devastated by the climate crisis right now. And it shows how young people are harnessing their agency to demand change. For example, Gauri Shukla's home in Singapore was hit by a haze crisis and unclean air in 2015, caused by forests being burned in Indonesia and Malaysia for palm oil plantations. At the age of 14 she created Students of Singapore Against Haze, lobbying companies and setting up petitions to switch to sustainable palm oil. Carlos Manuel decided to act after witnessing a tropical cyclone in the Philippines at the age of 13. He started volunteering with the Coral Reef Research Foundation and subsequently petitioned the United Nations. Erisvan Bone De Sousa Silva wanted to change the lack of visibility for Indigenous voices in the media. When he was 21, aware of the minimal coverage of Indigenous land grabbing, forest fires in the Amazon, and logging and miner invasions, he created Mídia Índia, a communication network to bring more Brazilian Indigenous voices into the media. The network now reaches 305 ethnic groups that speak 274 languages.

The dialogue in the book crucially connects the dots between the climate and ecological crisis, environmental degradation, systemic racism, human/land rights and poverty. Whilst it envisions a dream of climate justice for the future, it documents a present of intersectional campaigning, youth power and hope. Now that's something I want to be a part of. We Have a Dream is more than a book. It is an anthem.